5 Best Places to Buy China Train Tickets Online
Finally, when the time comes to make your dream trip to China, or to go see a Chinese woman that you have been dating online, you will want to use the best means of transport. Trains! China is as big as a continent, covering an area of 9.6 million square kilometers. That is huge! The best way to get around is by train but first, you have to know how to purchase China train tickets online.
It is advisable to buy train tickets in advance because many Chinese people use trains to travel from one city to another. If you are traveling when there is a festival taking place, and there are many such in China, you need to buy your ticket early.
While you can buy train tickets in China locally, it is always better to buy your train tickets online because of the convenience and flexibility. Now that China has a bullet train, you do not want to miss the experience of fast rail travel.
Where to buy China train tickets online?
Why go queue at a ticket office when you can book your train ticket online in China, from the comfort of your home? The first go-to site for buying your train ticket online is Trip.com. You will love the simplicity, the convenience and the time-saving experience that you will get with this travel agent.
The first thing that you will see on the home page is a listing of the most popular destinations and their prices. However, even if you do not find the destination that you are interested in, you can just use the search bar provided. Once you click the price button, you will be taken to a page with all the details like departure time, the class that you would like to travel and the number of tickets left for that class.
If the tickets are sold out you will see. The tickets start with standing, soft and hard sleeper, business class, 2nd class and 1st class. The good thing with buying you china train tickets online is that if they are sold out, you can know right away and check on another site. This is much better than having to take a cab to the ticket office or to the train station only to find that the tickets have been sold out.
See the available trains
It does not matter where you are in China, or where you want to go because the Trip.com search engine will show you whether there is a train available. But that is not all. On the site, you will see information for car hire, flights, attractions in China and even airport transfers.
This site is available in many languages such as English, Russian, German, Spanish, French, Turkish and many others. The search engine is easy to use and quite detailed. Just enter the departure city, the departure time, the destination and the train number if you know it. If there is a vacant spot on a train going there, you will get it at a favorable price.
Highlights of using Trip.com to buy a train ticket
This site is simple to use
It is updated all the time, so you only get up-to-date train information
They offer much more than train tickets
There are no ads to interfere with your experience
They bring users important information such as cancellation policy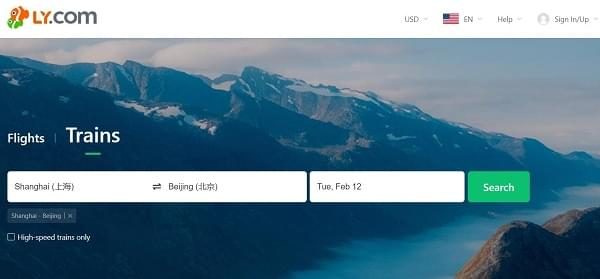 One look at what this travel agent site has to offer will show you that it is the one-stop center for all of your traveling needs. From trains to flights, this is where you want to start looking for that affordable ticket if you are traveling to any of the 300 cities that are connected by rail in China.
This site means business. You need not even spend more than 10 minutes to purchase china train tickets online. It is very simple. When you enter the city of departure, the destination, the mode of travel (first class, economy, premium economy etc), and then hit the search button, you will get the rates.
While the search results are not as detailed as you would find on Trip.com, they are nevertheless easy to comprehend. If there are no spaces left on the train, you will be told and if there, then you will be able to see how many.
Buying train tickets is not a 24/7 thing, but it comes close. It starts at 06.00 and stops at 10.55PM Beijing time. At the same time, the tickets on sale are for high-speed trains only (In China, high speed trains are known as G or D trains).
As you buy your ticket, you will also be able to choose the train number that you want. On the left side, they bring you the train number, the departure time, arrival time and even the departure and destination stations.
While this is an online flight and train ticket-buying platform, you will be satisfied with the experience, just as if you were buying your ticket in a local office.
Ly.com can also help you book your flight
You can also buy flight tickets to different places. You will find a large section for flight tickets to Manila, Hong Kong, Phuket, Bangkok, Kuala Lumpur and many other places. If you are in China and you are traveling to destinations in North America, Europe and Asia, you can find the best deals on flight tickets.
More than just travel
When you are seeking information on how to book train tickets China, you want to learn as much as possible as you can about different places.  You can read nice articles about different places. Here are other reasons why you should choose Ly.com:
It is easy to use
Data security is assured with the latest protection technology
You get a personalized service when buying a train ticket on the site
Site is available in English, simplified Chinese and traditional Chinese
They have a well-detailed FAQ section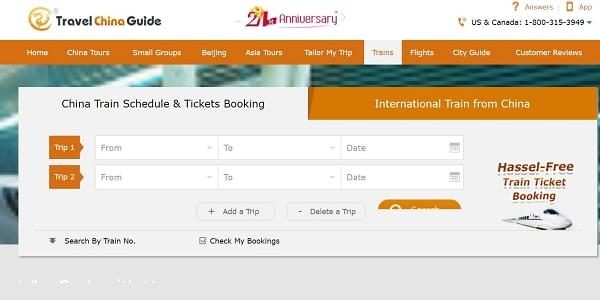 Travel China Guide is easily the best place for how to book train tickets China. It brings you everything that you would love to know before booking a ticket. First, on the home page, you can see the most popular high-speed trains. Then, if there is one to your destination, you can proceed to make your booking.
There is a high-speed train from and to any of the popular cities. Shenzhen, Shanghai, Beijing, Guangzhou, Xian, Tianjin, Hong Kong and other cities all have high-speed trains arriving or departing at different times. If you want to see a lot of China and save yourself some money as you do it, train travel is the best choice for you.
Get helpful China travel resources
One of the things that you will note about the Travel China Guide is that true to their name, they not only bring you train tickets, but also everything else about traveling in this country. They also bring you resources about train travel in China.
Before you buy your China train tickets, just take a moment and compare different classes. For example, you might want to read about the best type of train to book and the best class for you. You may also want to know the benefits that a first class seat has over a second-class seat.
At the very top of the home page, you will get a detailed search engine where you can enter details such as departure city, destination city, class and the date that you are traveling. You can also choose a return trip if you like. While some travel agents specialize in high-speed trains only, the Travel China Guide brings you all types of trains, so you can actually choose what meets your budget.
Another thing that makes this site stand out is that it is very detailed. There is just about everything that you would need to book a train here. From soft sleepers and hard sleepers, small group booking to almost every destination in China, there is a train ticket for everyone on this site.
See information about food onboard, railway map, China traveling tips, baggage allowance, popular Chinese phrases and so much more helpful information. They not only teach you how to book train tickets China, but they also upgrade you from a rookie to a seasoned traveler.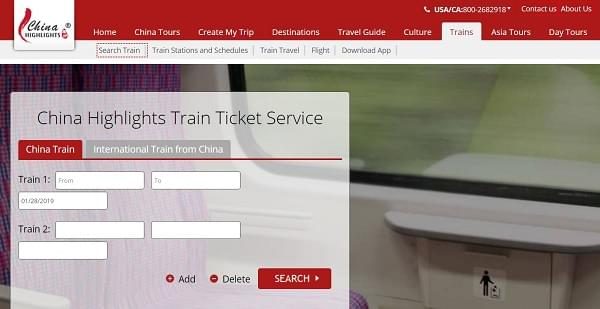 China Highlights not only helps you to purchase China train tickets online, but it also teaches you how to read the ticket. And that is not the only thing that this site teaches you. You will see the types of train tickets that you can buy online 30 days before departure date, 20 days and even 4 days to the date of departure.
Buying your China train ticket online through China Highlights is ever so easy. First, the site is available in English and Chinese. Secondly, in less than ten minutes, you will have purchased your ticket. You will find a short form where you will be required to enter the city of departure, the destination and the date that you intend to travel. You can check one train or two. When you hit the search button, you will be brought all the details about that train. These will include its departure time, arrival time, and most importantly, you also get information about the type of train available.
You will get price details for 1st class, 2nd class and business class seats. Usually the trains will be booked to capacity during the national holidays in China. This is why you should always book in advance. Luckily, you can do it online from the comfort of your home.
Everything that you need to know about traveling on Chinese trains
Although the site looks a bit cluttered, you will appreciate the amount of information that you will get on this website. They have not left anything to chance. You will see articles about how to buy a train ticket, the baggage allowance on any of the trains, how to board Chinese trains and many more. You will also get actionable tips about how to board a train.
By 2019, you can travel with a paperless ticket on the high-speed train. The system has already started rolling out. In fact, in some places like Hainan Island, this paperless ticketing was rolled out in late 2018.
On China Highlights, you can even book you train tickets online months ahead of the travel day. You can do your booking any time of day or night. Besides, you can also get a personalized one on one service all the time. Seat selection is free of charge and you can also book domestic or international train tickets.
For a domestic or international traveler, China Highlights is the place to book all of your train tickets.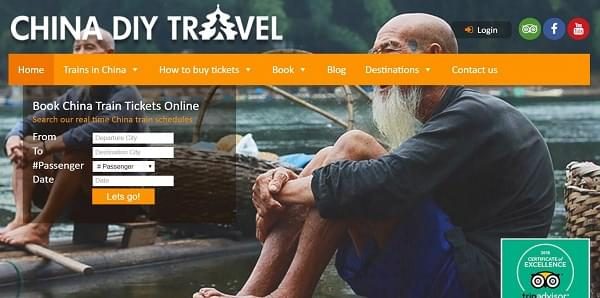 China DIY Travel will not only help you book your train ticket, but they can also plan the entire trip in China for you. This would be helpful for a first-time traveler to China as you would then know where to start, and where to catch all the attractions.
Sometimes when it is your first time to travel to China, you do not even know the places where you can travel by train. You will see the most recommended destinations. However, there is more that you should know. Just pop into their FAQ section where they have anticipated, and answered many of your questions in advance.
Booking train tickets on this website is ever so easy. Under the book button or right there on the home page, you will find a short form on the right hand where you fill in the departure city, destination, the number of passengers and the date of travel. Once you click the Let's Go button, you will be taken to a full page with more details about the train numbers, number of seats available, prices for business, 1st and 2nd class.
You may not be able to get some prices straight away because the site sales representatives may require to review your order first. All in all, it is a pretty easy job booking a train ticket with this travel agent.
Learn how and where to collect your tickets
Do not buy your China train tickets blindly. On the contrary first find all the information that you need. On this site, they will tell you the things that you should be very keen about when buying a train ticket. You will be advised about where to collect your tickets or on the use of e-tickets.
Even if this is your first time in China, you need not fret about train travel in this expansive country. China DIY Travel brings you every nugget of information that you need to make your travel as comfortable as possible. Whether you are embarking on domestic travel or international travel to a place like Tibet, you can find the train tickets that you need.
If you cannot speak Mandarin, the company sends you an email, which you ought to print before leaving home. You can show the printout to a taxi driver in Shanghai or wherever you are in China and they will take you right there. Thus, if you cannot speak Mandarin, you need not worry about how you will get your tickets.
This travel agent is recommended by Lonely Planet, and that is a very high mark of confidence. Again, you only pay after they have bought your tickets, not before. For how to book train tickets China, this is easily the most hassle-free ticket buying system. They handle many international and domestic calls, so be sure to book your train tickets early.
Conclusion
These are five of the best travel agents that can help you purchase China train tickets online at the best prices. The experience is easy and it need not take you more than ten minutes. Just have your passport handy, as they will need the passport number, and some may require you to send a scan. Remember, the best way to visit folks in China is by train. The best way to hop from city to city is to use a high-speed train. Imagine hurtling at a speed of more than 300km/h. Now, that is something!