Why advertise with ChinaWhisper?
ChinaWhisper is one of the most popular and fastest growing independent blogs about China. Our content covers travel, culture, pictures, videos, entertainment, history, economy and all other interesting things related to China.
ChinaWhisper's main audience is young adult (18-34) and middle-aged (35-49) individuals with medium-to-high income mainly from the USA(23.8%), Singapore(7.38%), Malaysia (6.59%), Canada (5.27%), India (4.88%), United Kingdom (4.87%), Indonesia (4.21%), China (3.72%), Australia (3.44%) and other countries (35.84%).
ChinaWhisper has been mentioned by mainstream media outlets including New York Times, CNN, Dailymail, Asian Correspondent, Asian Town, The Big Lead and Wikipedia.
Our Recent Analytics:


Monthly Page views: 303,833
Monthly Unique Visitors: 202.310
Avg. Time on Page: 00:01:06
(Data current as of Feb 2017. Source: Google Analytics.)
Other data:
Alex World Rank: 98,339
Articles: 1056
Comments: 1924
Advertising Opportunities:
ChinaWhisper offers a variety of advertising options to fit your marketing budgets and goals:
728×90 Leaderboard – on header of all pages    $180/month,
300×250 Medium Rectangle – on right sidebar of all pages  $120/month
125×125 Square Button – on right sidebar   $60/month
All rates quoted above in USD. Discount is available for multiple, bulk or long-term advertising.
Advertise with US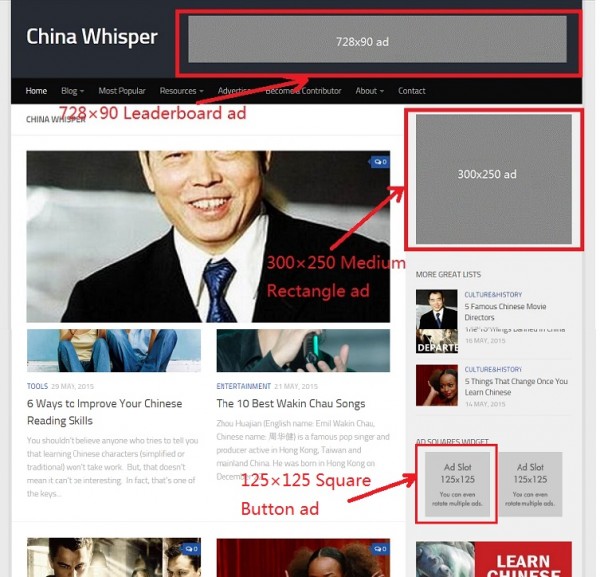 Contact Us:
If you are interested in advertising with ChinaWhisper.com, please email whisperchina@gmail.com