10 Places To Get Cheap China Domestic Flight Tickets
Domestic flight tickets in China can be booked with any local travel agency (at a hotel or otherwise). Anyway booking tickets through a China-based website is always the cheapest way. Here is a list of best places to buy domestic flight tickets in China:
To know how to book flight tickets in China, you need to know the best places to get cheap ones. This will help you save good money. This is important whether you are in China traveling domestically for business, or you are a tourist looking for the best flights to China.
For tourists, there are so many places to see and cultures to experience. There are so many different cuisines to try out. However, you will notice how vast China is. Traveling by rail or bus to all destinations is not always a choice especially when you are in a hurry. Taking a flight sometimes makes more sense. This is why you need to know the best places to buy cheap tickets online.
When you enter a few search terms on your search engine, you will be brought hundreds of online travel agencies that can book you a flight ticket in China. However, this does not mean that they are the best, or the cheapest. It takes some work to find affordable tickets. Here, we have compiled a list of 10 best places for China cheap flight tickets.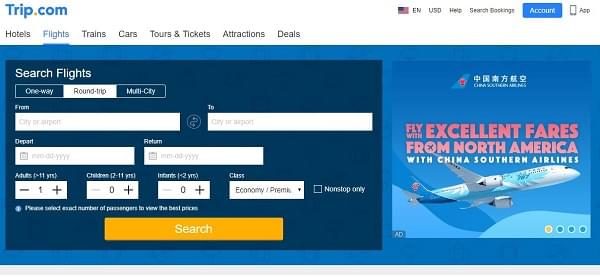 Trip.com is the ideal place for you to be if you would like to buy cheap flight and train tickets to China. The site is so detailed, with a lot of information about China. However, everything is easy to find right from the home page.
It does not matter where you are in the world, but if you are looking for a flight to China, you will find it here alright. In the short form provided on the home page, you actually have an option to enter details like where you are, and what part of China you are looking for a flight for. You may also enter the date, children if you have any and so on. The search engine will fetch you all the flights for that day.
The good thing about how to book flight tickets in China with Trip.com is that they bring you the latest deals. If you are searching for the best flights today, you can be sure that the flight deals they bring you are the most recent.
And why not? Trip.com is the one stop-center for millions of travelers to different parts of the world every year. This site was founded to connect travelers to different destinations by bringing them timely information about flights, trains, buses and many more. As part of the bigger CTrip and headquartered in Hong Kong, this agency is best placed to connect you to the cheap flights to different places in China.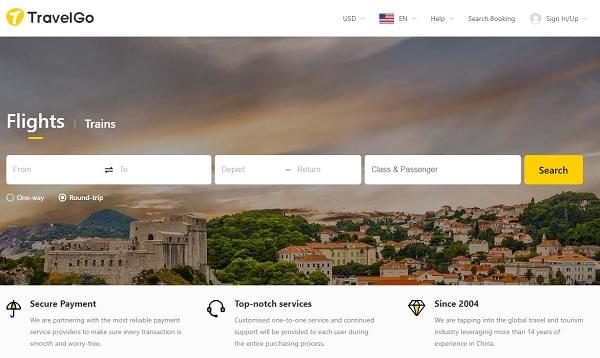 On the TravelGo website, you not only have an opportunity to buy cheap flight tickets to different destinations in China, but you also get to read about some of the best places in the country. You can check user reviews left by other customers who have used this site before. The reason why we book flights online is the convenience and the chance of finding affordable flights. This website gives you the opportunity for that and more.
This website has served more than 300 million customers in China. You can be sure that the flight deals they bring you are just the latest ones. If you want to book a flight from Beijing to Guangzhou, you can be sure that the price you will pay will be the latest and the most affordable. The website also supports different languages such as Simplified Chinese, English and traditional Chinese. This alone shows you how determined this company is to help people find cheap flights.
You are assured that there are no hidden costs at all. When you book, that is that. The price displayed is final. For international or China domestic flight tickets, this is the right place to find one.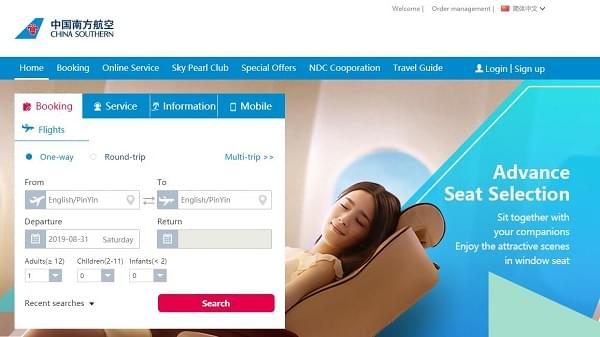 China Southern is going to meet your needs for China cheap flight tickets. There are hundreds of flight deals going down any one day. They have excellent software that compares flight deals among different airlines, bringing you the best, most recent deals. It does not matter what kind of flight experience you are looking for because they can connect you with it. For example, you can even order customized meals with the flight so that you enjoy delights of choice on the plane.
Whether you are looking for the cheapest regional, international or domestic flights from anywhere in China, this is the best place to make your booking. On their website, they say that they have the most developed air route infrastructure in China and there is no reason to doubt them. After all, they are affiliated with the CSAHC – China Southern Air Holding Co. Ltd.     
All payments are secured with the latest technology. To find out about prices and deals, just go to the website, find a short form and fill in your city of departure, destination, time, date and the number of people you would like to book for. You will be brought many flight deals so you can choose the one that appeals most to you.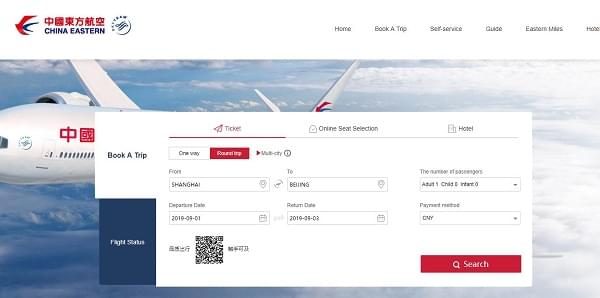 With a history stretching back to 1959, China Eastern is without doubt one of the best agencies for you to get China domestic flight tickets online at affordable prices. This is not only a booking agent, but it is actually a fleet owner with more than 600 planes in its fleet. Thus, you can trust them when they say they will give you a good deal because they will. 
China Eastern does not take anything for granted. In fact, they bring you all the information you may need to know before you even book the flight. Besides, they have so many experiences for you. Whether you want to experience unlimited Wi-Fi while on the flight, or special services such as unaccompanied child service, stretcher service, oxygen service, deaf or blind passenger, small animal transit service and so on, they have them all. They even offer services for wheelchair passengers and pregnant women.
When you need to book with China Eastern, you hardly require any assistance. You can self-serve yourself. Everything that you need has been provided. It is the most hustle-free flight booking experience that you will ever get anywhere. Should you encounter a technical hitch; their multi-language customer support will assist you appropriately.
Always check to see whether there are any special offers going down. For example, if you are a student going to study in China, you might find special deals for students and so on.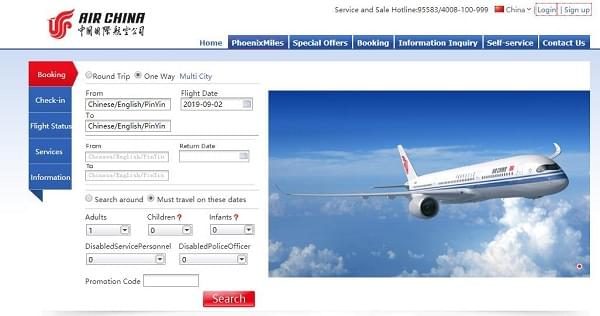 Right on the home page, scroll down a bit and you will come across a small section titled Low Fares Search. This is where all the goodness is. Now, there are a few things to note here. First, the displayed fares are low, and the cheapest at that given time.
This website is so easy to use. Even if this is your first time to make a booking online, you will find it so simple. Apart from buying cheap flight tickets, you will also find other things. These include chauffeured airport transfers, which you can arrange and pay for in advance if your hotel is not picking you up at your airport of destination.
Be sure to check the Special Offer button at the top menu. When you click this button, it brings you any special deals that are going down at that time, or in the near future. You could get really lucky here. Just keep checking.
For a seamless experience, just sign up and login. That way, you will become a member of Air China. You will also be among the very first people to know when there are cheap China flight tickets online.
For the first time traveler, things can feel a bit complicated. This is why Air China has gone the extra mile to bring you helpful information about airport services. You will find visa information, flight services, baggage service, rules for domestic tickets, pets, unaccompanied kids and many more.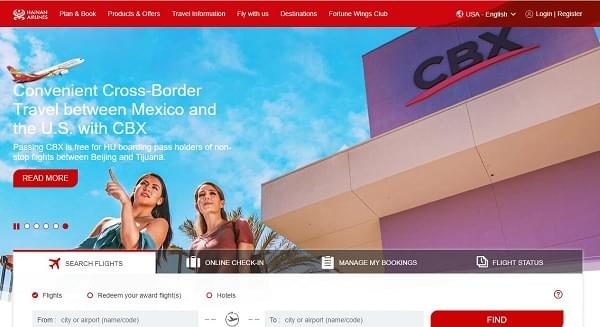 When you get to the website of Hainan Airlines, the first thing to do is choose your location and your language. This website offers you the simplest form of interaction. When looking for the most affordable flights to different parts of China, you need to keep it as simple as possible.
This is a 5-star airline. It brings you a selected few of the best performing airlines in the world. Having been given the five-star rating in 2016, this airline is high quality. It is headquartered in Haikou and Beijing. Haikou is the capital of Hainan. Over the time that Hainan Airlines has been in business, they have been giving the best service. In fact, as of today, they offer the longest domestic flight in China – the route connecting Sanya and Harbin.
Having also been the first to hold an on-the-air concert at 30,000 feet, well, this is a company of many firsts. Do not worry though because their service is very affordable.
With non-stop flights to more than 100 domestic and international destinations, this airline has a flight to wherever you may be going in China. It also has non-stop flights to places such as North America, Africa, Europe Asia and the Middle East. They do have special deals from time to time, and their prices for all types of seats are hard to beat anytime. Check with them for China cheap flight tickets.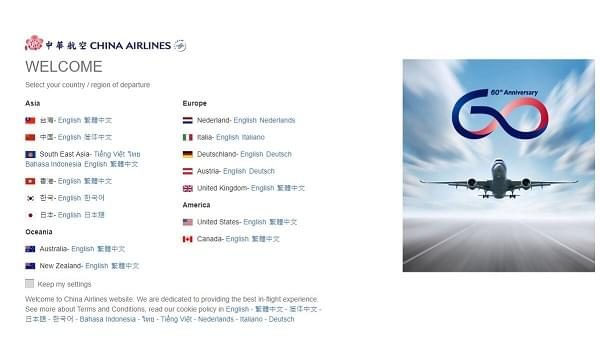 Since 1959, China Airlines has been offering flight services to millions of customers every year. Today, you will find a flight to any part of China, to Africa, Europe, Middle East, the Americas and so on. It does not matter where you are, when you get to their home page, just choose your departure city and the destination and they will get you the most affordable flight available.
You will find the website quite easy to use. First, it is available in different languages such as simplified and traditional Chinese, English, Spanish, German, Italian, French and many more. Will you save money with this airline? Many things determine that. However, you can always check whether they have a special deal going down. Apart from the cost, you also want to check the flight experience that you will have especially if you are going on a long, non-stop flight.
Basically, China Airlines seems to score well on almost all fronts. The service is wonderful, the crew are good and so is the food. Their website would be better though, considering that as you look for information on how to book flight tickets in China, you want some guidance, especially for the first time.
To get that info, you have to click country or language link, where you will then be brought a short form to fill departure and destination details. The search for flights is a bit limited, so you might not even have the time to look for cheap flights to China.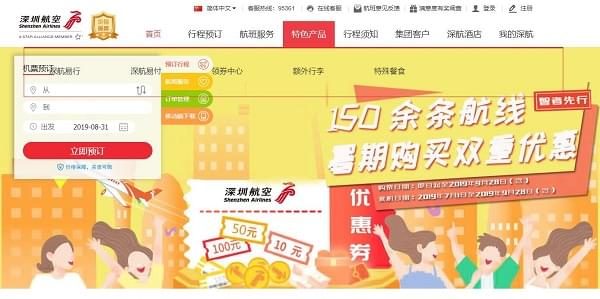 Sometimes, getting a good deal for your money is the most important thing. Shenzhen Airlines has a plane for almost every destination in China, and many international destinations. If you are looking for China flight tickets online, this is a good place for you to start. The planes are comfortable and very clean. The food is good too. Whether you are flying from New York to Shenzhen, you will find the long flight very amiable with this airline.
You will find a variety of airlines to choose from. Shenzhen Airlines has codeshare agreements with so many airlines such as Air China, Air Macau, Uni Air, Nippon Airways, Asiana Airways and many others. Thus, you can be sure that you will get a good deal from many of their airlines. This airline plies many international routes and growing fast. It also operates in more than 157 airports in China. Thus, wherever you may be going to in China, any destination, SA probably will have a flight for you there.
Since its establishment in 1993, this airline has been serving people for more than 20 years. The main hub is in Shenzhen, but they also have primary hubs in the major cities in China. Wherever you are in the world, you can check whether Shenzhen Airlines operates from there and they will take you to most of the big cities in China.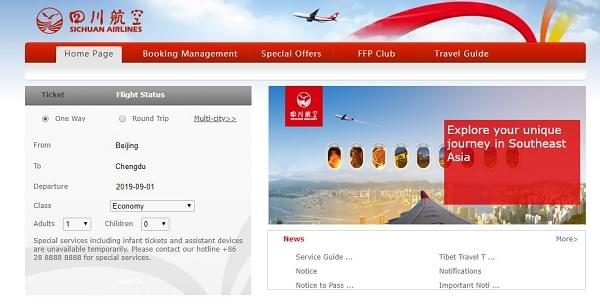 Sichuan Airlines is one of the most established airlines in China. They have flights to many of the cities in the world and to almost every city in China. Since its establishment in 1988, this airline has continually grown its fleet to nearly 200 planes. Since they went into business, they have been offering China domestic flight tickets at affordable prices.
When you get on the home page of the website, you will find a short form. Just fill in the required details and you will find any available flights. Wherever you are in the world, just fill in your city in the departure box and if the airline serves your city, you can proceed. If it does not, you will be notified that there is no such city. It means there is no Sichuan Airlines flight to your city.
You may also enter other details such as the number of children, the class and so on. It will then give you the best rates for the available flights. You will also be notified of services that are not available at that time.
You will choose whether you want a round trip ticket or a one-way ticket. The flight status is also available so you can know when the flight will depart, or if it is delayed or something. Needless to say, for cheap flights in China, domestic or international, you will find the online booking experience quite seamless.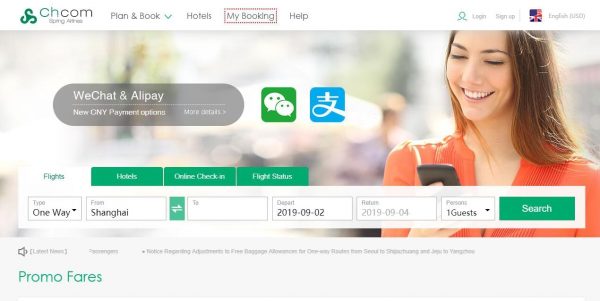 The first thing that you see when on this website is the available promo fares to different parts of China. Do not be surprised if you find a fare of $58 from Shanghai to Seoul, as cheap as it sounds. Let us just say that this is where you want to be if you are looking for China cheap flight tickets.
Finding an affordable flight ticket is as easy as choosing the kind of ticket that you want (One way/two way), departure city, destination city, number of people traveling and the depart/return date. When you punch the search button, you will get all the available airlines and their fares. That way, you can compare the rates and pick the one that saves you most money. Sometimes, you could save even more than $20 even on the same airline but from different terminals.
Check the rules carefully. Sometimes, you could get a discount but you may not be allowed to take free checked luggage. Also check the fare rules, things like cancellation policy and so on. All this is provided right there on home page.
Honestly, this is so far the easiest travel agency to find cheap China domestic flight tickets.
Final Verdict
In this list of 10 of the best places to get cheap China flight tickets online, you will be sure to get good value for money. However, you have to do some footwork here, as some of the websites are not too direct. In our opinion, https://en.ch.com/ offers the best experience because the search for the most affordable airfares to different destinations in China and other places is so straightforward.