The 6 Signs That China is Becoming a Patent Powerhouse
Though everybody must be perplexed and astounded since having digested the unraveled truth of 1,000,000 and over patenting rights applications record in 2015 earned by China and having top slot consecutively since 2011 is somehow creating probes and shaking certainties with uncertainties but some research of (Hu, Peng & Lejing 2016) probed that these patent rights are probably less bothering to world since they are mere less innovative caused by inactive firms who failed to register for patents previously but other notion cannot be shunned that it is China which has strong hold in technology and leaving behind many advanced nations since the Chinese have a saying: "Nothing is impossible to a willing mind." Chinese is becoming a patent powerhouse in the 21st century. We can find this trend through these signs as follows:
1. Winning the Race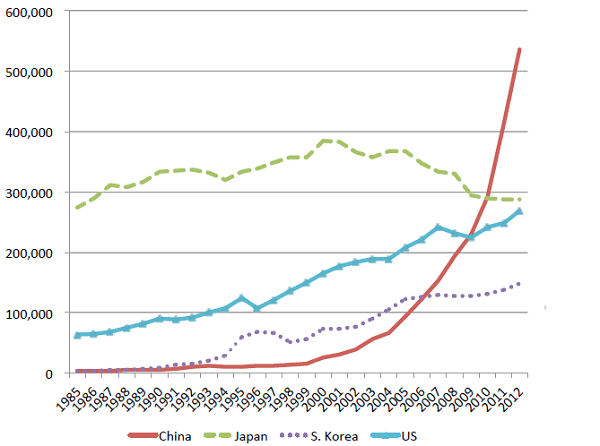 Obviously having second largest economy, everybody is eyeing on China, its military might, its political alliances, economic strategies, One Belt One Road initiative, innovation taking places, beauty of sea shores, gigantic skyscrapers, fireworks, Ice festivals and Job Booms. Every day every second and every moment is being noticed and watched minutely. Some companies are eager to engage in business with it and some are curious to compete with firms within it but how and what are the areas to be sought with patent rights, where you have to register for and at State Intellectual Property Office (SIPO) China, the busiest office in the world leaving behind Japan, South Korea and USA in patent rights as indicated in graph below since 2011.
2. Billionaires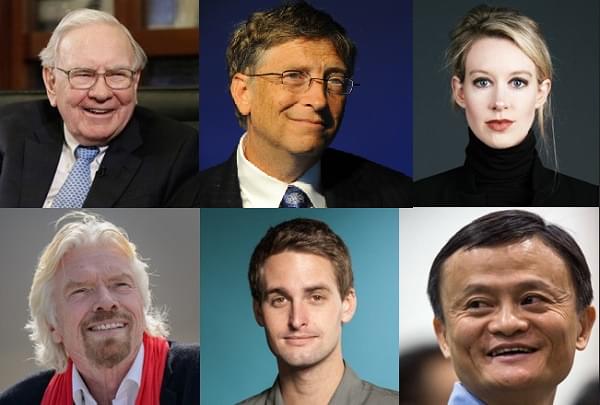 The authors have indicated in paper that resident patent application have seen drastic surge and gigantic increasing trend as patents have sharply risen from 153,060 in 2007 to 415,829 in 2011 leaving behind so called inventing nations including the champion of billionaires (transformational leaders), if we take top twenty billionaires then certainly it would be United States of America which occupies top slots having 13 billionaires including Bill Gates, better known with Microsoft, Mark Zuckerberg famous with Facebook, Larry Ellison familiar with Oracle, Larry and Sergey affiliated with Google and many more while indeed China is having very few stars glittering in this field such as Wang Jianlin, the richest person in Asia, known as real estate mogul, and Jack Ma who is more inspiring with his ideology of eCommerce and with out of box approach, ensuring a ground for promised future combat.
3. Human Capital Development
This spectacular rise is accompanied with a cause of foreign corporations' fear of their technology being imitated if they failed to file their patent since Chinese local manufacturers and industrialists are wise and sharp enough to imitate their technology being one of the reasons elaborated but again it is reinforced in paper that invention patent applications have been surging faster to R& D expenditures for the innovators which is the delighting sign for time to come while one reason may be less fascinating that it is human capital of China which is having larger contribution towards patents and inventions and building The Great China.
4. Race for Noble Laureates
It would not be astronomical to disclose that it is USA who has garnered the crown of major inventions and discoveries in the world since it is the sole diverse nation harboring Noble Laureates more than 360 where as China even being ambitious is at last with approximate 12 Noble Award Winners in hand so quest remain challenged whether this peak of patents would be able to multiply in Noble Award Winners along with Darwin Awards, Oscar Awards and many more in multi different fields or still the journey to be long awaited.
5. Research and Development
Worthy to acknowledge that China is one of those outstanding few nations where Research and Development expenditure to GDP is more than 2 % (reported by World Bank) as primarily in 2012 it reached 1 trillion RMB (reported by China.org.cn)
6. Becoming the Great China
From economic rise to scientific competition, it is indeed China that has proved in many realms such as Bullet Trains, travelling at 420 km per hour, embarking on manufacturing, assembling, designing and training in this field, along with this, Beijing has embarked on commercial airplane manufacturing, a sector that is having more impediments and stumbling blocks but a willing a mind cannot be deviated sooner or later and last but not the least China is indeed third country in the world, launched human into space in 2003, and having a plan to go on far side of the moon in 2018 in its Lunar mission.
The sheer and dynamic leadership of President Xi Jinping is ensuring that country is moving vertical and in right direction and days are not ahead when realm and hegemony it would have either in economy or science.
About Author:
Tahseen Ahmed Bhutto is a contributor of ChinaWhisper.com. He is a PhD Scholar at Dongbei University of Finance and Economics Dalian, China and Faculty at Shaheed Benazir Bhutto University Shaheed Benazir Abad, Pakistan. His research interests lie in field of organizational behavior,organizational development, management practices and leadership. You can reach him at tahseenbhutto@gmail.com.