The 5 Best Chinese Language Lessons
Today more and more people start to learn Chinese language for professional needs, romance or being interested in Chinese culture. They try to find a good Chinese speaking courses to improve their Chinese skills, but they don't know where to start. Now we introduce the following best Chinese lessons online and hope to improve your Chinese level very fast.
1. ChinesePod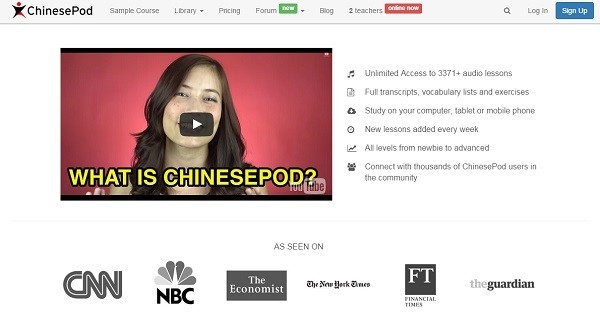 ChinesePod is a cool Mandarin Chinese learning platform. It offers over 3000+ interesting audio lessons, These lessons are designed for learners of every level from elementary to advanced. Each lesson goes with a range of review tools including video. lesson downloading, vocabulary list, grammar explanations, excises and it also allows users to ask questions or comments on each lessons.
The course is free to register and users can access dozens of free lessons. The users who want to enjoy premium functions need to upgrade to a paid learner. They provide three study packages "Basic,Premium and Premium+". The basic plan is $14/ month with access to 1000's of online audio lessons. While most registers choose the Premium plan as it boasts all functions including lesson reviews, and mobile apps (iOS & Android) and personal vocabulary lists. The monthly fee is $29/month, honestly speaking it is worth it. Besides, they provide one month money-back guarantee and users can take their money back within 30-days of the purchase date.
Below is a example lesson of Chinesepod, you can see how excellent the lessons are!
All in all, Chinesepod is so popular and just look at its huge amount of FaceBook fans you will know it is a trustworthy service for Chinese learners. Chinesepod completely deserves its reputation as one of the best Chinese learning platforms for worldwide Chinese learners. There is no excuse for not giving it a try and start your great Chinese learning journery.
2. Happy Chinese 快乐汉语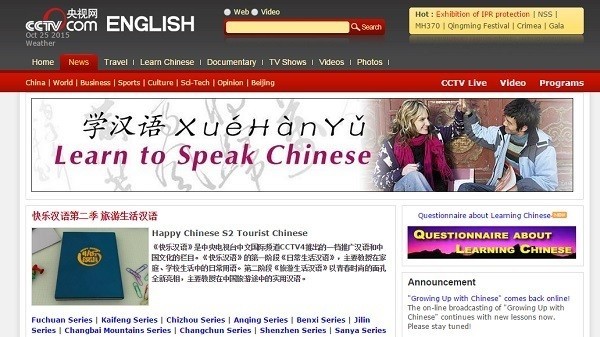 "Happy Chinese" is a language learning lesson series launched by Chinese International Channel CCTV4 in order to promote Chinese language and culture. It boasts two sections, the first is "Daily Life Chinese" which focuses on family and school life and includes more than 110 free Chinese lessons. The second section is "Tourist Life Chinese" mainly teaches practical travel Chinese. The series has a total of around 150 lessons and each lesson has both Chinese lines and English subtitles.
3. Growing up with Chinese 成长汉语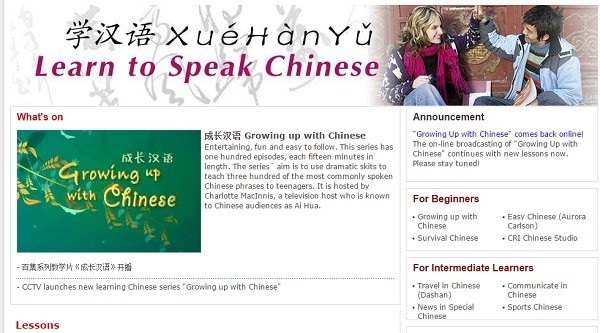 "Growing up with Chinese" is another Chinese learning lessons by CCTV4.This series is entertaining and quite easy to follow. It boasts 100 episodes with each video lesson lasting for 15 minutes. The lesson series uses these skits to teach 300 most frequently used Chinese words to teens. All the lessons provide Chinese audio with English lines. The program features the famous hostess, an American TV host known to Chinese people as Ai Hua.
4. Travel in Chinese 旅游汉语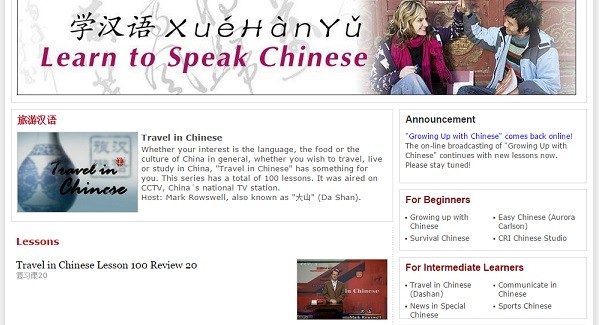 "Travel in Chinese" is an excellent Chinese learning lessons hosted by famous Canadian Mark Rowswell, also known as "大山" (Da Shan) by Chinese audiences. He speaks fluent and idiomatic Mandarin Chinese and is the most famous Western person in China's media. This series includes 100 free video lessons and cover many topics such as food and China culture. The lesson will benefit those who will travel, live or study Chinese in China
5. Communicate in Chinese 交际汉语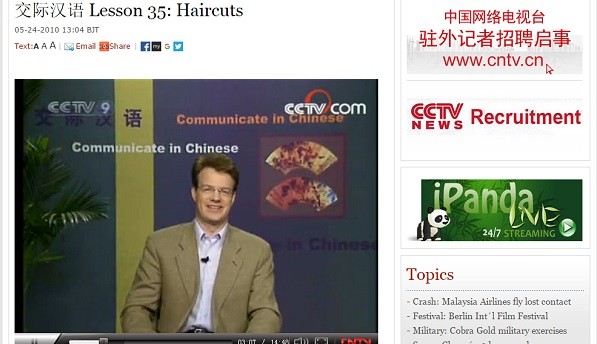 "Communicate in Chinese" is a series of lessons which help you learn some useful sentences in real-life circumstances such as shopping, hair-cut and eating roast duck. The lessons will make your life in China become much easier. This series has 38 lessons in total and is hosted by Mark Rowswell, who is a Canadian and speaks excellent Mandarin Chinese.