Top 15 Most Popular Chinese Video Websites
What are the most popular online video websites in China?  Here is a list of the 15 most popular Chinese video websites based on a combination of Alexa Rank, content richness, users' reviews and freshness. You need to know a little Chinese to watch them as all these sites are in Chinese language only.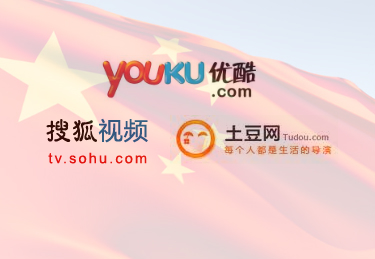 #1. Youku.com  优酷网
Youku describes itself as China's first video site. The site hosts hundreds of movies, dramas, and other video contents, and all of these videos are free to watch. With rich video content, high playing speed, clean design and the least amount of embedded ads, Youku is widely regarded as one of the best video platforms in China.
#2. Tudou.com 土豆网
Toudou is the second most well-known video website in China. The site features personal video sharing services, and also owns many other video channels like movies, dramas, music and so on.
#3. Cntv.cn 中国网络电视台
Owned by China Central Television (CCTV), CNTV is the official website of the national TV station. The site hosts many channels and its video channels include live TV, TV drama and documentary. Users can enjoy lots of exclusive video contents on the site.
#4. tv.kankan.com 迅雷看看
Xunlei Kankan is a video-on-demand service. The site provides high-quality content including up-to-date Chinese dramas and lots of  movies from Mainland China, Hong  Kong, Taiwan, South Korea and the USA.
#5. Tv.sohu.com 搜狐视频
Sohu TV is owned by Sohu company, one of the biggest Internet portals in China. The site provides countless video contents such as high quality movies, TV shows, self-produced dramas, variety shows, music TV and cartoons.
#6. Le.com 乐视网
Hailed as China's Hulu, Letv.com owns more than 100,000 episodes of TV series and more than 5,000 films.
#7.  Iqiyi.com 爱奇艺
Owned by Baidu, China's largest search engine. Iqiyi describes it self China's first copyrighted video library covering various contents such as movie, TV drama, variety show, comic and documentary. Its HD & smooth video content is the best of all China's video sites.
#8. Video.sina.com.cn  新浪视频
It's owned by Sina, a leading Internet media company serving China. The site provides various video content including latest video news, variety show, movie, drama and so on.
#9. 56.com 56网
56.com is a leading video-sharing platform in China. Users can post and share their personal videos online. The site hosts more than 80 million online videos.
#10 pptv.com PPTV
PPTV is a fantastic online TV provider offering both live streaming and video-on-demand services.  Its channels include TV shows, film, drama, sports, news and entertainment and so on.
#11. M1905.com 电影网
M1905.com was founded by China Movie Channel in 2004. The site hosts more than 6,000 HD copyrighted movies and about 200,000 short videos. M1905 is the most complete and authoritative site about Chinese movies.
#12. V.qq.com  腾讯视频
QQ video is a channel of qq.com, which is the most popular instant messenger  in China and has hundreds of million active users.  With huge amount of active users, QQ video  quickly and easily became one of the the most visited video sites in China.
#13. 360 Kan 360 视频
360kan is actually a video resource navigation website. Its main function is to list lots of TV and drama links, so users can choose the site with the best watching experiences.
#14. Baidu Video 百度视频 
Baidu Video is one of the largest video sharing site in China. It is a channel of Baidu.com, China's leading search engine. The site features its search function and users can always find their favorite video content on the site.
#15. pps.tv  PPS
PPS provides lots of services such as video search, online video, games and downloads.
Its computer client PPS Net TV hosts more than 210 thousand sets of channel programs. It is the most popular Net TV client in China.