Top 5 Food Streets in Beijing
If you are going to travel to Beijing, you must try various local Chinese food. In Beijng, the capital of China, you can find almost all kinds of foods from China and the world, but if you want to enjoy authentic Chinese dishes, you should go to the places that the local food lovers often gather – the food streets in Beijing. Below is a list of best places to satisfy your taste buds.
Please be noted the most famous Beijing snack street – Wangfujing Snack Street (or known as Donghuamen Snack Street) is already closed. You should consider going to the following food streets.
1. Guijie Street (Ghost Street) 簋街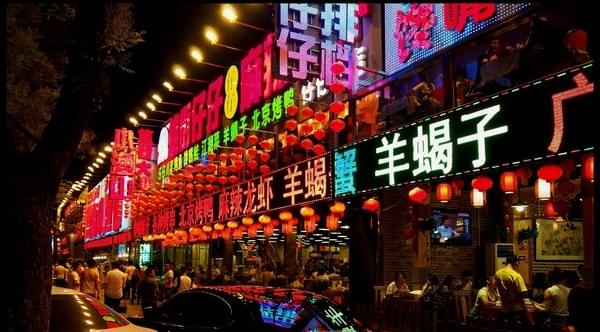 Guijie Street is the most famous food street in Beijing City! In those years, here was a gathering place for "Night Owls" of the whole Beijing city. Those who just watched football game at Gongti Stadium or not had a good time drinking alcohol in Sanlitun Bar Street all came here to eat famous Hot and Spicy Crayfish (麻辣小龙虾), this Guijie Street dish is famous in the whole Beijing city.
2. Yandai Xiejie Street 烟袋斜街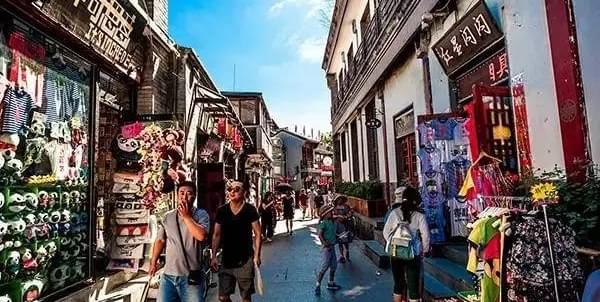 Yandai Xiejie Street is located in front of the famous Drum Tower and northeast of Qianhai Lake. You will find many handicraft shops here. However, the electric grill kebabs, old Beijing-style snacks make it one of the best places to enjoy local food while discovering various local handcrafts. Eating is not the most important thing here, after having some snacks it is really more important to have a drink at Houhai Bar Street.
3. Qianmen Street – 前门大街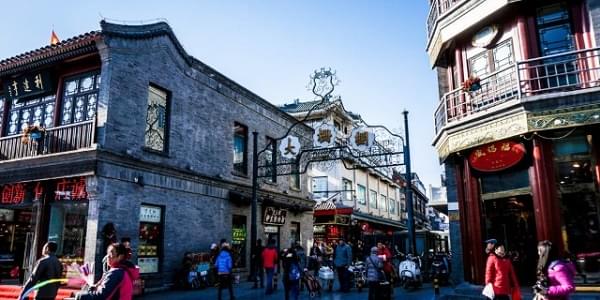 The Qianmen Dashilan area has always been the bustling place since ancient times. The Ruifuxiang Silk Store (瑞蚨祥), Zhangyiyuan Tea Shop (张一元) and many other renowned old stores can all be found here. You can have a meal in famous Quanjude Roast Duck Restaurant (全聚德),  taste Shaomai in Duyichu (都一处烧麦) or buy some Beijing dim sum at Daoxiangcun (稻香村). You can walk to the street after sightseeing in Tiananmen Square.
4. Guanganmen Food Street 广安门美食街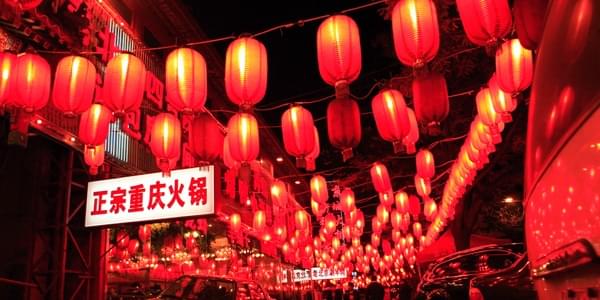 This food street is very long. You can find various Sichuan cuisine and snacks here. You can try spicy flavor dishes at Spicy Temptation Restaurant (麻辣诱惑), eat Sautéed Crab in Hot Spicy Sauce at Lilaodie Restaurant (李老爹). From seafood to braised shark's fin to Muslim flavor food, you can find all kinds of food from the country here.
5. Fangzhuang Food Street 方庄美食街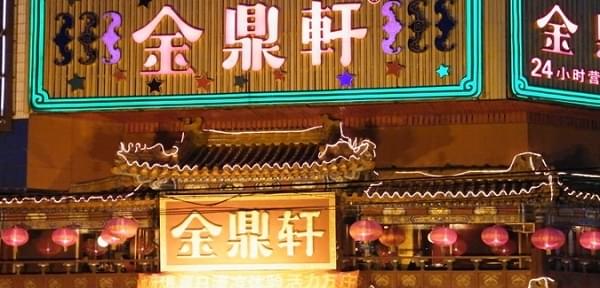 Fangzhuang area has a famous Fangzhuang food street. On both sides of streets there are dozens of restaurants such as Jinshan City Restaurant(金山城), Xiao Tudou (小土豆), Duyichu (都一处) and Jindingxuan (金鼎轩). You can find cuisines from Beijing, Shanghai, Chongqing, Shandong, Guangdong and other places.
Besides from the food streets above, there are other Beijing food streets such as Niujie (牛街), Suzhou Street (苏州街), Xiaoyun Road (霄云路). Nanluoguxiang (南锣鼓巷). You can go to any of them and give you a stomach a treat.