Top 5 Chinese Search Engine In 2017
Search engines are now at the heart of Chinese Search habit and are excellent tools for boosting online traffic. The rate of Chinese Internet users is increasing day by day and now a large part of the Chinese population relies on the Internet as a source of information.
Overview of the Chinese search engine market
There are five well-known search engines in China, but two of them account for about 84% of the market share. Baidu (百度) and 360 Research (360 搜索) are the undisputed market leaders in online research in China. In January 2013, Baidu held an impotent share of 72% of the search engine market in China. 360 search of Qihoo (So.com) had 11% while the other three major Chinese search engines, Sogou, Soso and Youdao held 8%, 4% and 0.3%, respectively. In January 2014, things changed considerably, as Baidu's market share rose to 58%, while Qihoo rose to 25%, exactly corresponding to Baidu's share of the market share. Tencent invested $ 448 million in Sohu's Sogou online search activity, taking a 36.5% stake. At the time of the operation, much expected Soso to disappear completely, although it is still today an autonomous search engine. StatCounter data shows that in April 2017 Baidu's market share in the search engine market in China was 76.05% followed by Shenma (8.78%), 360 Search (7.87%), Sogou (3.31%) and Google (1.84%).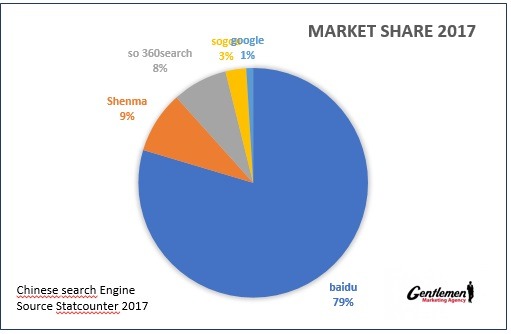 The top five search engines used by people in China.
China is now the second-largest search engine market after the US with a market size of US $ 14.9 billion. And the growth rate of the search engine advertising market in China will be 32.8%, twice the average growth rate in the world by 2015. Search engines in China are at the heart of Digital marketing and are excellent tools for boosting online traffic. Every company wants to optimize its search engines in order to get more traffic to grow their business.
1. BAIDU 百度
Founded in 2000 by Robin Li, Baidu is the dominant search engine in china. It has had its first success thanks to links allowing downloading free music files, often pirated, in MP3 format. Baidu has the largest market share in the search engines in China. 72% of Internet users prefer Baidu as their search engine. It has a better understanding of the Chinese market and it simplifies access to Google. It is frequently updated compared to other search engines. Baidu also offers a search engine in Japanese and has launched a retail site with the largest Japanese virtual shopping mall, Rakuten. In addition, it offers good security and desktop publishing facilities. It seems that there are some remarkable facilities where many other sites forge a partnership with the network .
2. QIHOO 360 SEARCH  奇虎360搜索
Initially, Qihoo has been successful in China by publishing an antivirus. Then he launched the browser "360 Safe Browser" and finally in 2012, Qihoo 360 launched its own search engine So.com. A few days after its launch, Qihoo was already the second most used search engine on the Chinese web. In 2013, Qihoo announced its intention to expand internationally, offering versions in English, Russian, Japanese, Spanish, German, French and Korean. 360 Search is the second most favored search engine by the Chinese who hold 25% of the market share. It is one of the undisputed leaders in the field of search engines in China. He is known as a popular agent in paid advertising because of the amount of income he has begun to earn in the current years. It has a good security network, a portal and a browser installation for the public.
3. CHINASO 中国搜
China has launched its new national search engine. Called Chinaso, it was founded in 2010 by the Chinese news agency Xinhua. In 2014, she decided to merge with Jike and now known as ChinaSo. It is widely used by Internet users to watch news, images, audio, videos and audio. It allows searches, in the language of the country, on the Web, the news, the images, the videos and the maps. Several partner companies, including People's Daily, Xinhua News Agency and China Central Television, participated in the project. It operates under the supervision of the Chinese state and that is why they always publish filtering news. For example, pornography and violence are restricted in the search engine and have only useful features.
4. SOGOU 搜狗
Established in 2004, Sogou is one of the leading search engines with over 400 million users. Its founding company is called Sohu which has a reputation in online game in China. Since its inception, it has gained a worldwide reputation that attracts a large number of Internet users. Its web application products are beautifully organized with features such as music, video clips, news, map and images, and so on. It is well organized and therefore very convenient to search for anything.
5. YOUDAO 有道
Launched in December 2007, Youdao is also popular with other leading search engines and benefits from ranking as a search engine. It has a range of features in its results page, including search field, organic search results, vertical searches, etc., with its user agent youdaobot.
The Chinese search engine turnover is growing considerably. Since 2015, their quarterly profit exceeds 23 billion yuan. It should be noted that the Chinese search engine market is marked by several important factors not to be overlooked. The economic context is a major impact on the market. We also note the mobile effect, which influences the market in a positive way. The mobile market is indeed still very profitable and the searches on mobiles have come to reinforce the figures of the search engines.