Top 10 Chinese Love Songs
Love songs are an important part of Chinese music. Most people will think of particular love songs when recollect their sweet days. Here is a list of the top 10 most romantic Chinese love songs.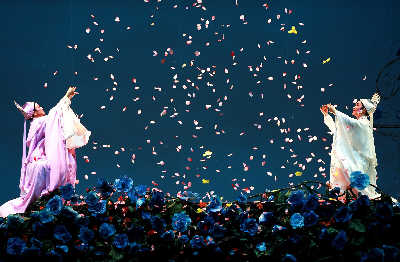 1. The Moon Represents My Heart 月亮代表我的心
The Moon Represents My Heart is one of China's most well-known love songs. This song are often sung in various shows and KTV parlors. Its lyrics express that words cannot fully convey the one's love. Only the moon, a symbol of romance, can.
2. The Most Romantic Thing 最浪漫的事
What do you think is the most romantic thing in life? Some people believe that only such a type of things like sending flowers, singing love songs and having candle-light dinner can be called romance. But, Cyndi Chaw's song The Most Romantic Song tells us that "The most romantic thing I can imagine is to get older slowly with you."
3. As Sweet As Honey 甜蜜蜜

As Sweet As Honey (or Tian Mimi) is one of most famous love songs sung by China's pop legend Teresa Teng. The song enhances a relaxed, lively amd cheerful artistic atmosphere. It has been a masterpiece of Teresa Teng.
4. Intimate Lovers 知心爱人
Intimate Lovers (or Zhi Xin Ai Ren) is a famous duet song with very good tune. The song is sung by the couple singers – Ren Jing and Fu Disheng. The song has always been one of the most requested duets in KTV rooms.
5. Kangding Love Song 康定情歌
Kangding Love Song is a folk song from Kangding area (known as the home of love songs), Sichuan province. Its simple melody and catchy rhythm are very easy to follow. The lyrics expresses a timeless theme – love. The song was a big hit decades ago and can still be often played on the radio and sung in karaoke bars today.
6. Choice 选择
Choice (or Xuan Ze) was a love song sung by Sally Yeh & George Lam. The lyrics interpret the hero's and heroine's emotional choice: "I chose you, you chose me, and this is our choice," since we have chosen each other, "I'll love you until the seas run dry and the rocks crumble."
7. Loving You 10 Thousand Years 爱你一万年
Loving You 10 Thousand Years is a very popular song by Hong Kong Cantopop singer Andy Lau.  "Love you for 10,000 years", as the song says, wish the love can last forever.
8. Meet At Aobao 敖包相会
Meet At Aobao or Aobao Xianghui (Aobao means "a pile of stones" in Mongolian) is a well-known Mongolian folk song that many Chinese people can hum. The song shows a beautiful scene that a young man is waiting eagerly for his lover beside an Aobao on a bright moonlight night.
9. Liang Zhu Butterfly Lovers 梁祝(化蝶)
Liang Zhu Butterfly Lovers is a music work composed by Chen Gang and He Zhanhao in 1958. It is based on a tragic love story of two lovers – Liang Shanbo and Zhu Yingtai – in ancient China. Their love story is often compared to that of Romeo and Juliet. This traditional Chinese music classic is often played by Chinese orchestra in international concert.
10. In A Faraway Place 在那遥远的地方
In A Faraway Place is a widely sung Chinese song created by Wang Luobin (who is called The Singing King of the West) in 1939 when he met a beautiful Tibetan girl at Qinghai Lake. The song describes that a rich prince has a crush on a pretty girl but he can never marry her due to their differences in wealth and status.