The 8 Best Kayaking Destinations in China
China is a country full of natural beauty and wonderlust but it is not always the first destination that you think of when it comes to kayaking. This needs to be changed as China features some of the most diverse and beautiful rivers and waterways in the world. Seriously some of these locations feel like you are entering something out of Jurassic Park!
1. Fuchun Jiang River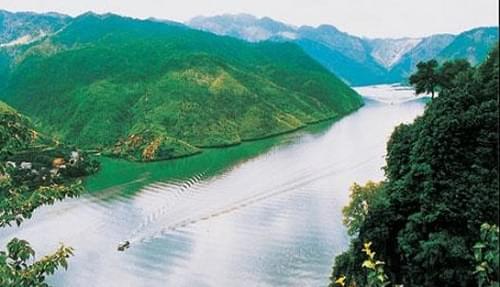 Winding through the Zhejiang Province in Southeastern China the Fuchun River is a great kayak destination that flows through Hangzhou and flows into the pacific ocean at Hangzhou Bay. There is plenty to see as the total length of the river is 100 Kilometers in Length. Some Highlights to paddle by include the Quililong Scenic Zone, Fuchun National River Forest Park and the Little Three Gorges which provides a great scenic view to the cascading mountains next to the river.
2. Qiandao Hu Lake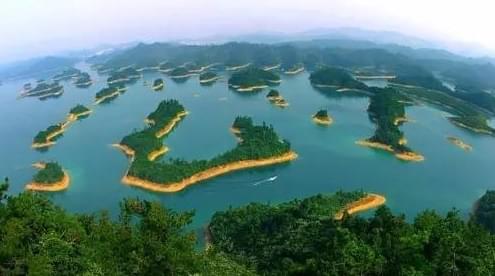 Qiandao Hu Lake is a fantastic place for the modern adventurer to discover over 1000 islands that are scattered throughout the giant lake. These islands look surreal as if painted onto a canvas but it is 100% real. The lake covers 573 Square km in which the islands make up about 86 Square Kilometers. There are several local kayaking clubs that you can rent from but once in the water you are free to explore the islands. One of the other highlights include the Lost Island City which is now fully submerged. Lion City is widely believed to be built within the Tang Dynasty in 621 AD. You will have to book a full diving tour to see the ruins.
3. The Yulong River at YangShuo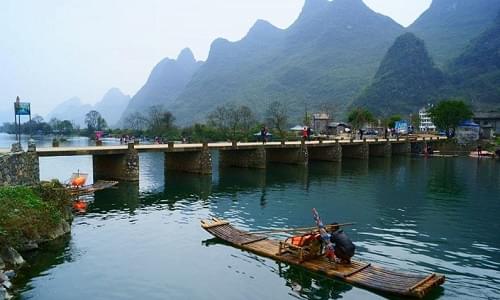 If you want a truly unique experience we recommend bamboo rafting at Yulong River. It has three popular routes that last from 2.5 to 1 hour and one route that spans the whole river distance that last for up to 6 hours! This is a great way to see rural life at work as you get to see farmers, fishermen alike paddling in their own bamboo rafts next to the rolling hills surrounded by bamboo forests and fields along the riverway. Should you want to stick to Kayaking there are several rental shops available at Shazi River.
4. Shazi river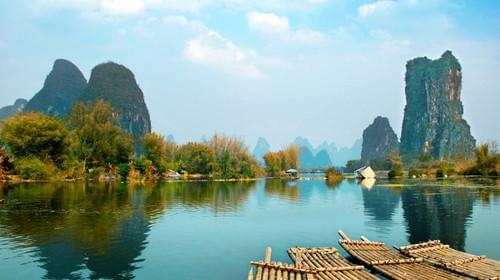 Just an hour away from the the Yulong River is the Shazi River which gives you the option to paddle kayaks ranging from fiberglass sea kayaks to glass bottom canoes. Paddling the Shazi River gives off more of a lake vibe with countless shoreline vegetation and dams to be seen.
5. Qinghai Lake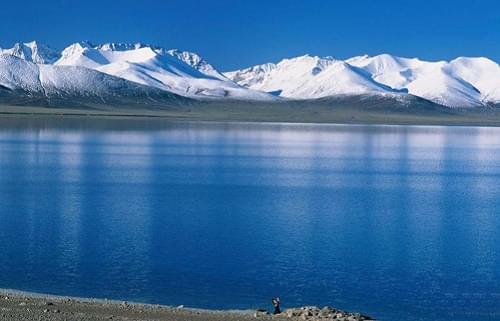 Qinghai Lake is the largest lake in China. Located in the Qinghai Province it is known as an Alkaline lake. Book at the right time though, because the lake is usually frozen 3 months of the year in winter time. Some highlight include the bird islands of "Cormorant Island" and "Egg Island" which is now part of the natural protection zone. This is most populated by Buddhist Monks who have used the lake over centuries. Don't think this is a day excursion though, if you come to Qinghai Lake it can take more than 20 days to walk around its perimeter.
6. Sanya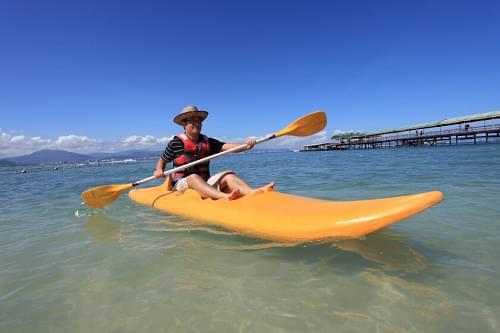 China is not the first location that pops in your mind when it comes to sandy beaches but it has exactly that! Located on the Hainan Island Sanya beach is known as the Florida of China for it's warm tropical climate, popular tourist destinations as well as it's thriving retiring community. It's clear waters and golden white sandy beaches make it an ideal resort hotspot with lots of opportunity for kayaking trips. Sanya Beach is a destination that should leave you relaxed and satisfied for at least a week as it is a hotspot for coral reefs and diving. The Different Bays and regions along Sanya offer different activities for you to explore!
7. Lamma Island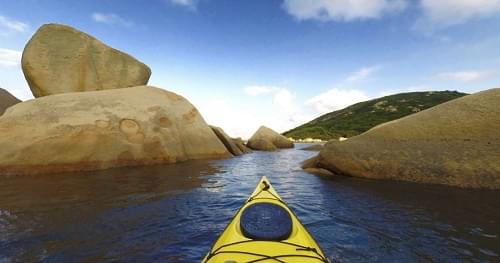 Located South West of Hong Kong Island, Lamma Island offers a great Sea Kayaking/ Hiking Tour from Sok Kwu Wan to Yung Shoe Wan that goes by all the islands hot spots in 7 hours and 30 minutes. You will see a wide variety of highlights starting off with checking out a floating fish farm, seeing remote granite cliffs on the Southern coast of the island to golden sandy beaches along Crescent Bay. After that the hike begins! Highlights of the hike include passing by a Green Sea Turtle Hatchery, followed by a 7k coastal walk.
8. Yangtze River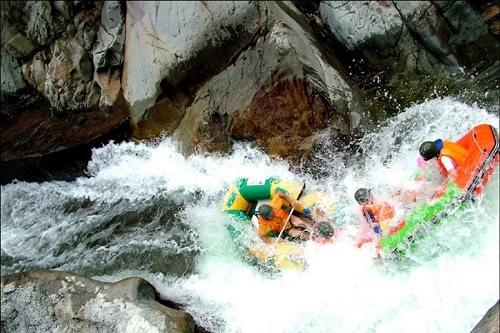 This one is for the more experienced white water kayakers. The Yangtze River gives off an Arizona type of feel with bare mountains and short vegetation that is plentiful. Don't worry if you feel left out as they also have multi day group rafting trips that you can enjoy this National Park river on!
Conclusion
China offers plentiful kayaking opportunities through a wide variety of regions from raging rivers in Yangtze River to the relaxed beaches of Sanya and it's resorts. One of the best ways to explore China and just about any country is by water, not only is it a unique way to travel it also provides a lot of different health benefits!
So go on and explore all that China has to offer!"