The 10 Most Exotic Food Streets in China
You can only realize how weird Chinese food is only when you start traveling in China. You can find various strange local snacks in different areas of China and here are some of the most exotic snack food streets in China, I am sure you will be surprised by the foods on the stalls.
1. Wangfujing Snack Street 王府井小吃街 – Beijing
Wangfujing Snack Street (or known as Donghuamen Snack Street) is already closed. You can go to other food streets in Beijing.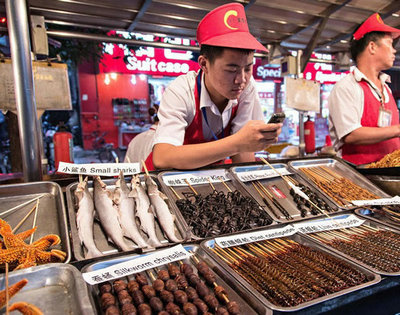 Wangfujing Snack Street, maybe the most famous walking street in China, is known for its strange snack foods. You can buy various strange snacks such as fried silkworms, grasshoppers or even roasted bats … if you dare to try.
2. Pichaiyuan Food Street 青岛劈柴院 – Qingdao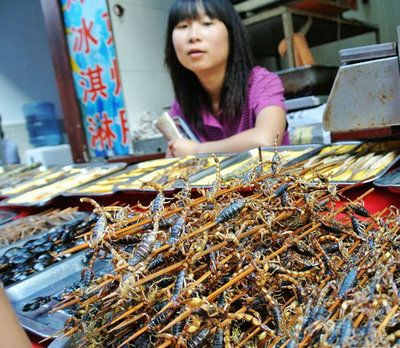 Qingdao PiChaiyuan Food Street is located at the corner of ZhongShan and Beijing Road. You will be amazed by its exotic local street snacks especially various seafood. If you are allergic to seafood, you can try some unusual foods like feast of insects instead.
3. Huangsha Seafood Market 广州黄沙水产市场 – Guangzhou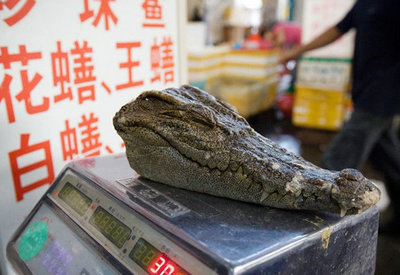 Huangsha Seafood Market in Guangzhou city is one of the biggest seafood market in South China. You can find almost all seafood here, even crocodile head and geoduck clam are in sale. The market itself does not contain restaurant, however,  surrounding the market you can find many restaurants and snack shops to satisfy your appetite.
 4. Luodai Ancient Town 洛带古镇 – 成都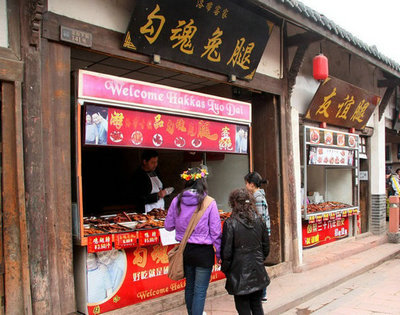 Luodai Ancient Town is a town located about 10 kilometers from Chengdu City. It is an old town transformed into a large network of streets with many local food and exhibition halls. There you will find Sichuan-flavored chicken, roasted duck,  goose leg and spicy rabbit head.
 5. Wuyi Night Market 五一夜市 – Urumqi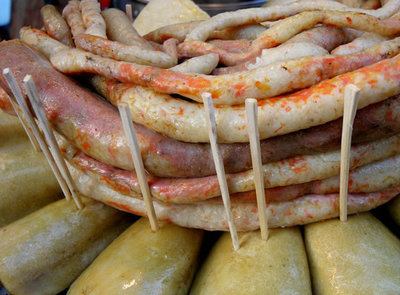 Wuyi Night Market is the most popular gourmet street in Xinjiang, west China. Food stalls in this street are well stocked with everything from kebabs to soup. The night market runs from 8:00pm to 1:00am daily.
6. Guanqian Street 观前街 – Suzhou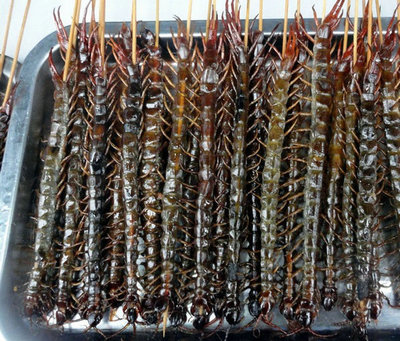 Guanqian Street has been honored as the one of the Four Most Famous Anceint Walking Streets in China (the other three are: Nanjing's Fuzimiao, Shanghai's Chenghuangmiao and Beijing's Tianqiao). Guanqian street is a good place to enjoy the delicious local Suzhou food.

7. Muslim Street 回民街 – Xi`an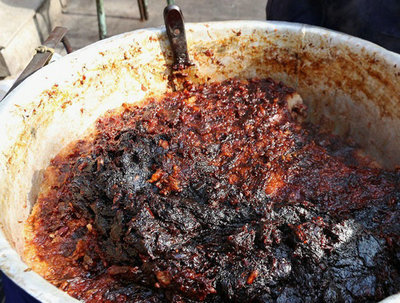 Muslim Street's local flavor snacks will surely dazzle everyone's eyes. As long as one can think of, he or she can find the mouthwatering food in this cuisine paradise. Muslim Street is located at the heart of ancient city of Xian, next to the Drum Tower.
8. Hubuxiang 户部巷 – Wuhan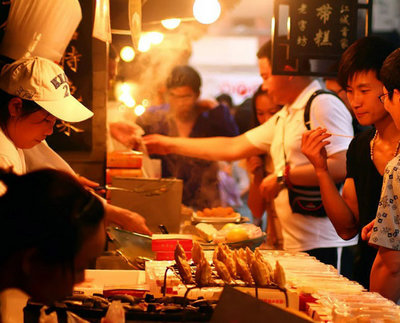 Wuhan is known for its street breakfast food, and Hubuxiang Street is the gathering place for local snacks. There are plenty of delicious Re Ganmian (hot dry noodle) shops here.
9. Shouning Road 寿宁路 – Shanghai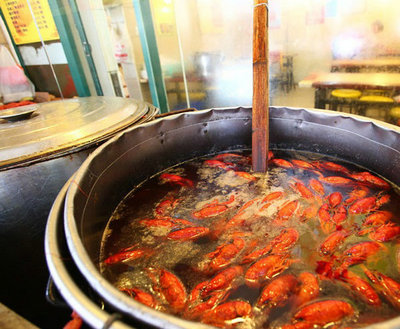 At Shouning Road, near Xintiandi, many vendors offer grilled oysters, scallops, baby abalone with garlic, black bean sauce and chili. You may try barbecued fish, spicy crawfish and roast duck along with your cheap Tsingtao.
10. Zhongshan Road 中山路 – Nanning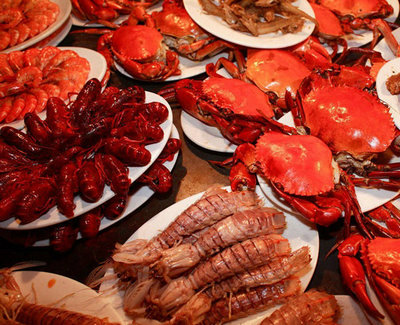 Zhongshan Road is a well-known food street in Nanning. You will find lots of street stalls serving many kinds of Guangxi and Guangdong foods. When the night falls, it becomes very busy street with lots of stalls and food lovers.