The 10 most beautiful water towns in China
Yangtze Dealta area is the most developed area for long times in ancient China. where there are lots of ancient water towns which well preserved around Shanghai, here is a list of top 10 most famous water towns in China. 
1. Zhouzhuang Water Town (周庄)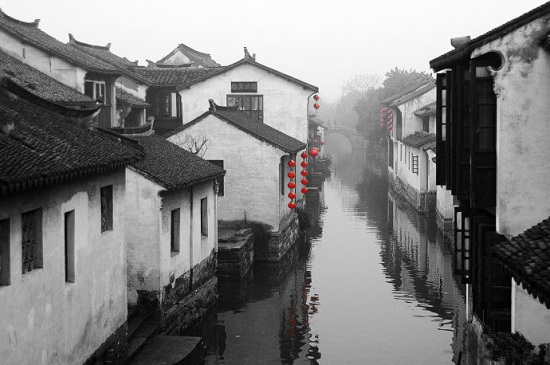 Located between Shanghai and Suzhou, Zhouzhuang is a famous ancient town of Kunshan City, Jiangsu Province. It is considered to be the best waterside town in China. This ancient town has a history of more than 900 years old with many houses built in the Ming and Qing Dynasties.
2. Xitang Water Town (西塘)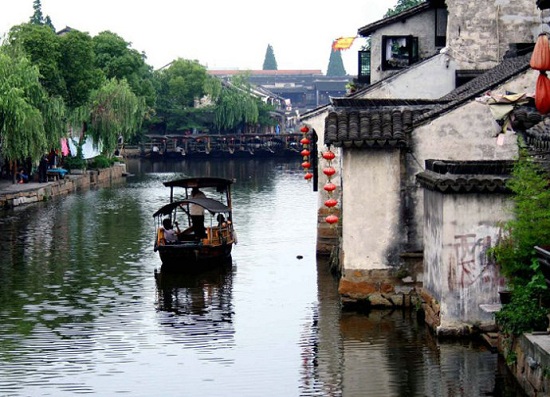 Xitang, a mystical town between Shanghai and Hangzhou, is a typical water town in southern China with over a thousand years of history. Nine rivers run through the town, while over 100 bridges connect the water-town into one entity. The picturesque scenery of Xitang will surely captivate any visitor home and abroad.
3. Tongli Water Town (同里)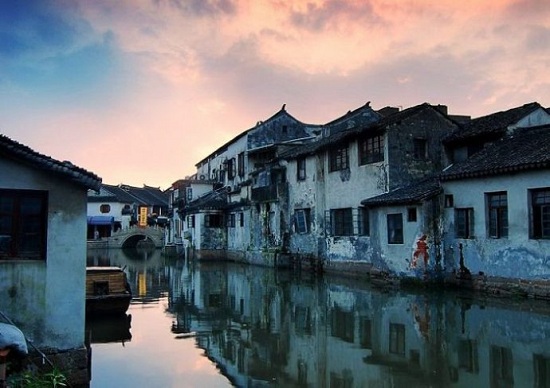 Tongli Water Town is 18 kilometers from Suzhou and 80 kilometers from Shanghai. The little town is divided into 7 parts by 15 brooks and unified by 47 bridges built in different types and different times. Built from the Song Dynasty, the town already has a history of over one thousand years.
4. Nanxun Water Town (南浔)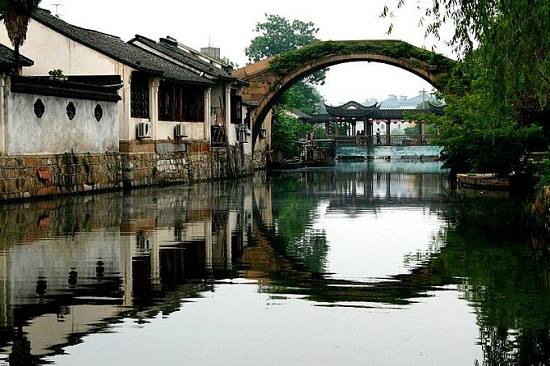 Located 90km to west of Shanghai, the Song Dynasty town of Nanxun is one of the most beautiful towns in China. With beautiful gardens and bridges scattered around everywhere, Nanxun is also soaked in ancient culture. It has been home to the locals for more than 700 hundreds years. People in nanxun have created a unique lifestyle and culture in this fertile land. Located at the southern edge of Taihu Lake on the boundary between Jiangsu and Zhejiang provinces, it can be visited as a long day trip from Shanghai or combined with a longer trip to Suzhou or Hangzhou.
5. Wuzhen Water Town (乌镇)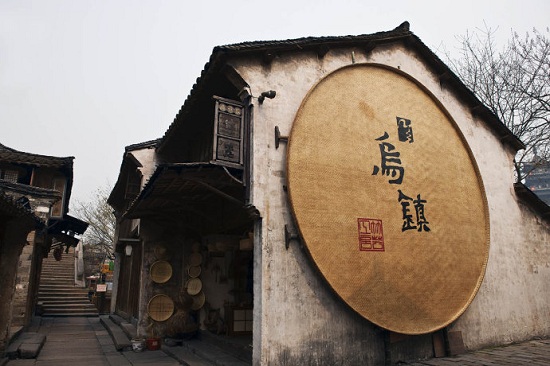 Wuzhen is a famous ancient water town with a history of two thousand years. It lies within the three city triangle of Hangzhou, Suzhou and Shanghai. For hundreds of years, its residents have been building houses along the rivers and trading near the bridges. Strolling along the ancient stone-paved streets, looking at the black tiled and tung oil painted timber houses, it seems almost as if you are walking into a traditional Chinese painting and experiencing the sights of ancient China firsthand.
6. Luzhi Water Town (甪直)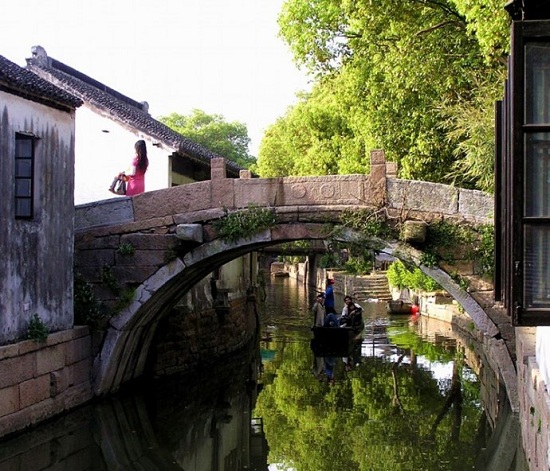 Luzhi is located in the Wuzhong District, 18 km east of Suzhou in Jiangsu Province. With a history of more than 1400 years, it compares favorably to Zhouzhuang Town. Luzhi was famed to be the Venice of the East for its beautiful waterways and ancient bridges, some of the bridges dated back to the Song Dynasty. A walk in the ancient town Luzhi is said to be a walk into history frozen in time, tranquil and serene.
7. Zhujiajiao Water Town (朱家角)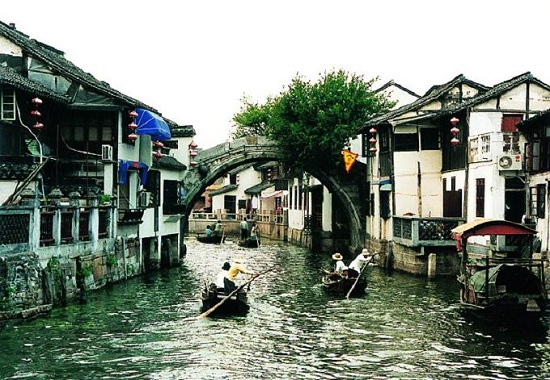 Located 47 kilometers away from Shanghai, Zhujiajiao is a typical ancient water town with over 1,000 years history. Zhujiajiao features beautiful waterways, arched stone bridges, ancient streets paved with stone, and more than 10,000 houses dating back to Ming and Qing dynasties. There are altogether 36 bridges in the town in different shapes and styles, from wooden to stone to marble and each has a name and possibly a story.
8. Mudu Water Town (木渎)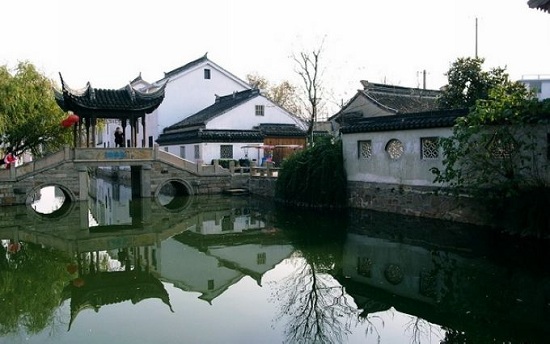 Mudu Water Town is located 10 kilometers to the southwest of the Suzhou. It now covers about 34.5 square kilometers. With a history of more than 2,500 years, Mudu has witnessed the rise and fall of many dynasties and it is also endowed with plentiful cultural connotations. Mudu is a traditional town and has typical landscape gardens, small rivers and bridges. Unlike the prosperous eastern cities in China, Mudu displays a simple, peaceful image.
9. Guangfu Water Town (光福镇)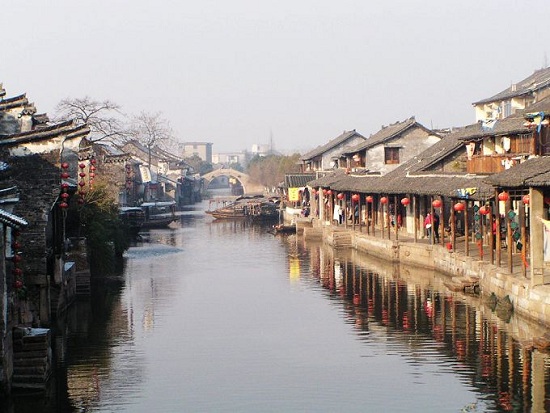 Guangfu Water Town is located at the foot of Dengwei Mountain, 25 kilometers to Suzhou city. Most of its famous tourist destinations are with long history and are famous resorts in the ancient time. It is said that imperial Qianlong in Qing dynasty had been there for many times for appreciating the ancient temples and trees.
10. Anchang Water Town (安昌)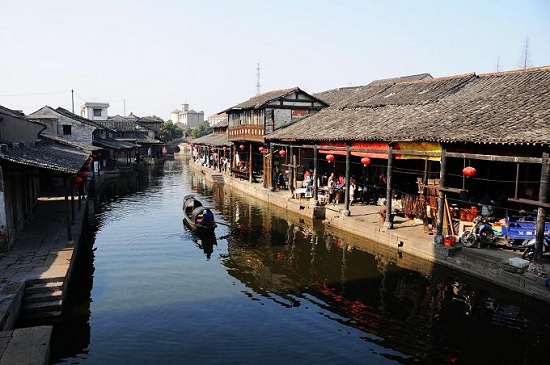 Have you ever been to a typical water town without any Commercial orientation? Maybe having a trip at Anchang town is a good choice.Anchang Town is the best preserved ancient water town in Shaoxing, Zhejiang province. When you enter the town, you may feel surprise and only to find that there is rarely visitors. Give a rest to yourself and you can wander along on the smooth stone road by the riverside, and is an amazing feeling when the river gurgling in the side so far so near.