Guide on Buying China Train Tickets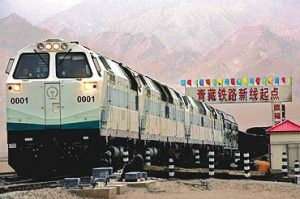 Train travel is generally a great way to get around China. It is cheap (much less expensive than air travel) and generally very comfortable. Some essentials below may help you have a enjoyable train trip in China.
About China Railway System
Chinese Railways don't have a central reservation system, only local computer reservation systems based in each city that aren't linked to each other.  So a station can generally only sell you a ticket for a journey starting at that station, not for journeys starting elsewhere.  For example, the ticket office at Shanghai can sell you a Shanghai-Beijing ticket but cannot sell you a Beijing-Xian ticket.
Bookings open 10 days in advance for regular trains and 20 days in advance for fast trains.  In the first months of operation of the new line, tickets were reported as selling out almost as soon as bookings open, with no sign of demand diminishing.
How to Buy Train Tickets
An easy way to buy train tickets is with local China travel agency. They speak English and can arrange it according to your request. Book it through www.chinatraintickets.net or through train booking app. Usually some service fee is needed for the bookings and advance payment is needed.
Another way to go about booking tickets is to ask your hotel concierge to do it. Many China hotels will do this for you for a small fee, perhaps RMB 50. But for some special ticket like Beijing- Lhasa train ticket. It is hard to get it and you had better book it with a local travel agency and the service fee is usually several hundreds.
Train Schedules and Fares
Now you can research the train schedules from Cnvol.com, it provides train schedule search service and all their data are updated monthly. The fares vary a lot depending of different train type and seats. Give an example the Beijing- Shanghai overnight train. The fastest and most comfortable train D301 lower bed costs RMB733 and a common fast train T103 costs RMB500.
Train Types and Meaning
The first character of train number has special meanings. Below is some explanation
K – Fast Express
T – Extra Fast Express
D – MU (Multiple Units)
N – Intra-Bureau Express
L – Temporary Slow Train
Z – Overnight Express
C – Beijing-Tianjin High Speed EMU
Z – Overnight Express
G – High Speed EMU
Seating Options
In China the usually the trains offer 4 seating options:  Soft seat, hard seat, soft sleeper and hard sleeper. Travel with soft sleepers is advised. on most of the trains the soft sleeper compartment offer 4-berth with full bedding provided without toilet.  On some of the trains, there are 2-berth deluxe sleeper compartments available with upper & lower berths on one side of the compartment, and a wardrobe and armchair on the other side. It also has a private toilet & washroom.
Eating on Train
Most overnight long-distance China trains have a restaurant car serving full meals. All the dining car is at the middle of the train. The food is in Chinese style and all three meals are provided.
Toilet on Train
Generally toilet can be found only between the two cars even for soft sleepers and you need to take your own toilet paper.