Looking for a job in China? Would like to work in one of the fastest-growing economies in the world amd experience a completely different culture? Check out these job hunting websites for the latest career listings.
1. Zhaopin.com (in Chinese)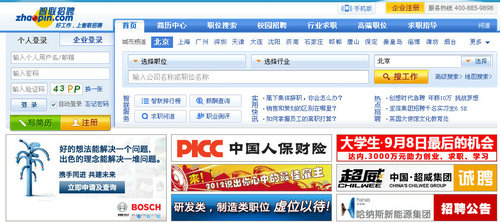 Zhaopin.com is one of the China's top job websites and a leading HR service provider in China. Originally started as a headhunting firm in 1994, The site's services include resume posting in the database, and job search by category, location and time frame. It allows you to create your own account, which you can use every time you access the website.
.
2. 51job.com (in Chinese)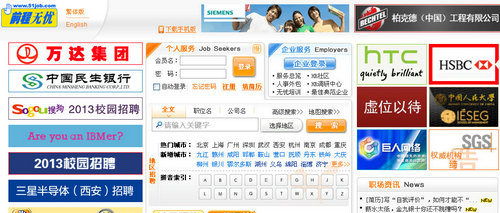 51job.com is a publicly owned online career solutions center that has twenty-five offices in Mainland China and Hong Kong. It offers a wealth of services to both job seekers and employers in the fields of recruitment, training, assessment and human resources-related areas. Also, aside from the maintenance of the job website, there is also a wide distribution of job openings and other career-related information throughout the twenty-five cities of China.
.
3. Chinahr (in Chinese)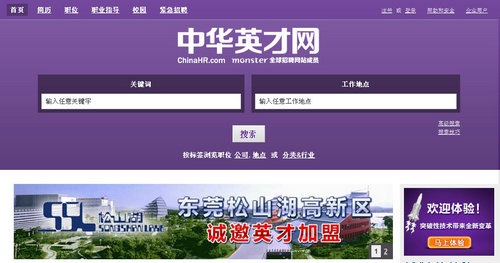 Chinahr.com is a leading recruitment website in China and a member of Monster's global recruitment network. As the leading domestic recruitment website, ChinaHR provides employers with high efficiency and precision recruitment solutions, oriented towards providing job seekers with a wealth of job search information, precisely matched positions, and professional online occupational guidance services.
.
4. China Job (in English)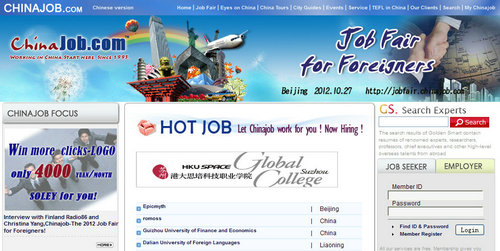 If you are searching for a job in the fields of Science and Technology or Education, then look no further. ChinaJob is managed by the China Association for International Exchange of Personnel and China Services International. Some of the services that are offered through the website are resume posting, job posting and forums.
.
5. Monster.com.hk  (in English)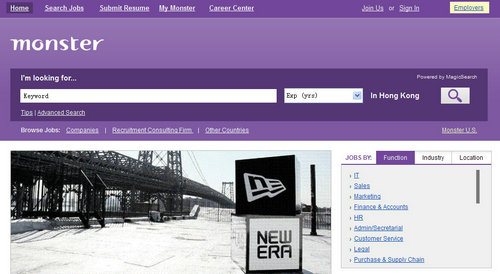 Monster.com, one of the top ten job websites worldwide that was founded in 1994, has a huge presence also in China, especially in Hong Kong. Some of the services that this site provides to jobseekers are resume posting, job search and career information and advice. Meanwhile, employers who avail of the services of Monster.com Hong Kong get the advantage of the job postings, resume search, candidate screening facilities and are able speed-up their hiring process.
.
6. ChinaHot (in English)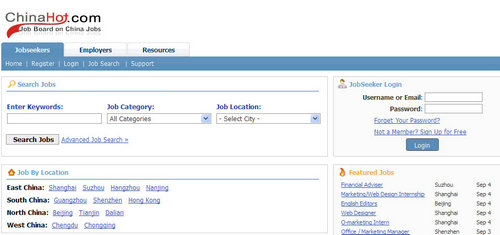 ChinaHot is an English language job board for expats/foreigners and bilingual Chinese.
.
7. Dragon Business Network (in English)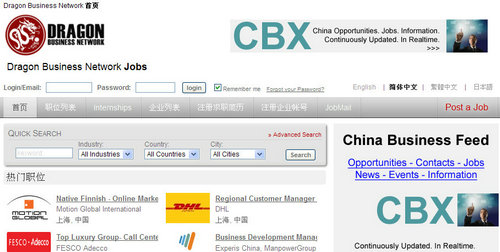 CareerEngine isn't the biggest job board but it's user-friendly and showcases a good variety of job opportunities from reputable employers. Most positions are in Shanghai, but you'll also find opportunities in Beijing, Guangzhou and other China cities.
.
8. Matchdragon (in English)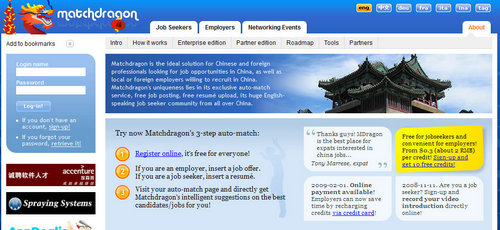 Matchdragon caters to the English-speaking job seeker in China.
.
9. Wang and Li Company (in English)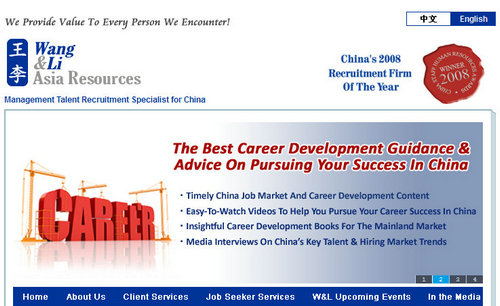 Wang and Li Company is a major human resources services provider, which has a specialty of managing highly skilled professionals in Greater China since 1994. Some of the services that this company provides through its website are resume submission, job search and forums.
.
10. Cjol.com (in Chinese)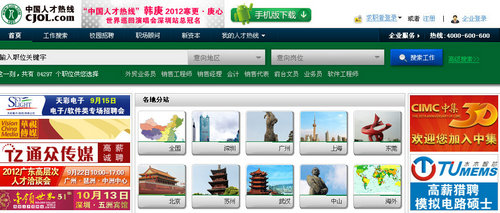 Job seekers can utilize services either as a registered member or as a visitor and explore constantly updated employment opportunities at home or across the region