Top 6 Richest People in Chinese History
China is a country with 5,000 years of history. Ancient China dominated the strongest country in the world for a long time. In the long Chinese history there were lots of rich people who collected numerous fortune than you can imagine. Below are the top 6 richest people in Chinese history.
1. Genghis Khan (1162-1227)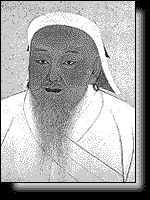 Occupation: Conqueror
Source of wealth: Looting
Assets: Almost five million square miles of land
Claim to fame: Lived to humiliate his enemies
If measure wealth by the size of conquered lands, Genghis Khan would be the richest person ever. He first united lots of Mongol tribes and his empire occupied nearly five million square miles including today's territories of China, Iran, Iraq, Burma, Vietnam and Russia, in total about 40 states. Genghis Khan, conquered so many states and he enjoyed it very much. "My greatest joy," he declared, "is to conquer my enemies, to pursue them, to take their asset, to see their families in tears, to ride their horses and to possess their daughters and wives."
2. Kublai Khan (1215-1294)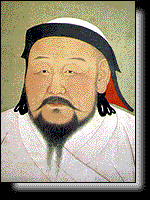 Occupation: Conqueror and heir
Source of wealth: Inheritance
Assets: Gold and jewels
Claim to fame: Inspired Xanadu
Kublai Khan, grandson of Genghis Khan, founded the Yuan dynasty and built its magnificent capital at Dadu (today's Beijing). Marco Polo traveled to China and marveled at Kublai Khan's summer palace, Shangdu — which was called "Xanadu" by English poet Coleridge. Marco Polo was also impressed by the luxury feasting and grand hunting, and by Kublai Khan's ships, which were big enough to carry 1,000 people.
3. Liu Jin (1452-1510)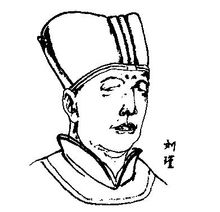 Occupation: Court eunuch
Source of wealth: Graft
Assets: Gold and silver
Claim to fame: Inspired morality tales on the danger of greed
Liu Jin was an extremely rich court eunuch of Ming dynasty. He used his power to collect quite a fortune. When eventually being executed for treason, he was found to own 12 million ounces of gold and 259 million ounces of silver. While the whole country's treasury had only 30 million to 70 million ounces of silver.
4. He Shen (1750-1799)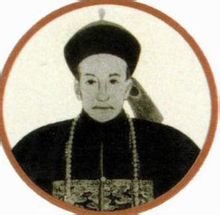 Occupation: Chinese emperor's right-hand man
Source of wealth: Graft, kickbacks
Assets: Gold, silver, furs
Claim to fame: So greedy he stole food from soldiers
He Shen was a notorious corrupt official in Qing Dynasty. He was favored by the Emperor Qianlong (1711-1799) for his handsome appearance, wittiness and his great capability. His son also married the emperor's daughter, strengthening his power in the court. He took a great amount of bribes and also pocketed vast sums from military expenditure while soldiers starved. When the emperor died in 1799, his heir the Emperor Jiaqing arrested He Shen right away and confiscated his immense amount of treasure. His gold and silver plus other antiques, treasures exceeded the amount of the 15 years Qing government revenue. He Shen finally died in prison.
5. Soong Tzu-wen (1894-1971)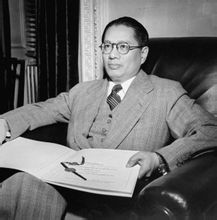 Occupation: Financier, government official
Source of wealth: Banking, fraud
Assets: Blue-chip stocks, cash
Claim to fame: Used Chinese treasury to invest in General Motors Corp.
Soong Tzu-wen was an official of the Chinese Nationalist Government from 1927 to 1949, Soong was said to be the richest man in the world during the 1940s. He studied in Harvard University and rose abruptly in the financial world. In 1923, he supported Sun Yat-sen, his brother-in-law and later he set up the Central Bank of China, which later became the national treasury of the country,  Soong was designated as the minister of finance. In 1927, Chiang Kai-shek, Soong's another brother-in-law grasped the power and Soong served as finance minister and later minister of foreign affairs. By means of access to Chinese treasury, he made a large amount personal investments in foreign stock such as General Motors Corp. and DuPont Co. It was said that he had collected more than $70 million (about $660 million in today's US dollars) wealth until 1943. Soong moved to San Francisco in 1949 when Kuomintang failed in the civil war.
6. Wu Bingjian (1769-1843)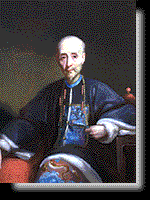 Occupation: Trader
Source of wealth: Import/export, money-lending
Assets: Millions of silver dollars
Claim to fame: Richest businessman in the world in his time
Wu Bingjian was a rich Chinese merchant in Qing dynasty. He was known to the west by his English name Howqua. His farther was the first group of merchants authorized by the Qing government to sell silk and porcelain to foreigners. Their family accepted silver only for payment and almost did not buy foreign goods. In 1789, Howqua took over the family's business and lent huge amount of money to foreign merchants in return for a share of the shipments. He owned millions of silver dollars, which was several times of the richest man in the United States.