Top 6 Mysterious UFO Incidents in China
Since the 20th century, science and technology have been developing by leaps and bounds, but it is undeniable that people are still faced with all sorts of mysterious phenomena that are inexplicable by science. Even those 7,000-year-old rock paintings in Helan Mountain depicted a spaceman in a helmet.
All these legends and records about UFO have been receiving increasing interest and concern in recent years. Here I make a list of China's top 6 most famous and mysterious UFO incidents
1. Meng Zhaoguo Incident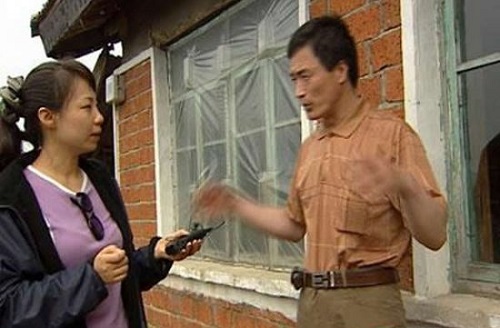 In June 1994, Meng Zhhaoguo, a common villager in Heilongjiang Province, had several close contacts with the third kind in Fenghuangshan Mountain. Meng claimed he was forced copulation with a 3 meters tall female alien onboard spacecraft. He claimed that on the subsequent 17th of July he was abducted from his house and shown Jupiter, which the entities claimed was their home world.
His story was examined by the UFO Enthusiasts Club at Wuhan University throughout 1997 and this state-sponsored UFO Research Society concluded that his claims were true.
2. Duxi Forest UFO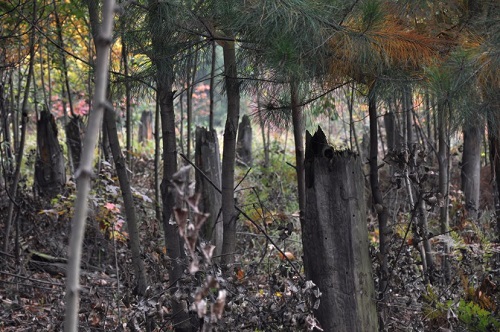 At about 3:20 am on the morning of December 1, 1994, a large area of land in the Duxi Forest Farm north of Guiyang city was "attacked" by a sudden flaming UFO. The forest workers and local residents saw a strong light in the sky and heard rumbling like a train moving. About 160 square meters of forest were all broken at the same height. Some roofs were destroyed, but surprisingly there were no poultry and livestock fatalities, and high-voltage wires through the forest were also intact.
3. 1999 Shanghai UFO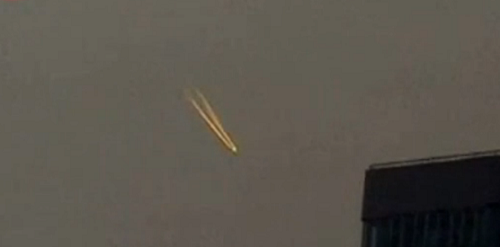 From 4:30pm to 5:05pm on December  9, 1999, thousands of people in Shanghai saw an UFO with orange tail appeared in Shanghai. The UFO flew very slowly for about 10 minutes, at about 4 kilometers per minute, and it also remained still at one point. Some witness with high-power telescope said that they saw the UFO made a right-angle direction change.
4. The Dropa Stones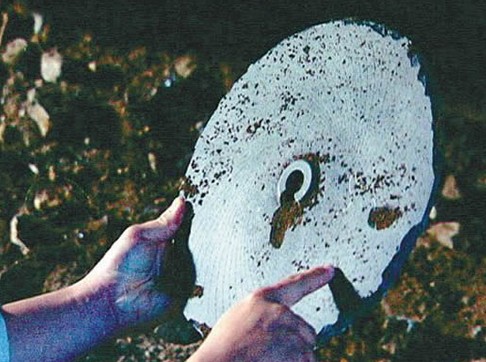 In 1938, an archaeological expedition, guided by the Chinese professor Chi Pu Tei made a surprising discovery in caves of Baian Kara Ula Mountains. They found peculiar-looking skeletons and hundreds of mysterious "Dropa Stones." Each stone was 9 inches in diameter and 3/4 inch thick with a perfectly circular 2 cm hole in the exact center. They also discovered interesting cave paintings. Engraved in the rock were the sun, moon, earth and stars, connected by groups of pea-sized dots. Dropa stones and those paintings could well be one of the best evidence that ancient astronauts did visit Earth in the past.
5. 1981 China UFO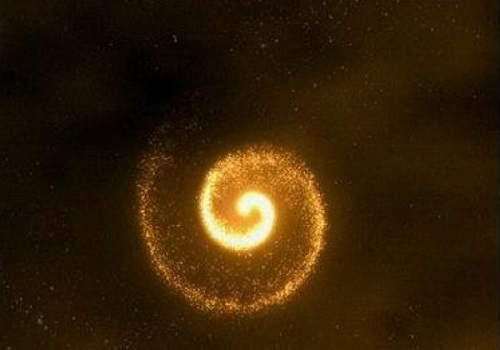 On July 24, 1981, a huge spiral-shaped UFO was seen at different times by millions of people from different areas across China. Photographs of the object were taken, and several drawings were published. The UFO was spotted in 14 provinces.
6. "Chi yan teng kong" painting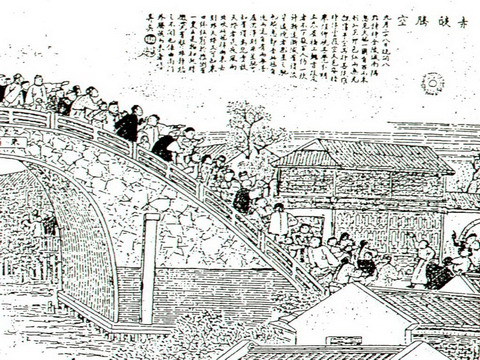 "Chi yan teng kong" or "Red flame takes off" was a painting by Qing Dynasty painter Wu Youru in 1892. The painting depicted the first graphical account of a UFO incident in Qing dynasty. The painting showed crowds gathered around Nanjing's Confucius Temple looking up at a "fireball" in the sky.