Top 10 Universities in China
China is one of the fastest growing economies in the world with interests covering different sectors like banking, manufacturing, trade, law, arts and so much more. The country also has a vibrant academic environment that has sparked the growth of excellent academic institutions, universities and colleges in the mainland. The following are top Ten Chinese Universities based on their reputation, student and expert reviews, compliance with best standards, accreditation, international friendliness and job prospects for students.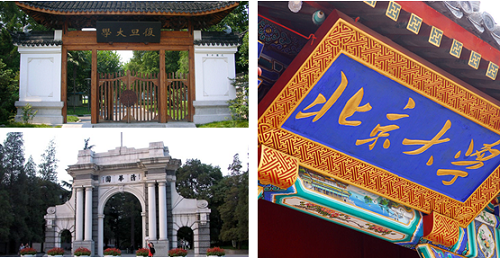 1.Zhejiang University
This university has over 115 unique degree programs for students to choose from, although its best known for the quality it produces in law and business. The university is also popular for its wide range of graduate programs. Zhejiang University is located in Hangzhou, Zhejiang Province.
2.Peking University
This is China's best university. It offers a wide range of academic disciplines for multicultural students from around the world at undergraduate and graduate levels. Some of the top courses offered by this university include those in the mathematics, software development and environmental science. This university is in Haidian District, Beijing.
3.Tsinghua University
This university prides itself as one of the top creed university in the mainland with a global appeal and agenda. As one of the nine only tertiary institutes in the C9 League (special league), students in this university have the best experiences and resources to be all they can be.  The university is in Beijing.
4.Shanghai Jiaotong University
This is a top Chinese government research university in Shanghai. As a C9 league member, this university remains as one of oldest, most selective and prestigious universities in the mainland china. They offer programs from undergrad, all way to PHD.
5.Fudan University
This one offers different academic programs spreading across 16 separate schools.  With a solid founding in Tourism, law, journalism, public health and many others, students have an opportunity to study different courses at undergraduate and graduate levels at this university. The university is located in Shanghai.
6.Nanjing University
This university is ranked top among the crème of Chinese higher education and offers at least 78 undergraduate programs in different fields. The university is located in Nanjing Jiangsu.
7.Wuhan University
This is one of the most respected social sciences universities in the mainland china as of end of 2012. They have a rich faculty in philosophy, social work and the humanities, with programs ranging from undergrad to doctoral level.
8.Zhongshan University
This is another top Chinese university founded in 1924. Named after Sun Yat-sen, a prominent chinese political figure who founded it, the university is largely multi-disciplinary, offering different programs and at various levels.
9.Sichuan University
This is one of the oldest national Chinese universities. As a merger between three national universities in the country, it's without a wonder why they make this list. The university is directly under the ministry of education and located in Chengdu, Sichuan.
10.Harbin Institute of Technology
This university closes the list of China's best 10 universities as of now. The university has top notch recognition as the best engineering university in China and is located in Harbin, Heilongjiang Province, China.
Author Bio: Alex Petryck is a student at Wisconsin University. He helps other students with writing their essays. You are welcome to check his best website to write essay.