Top 10 China national geological parks
China has 44 national geological parks managed since 1999. Zhangjiajie Gritstone-peak Forest in Hunan Province is the most classic geological park in China. Here's my personal top 10 list of national geological parks in China. How does it match up with yours?
1.  Stone Forest National Geological Park  (云南石林地质公园)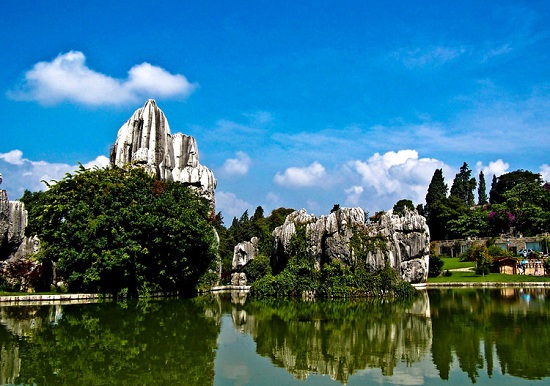 The Stone Forest is a notable set of limestone formations located in Yunnan Province, approximately 120 kilometres from Kunming. The tall rocks seem to emanate from the ground in the manner of stalagmites, with many looking like petrified trees thereby creating the illusion of a forest made of stone.
2. Yandang Mountain World Geopark (雁荡山地质公园)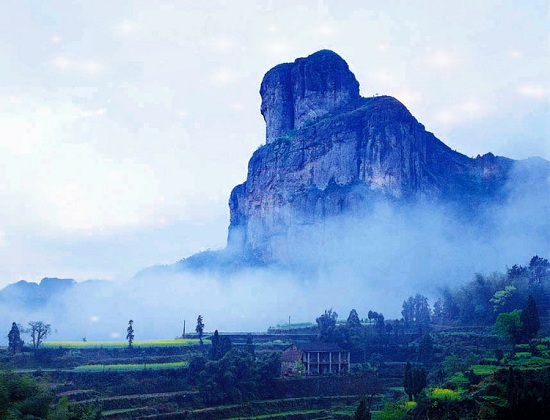 Situated in Leqing, Wenzhou in the southeast of Zhejiang Province, Yandang Mountain is one of the 10 famous national Geological parks in China. Yandang Mountain, which was formed 120 million years ago, is a typical ancient rhyolitic volcano of the Cretaceous period. Thanks to multi eruptions, falls, revivals and rises, and the erosion by water  for millions of years, the present landforms were formed. Of all the scenic spots in Yandang Mountain, Lingfeng Peak, Lingyan Rock and Dalongqiu Waterfall are the most famous, known as the "three perfections in Yandang Mountain".
3. Wulingyuan National Geological Park  (武陵源国家公园)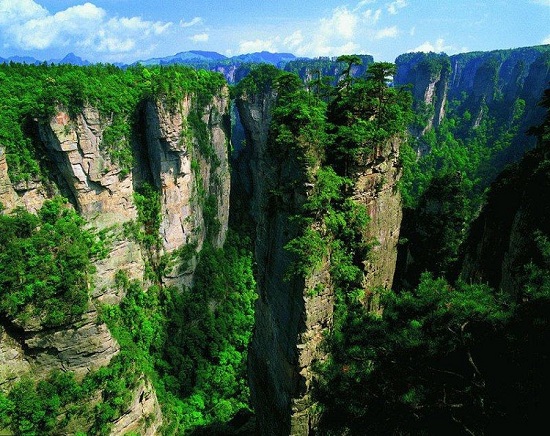 Wulingyuan National Park is located in Hunan Province, noted for its approximately 3,100 tall quartzite sandstone pillars, some of which are over 800 metres in height and are a type of karst formation. The site is in the Zhangjiajie City. it was designated a UNESCO World Heritage Site in 1992. One of the park's quartz-sandstone pillars, the 1,080 meters Southern Sky Column, had been officially renamed "Avatar Hallelujah Mountain" in honor of the eponymous film in January 2010.
4. Tengchong National Volcanic Geological Park (腾冲火山国家地质公园)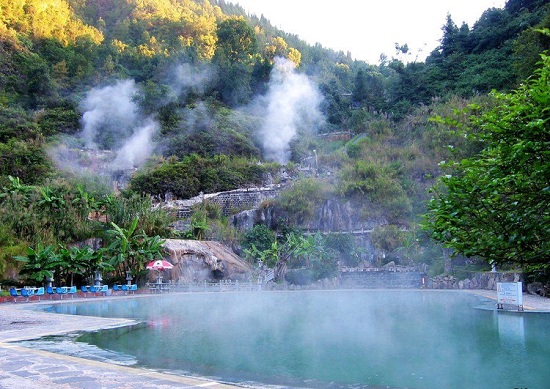 The park is suited in the Tengchong and Lianghe counties of Baoshan Municipality in Southwest Yunnan. It's known for its geothermal springs and remains of ancient volcanoes. There are altogether 97 volcanoes including 25 ones with well-preserved conformations (craters, volcanic cones). With diversified volcanic cones, the park also boasts dozens of pedionites with considerable coverage and mild gradients.
5. Funiu Mountain World Geological Park  (伏牛山世界地质公园)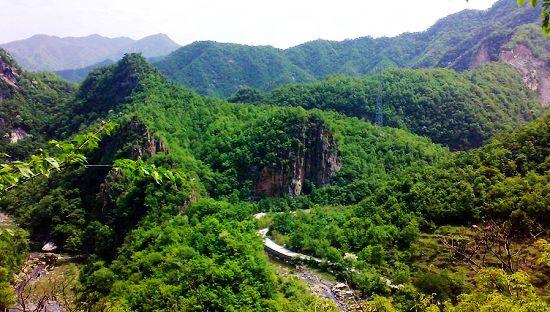 Mountain Funiu World Geopark lies in west part of Henan Province. It is a comprehensive geopark, Funiu is part of the Central Orogenic Range, an exceedingly stable portion of continental geology. Other features of this park include a World Biosphere Reserve, a National Nature Reserve, a National-Level Nature Reserve for Fossilized Dinosaur Eggs and a National Mine Park. The ecosystem here is so diverse and well preserved that the Baotianman Scenic Area has become on the "World Biosphere Reserves" authorized by UNESCO.
6. Xingwen Stone Forest Geological Park (兴文石海世界地质公园)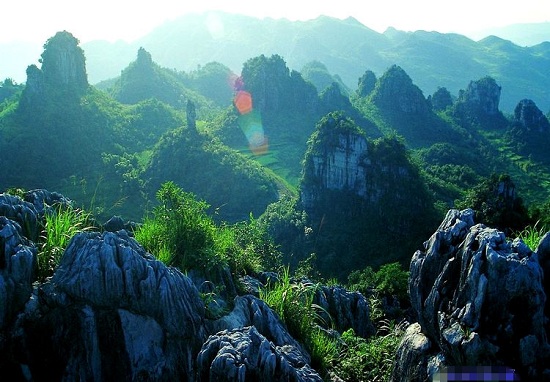 Located in Xingwen County in southwest China's Sichuan Province, the park lies in the transitional zone between the Sichuan Basin and Yunnan-Guizhou Plateau. Within the park, limestones of different ages are widely distributed. The park is the site where the giant doline, a closed depression draining underground water in karst areas, was first studied and named in China. It is one of the most important places for karst land form research in the country.
7. Yuntai Mountain Geological Park (云台山地质公园)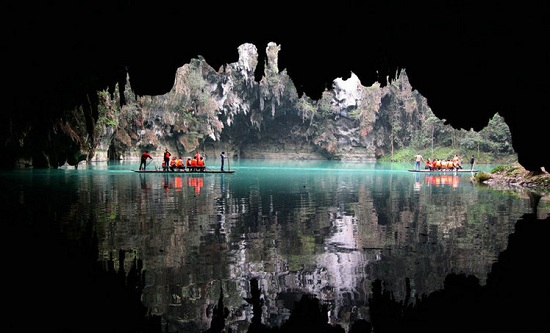 The Yuntai Mountain Geological Park is located in Henan Province. The park is known for its massive gardening areas, overhanging high cliffs, flying waterfalls, secluded valleys and spring water. The mountain is also notable for its peculiar peaks, which stretch far into the distance. The Qinglong Canyon, renowned as "First Canyon in Central China", attracts many people for ecological touring for its mild climate, rich water resources and various vegetations.
8. Wudalianchi Geological Park (五大连池)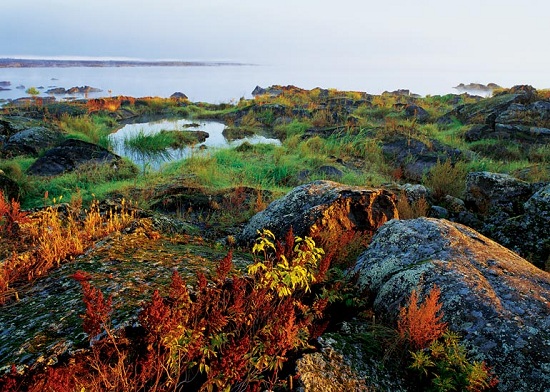 Wudalianchi Geological Park is Located in Heilongjiang Province, Wudalianchi Geological Park covers an area of 1,060 square kilometers and features extensive volcanic geologic landforms. It boasts the world's most well preserved, concentrated and complete volcanic landforms. With its vast array of common and typical volcanic landforms, Wudalianshan hold the reputation of being a "National Volcanic Museum" and an "Open Textbook on Volcanoes."
9. Mount Danxia Geological Park (丹霞山世界地质公园)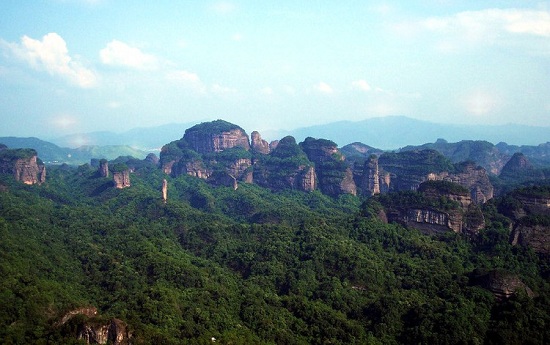 Mount Danxia, is located in Shaoguan of Guangdong Province. it has been honored National Scenic Area, National Geomorphologic Nature Reserve, and National Geo-park etc. since 1988. Mount Danxia is named for its unique danxia landforms. With a deep red color, bright like sunset glow, Mount Danxia is very different from other Danxia Nature Reserves as it has  typical and complete shapes and owns the most graceful views. There are over six hundred stone hills, walls, pillars, and stone bridges in Danxia Scenic Area.
10. Cuihua Mountain Geological Park (翠华山地质公园)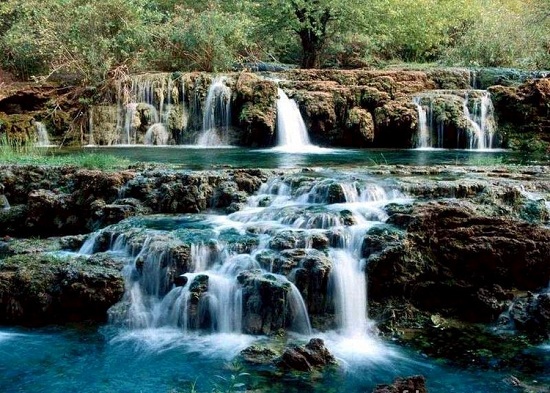 Cuihuashan Mountain National Geo-park lies in Shaanxi Province. The scenic spot is 20km from downtown Xian and covers an area of 32 square kilometers. In the park, the highest peak Zhongnan mountain elevates above sea level by 2604m and is one of the developed fullest from landslide. With its most complete diversity of landslide appearance, most typical structure, most intact, largest scale and highest tourism value, the park is the most unusual in China and abroad, as demonstrated with search by Shaanxi Sci-tech Information Research Institute, well-known as Chinese landslide miracle scenery and geological museum.