Top 10 Most Read Chinese Newspapers
Roughly one in five newspapers printed worldwide are in Chinese. Of the top 100 most-read daily newspapers ranked by the World Association of Newspapers and News Publishers, 26 were Chinese. Then what are the most popular newspapers in China? Below is a list of the 10 most popular newspapers in China:
1. Reference News  参考消息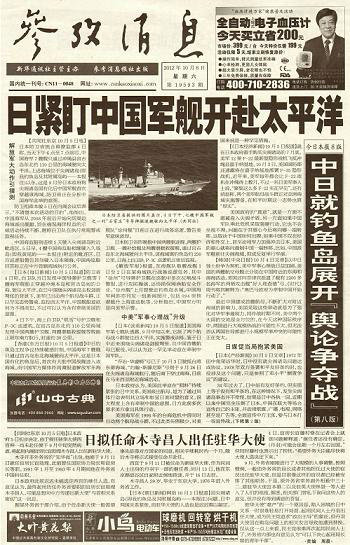 Reference News was first released in 1931 by Xinhua News Agency. It is a daily newspaper with 3 million circulation  around the country. The paper mainly aggregates articles from major news agencies and journals in the world. Its content mainly focuses on global politics, and it also collects contents about lifestyle, health, education, and other topics on certain pages and weekly supplements.
2. People's Daily  人民日报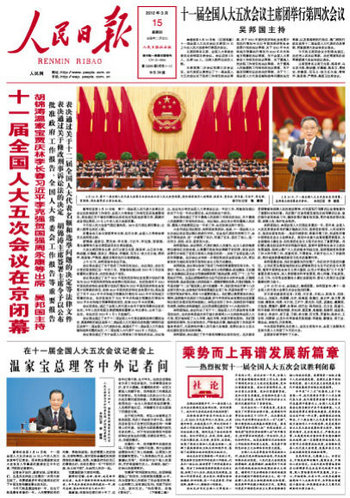 The People's Daily is an organ of the Central Committee of the Communist Party of China with a circulation of 3 to 4 million. In addition to its main Chinese-language edition, it also has other editions in English, Japanese, French, Spanish, Russian, Arabic and Korean. The newspaper gives direct info on the policies and points of views of the Communist Party.
3. The Global Times 环球时报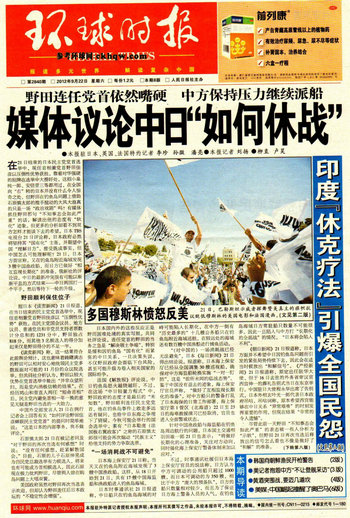 The Global Times is a daily Chinese newspaper under the People's Daily newspaper. It features international issues and has strong nationalist hue. The Global Times distinguishes itself from other Chinese papers in part via populist strategy to journalism, combined with a inclination to court controversy.
4. Southern Weekly 南方周末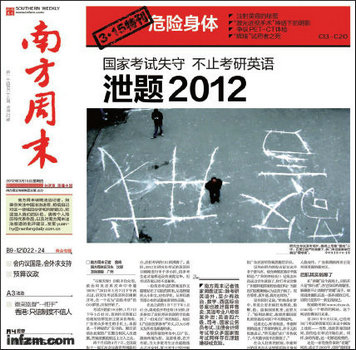 Southern Weekly, previously known as "Southern Weekend|", cover stories that the authorities don't want report much. Its columnists positively support democracy, civil society, and freedom of expression in spite of their danger of paper being prohibited. The paper was praised by The New York Times as "China's most influential liberal newspaper".
5. Southern Metropolitan Daily 南方都市报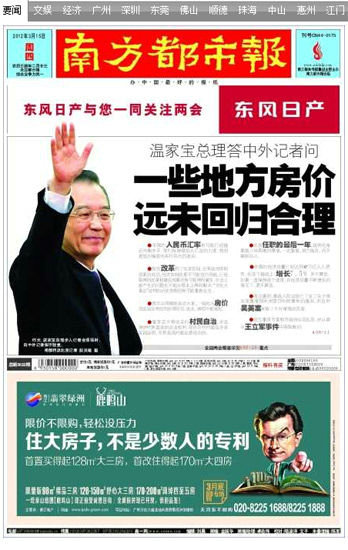 Southern Metropolis Daily is well-known for investigative report and agrressive commentary, which often gets it into trouble with the authorities. It issues local versions for the Pearl River Delta cities, and features daily and weekly special-interest sections. The Sunday book review mainly offers independent cultural criticism.
6. The China Youth Daily  中国青年报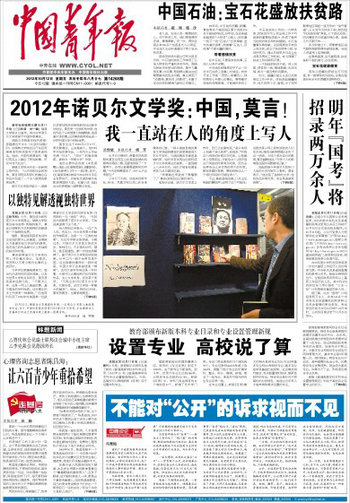 The China Youth Daily, the official paper of Communist Youth League of China, is a popular official daily newspaper. In 1980s it was regarded as the best paper in mainland China with a daily circulation of 5 millions. Its present circulation estimated to be about one million.
7. Qilu Evening News  齐鲁晚报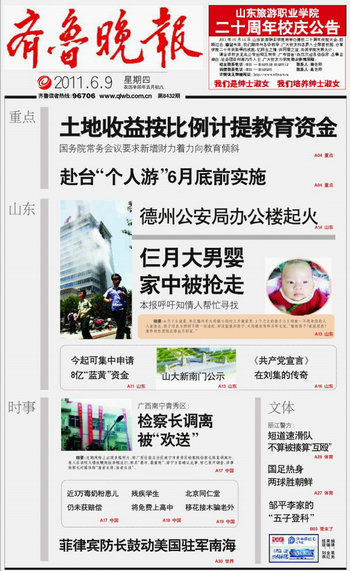 Qilu Evening News is a daily paper in Jinan city,Shandong Province. The newspaper covers local news, sports, business, jobs, and community events. Its daily circulation is around 1 million, making it one of the largest circulation newspapers in the world.
8. Xinmin Evening News 新民晚报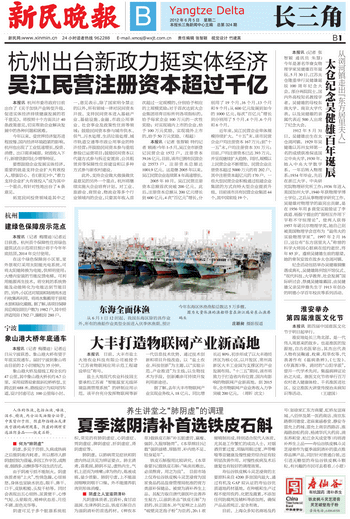 Xinmin Evening News is an old newspaper released since 1929 in Shanghai. It is now possessed by Wenhui-xinmin United Press Group. The paper mainly covers news in Shanghai and Yangtze River Delta areas and features social news, international news, sports and culture reports.
9. Yangtse Evening News 扬子晚报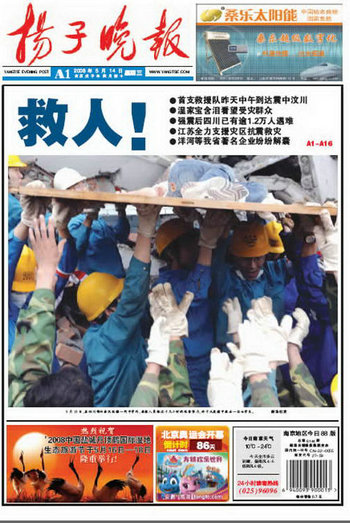 Yangtse Evening News is a commercial paper based in Nanjing.With a circulation of 1.74 million, it is one of China's most-read papers. The paper centers in Jiangsu Province and neighboring Shanghai and Anhui Province. It also owns electronic versions of the print edition.
10. West China City News  华西都市报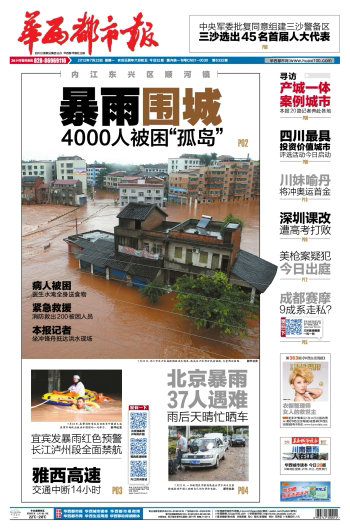 This Chengdu-based paper is Sichuan Province's most-read newspaper with daily circulation of 1.15 million.The paper is popular in Sichuan province and nearby Chongqing City. An electronic version of the paper is available online.
Besides the above newspapers, There are also some other popular newspapers in China such as ChuTian Metropolis Daily 楚天都市报 and Jinling Evening News 金陵晚报.