Top 10 Most Expensive Weddings in China
A wedding is a very very important thing for bride and groom in China. Their Big Day may have been planned for a very long time and usually a grand ceremony will  be held. Nowadays more and more Chinese celebrities start to follow examples of Hollywood celebrities' luxury weddings. Below is a list of top ten celebrities'  luxury weddings in China, I am sure you will be shocked by their extravagance.
1. Cathy Tsui and Martin Lee Ka Shing (徐子淇&李家诚) – US $90m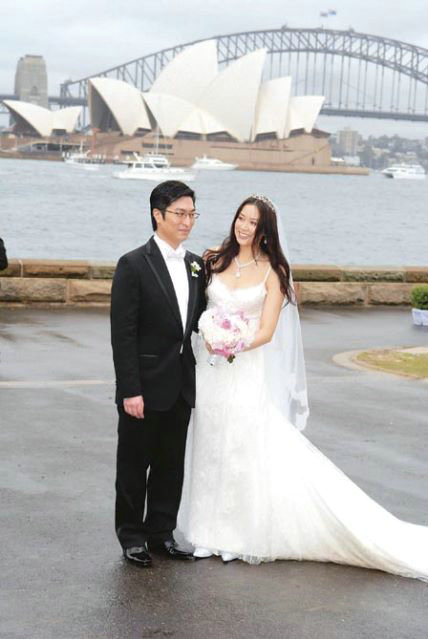 Cathy Tsui, a former TVB actress, married Martin Lee Ka Shing, the second son of Lee Siu Gei, who is the founder of Henderson Land Development. Cathy and Martin held a grand wedding ceremony at the Royal Botanic Gardens in Sydney, Australia in 2006. The bride wore a 5 carat diamond ring. The wedding also used private jet for groom's family to fly from Hong Kong to Sydney and invited 150 guests from Hong Kong. The expensive wedding was regarded as "A Century Wedding." by the media.
2. Michele Monique Reis and Julian Hsu (李嘉欣&许晋亨) – US $14.5m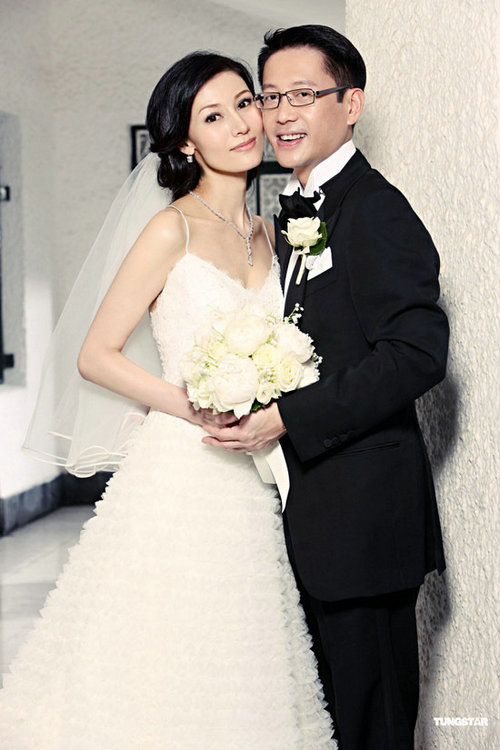 The 38-year-old Michelle Monique Reis, a famous Hong Kong actress, married 46-year-old Julian Hsu on November 23, 2008. Julian Hsu is the son of the prominent Hong Kong shipping tycoon, now the vice president of Hong Kong's Henderson Group. The wedding reportedly cost millions of dollars. Michelle and Hung Hung's wedding have been in the headline of newspapers and local websites for a long time.
3. Kelly Chen & Alex Lau (陈慧琳&刘建浩) – US $9m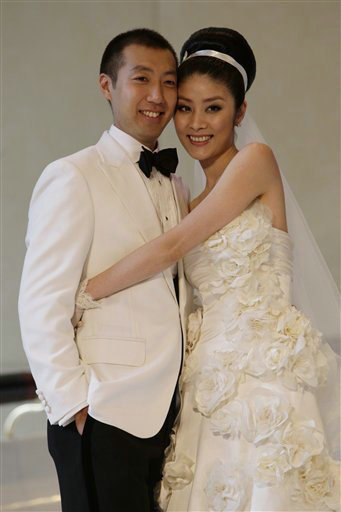 Kelly Chen, a Hong Kong Canto pop singer and actress, married her 16 years boyfriend Alex Lau on October 2, 2008. With three sets of luxury wedding outfits, a 6 carat diamond wedding ring, a pair of 5 carat diamond ear rings, a pair of dragon-phoenix gold bracelets, 52 tables of guests, Kelly held her fairy tale wedding for at the cost of about 9 million US dollars.
4. Hu Jing and Frank Choo (胡静&朱兆祥) – US $6m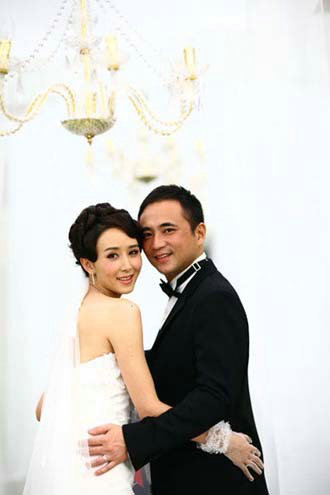 Chinese actress Hu Jing and Malaysian business tycoon Frank Choo tied the knot on September 27, 2008. The bridegroom Frank Choo is the director of Malaysian funeral services firm Xiao En Group. Their grand marriage ceremony was held at luxury Palace of The Golden Horses in Kuala Lumpur, Malaysia, which is Asia's most extraordinary hotel. More than 1,000 guests attended the ceremony. The total wedding cost was more than US $6m.
5. Carina Lau and Tony Leung (刘嘉玲&梁朝伟) – US $5m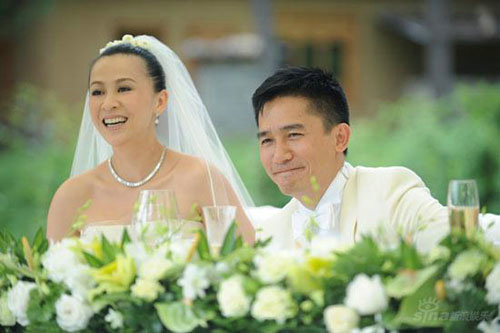 The decades-long celebrity partners Carina Lau and Tony Leung got married in the Himalayan kingdom of Bhutan on 21st July, 2008. They were married in a Buddhist-inspired ceremony in the luxury resort Uma Paro Hotel. In the wedding Carina Lau wore a 12 carat diamond ring. Many celebrities from Hong Kong, Mainland China and Taiwan were present, including Faye Wong, Brigitte Lin, Kenny Bee, Wong Kar Wai and his wife.
6. Gigi Lai and Patrick Ma (黎姿&马廷强) – US $1.5m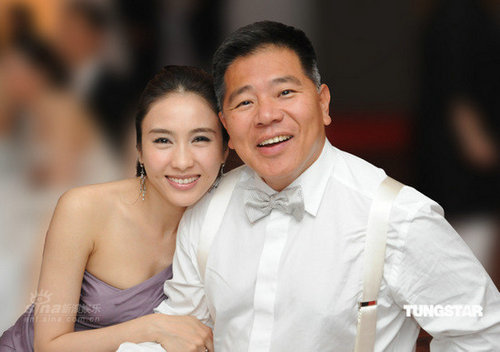 Cantopop singer and actress Gigi Lai and Hong Kong millionaire Patrick Ma, registered their marriage in Australia during the 2009 Spring Festival. Ma, who walks with a crutch, is the heir of a publishing empire the Oriental Press Group, one of the largest newspaper groups in the Far East.
7. Barbie Hsu and Wang Xiaofei (大S & 汪小菲) – US $1.3m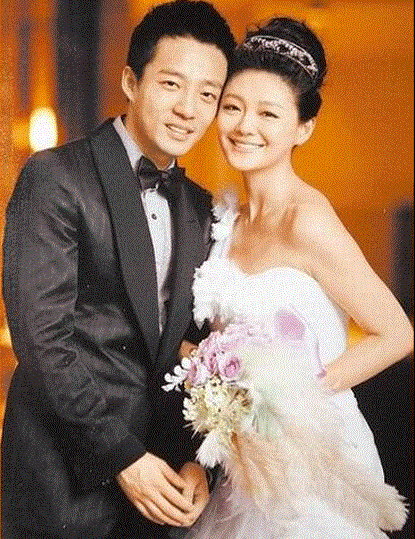 Taiwan actress Barbie Hsu held her wedding with Chinese tycoon Wang Xiaofei at Conrad Sanya Hotel's outdoor garden in Hainan, China, on March 22, 2011. More than four hundred guests attended the wedding party and all of the hotel's 101 villas were booked for guests.  The wedding cost about US $1.3 million in total.
8. Patty Hou and Ken Huang (侯佩岑&黄伯俊) -US $800,000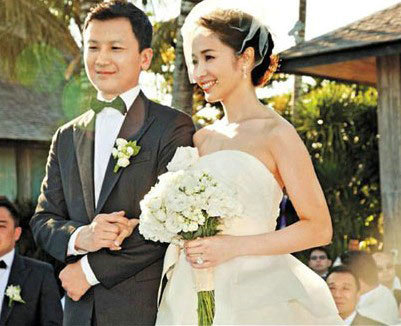 Taiwan TV hostess Patty Hou held an intimate wedding ceremony with her bank manager fiancé Ken Huang at the Khayangan Estate resort, Bali, Indonesia, on Apr 17, 2011. The couple booked two hotels for friends and family. Their "simple" wedding expense is no less than US $800,000.
9. Tseng Hsin-ying and Terry Gou (曾馨莹&郭台铭) – US $800,000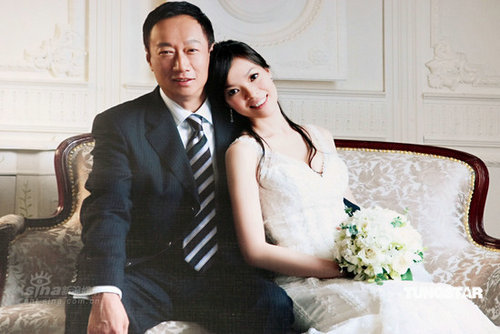 Chinese electronics manufacturer Foxconn billionaire Terry Gou married his tango instructor bride Tseng Hsin-ying On July 26, 2008. It was not a typical billionaire style wedding. However the cost  is estimated to be up to US $800,000.
10. Liu Tao & Ke Wang (刘涛&王珂) – US $800,000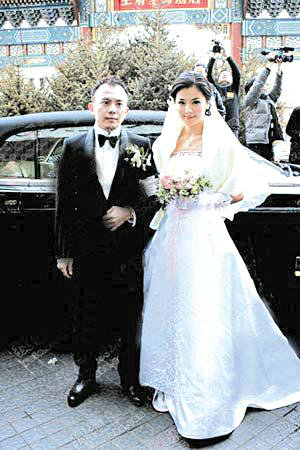 Beautiful Chinese actress Liu Tao married rich young businessman Wang Ke in luxury Beijing Peninsula Hotel on Jan 6, 2008. Many luxury cars appeared in the wedding, including Lamborghini, Ferrari, Porsche, Rolls Royce, Mercedes, etc.; all these cars belonged to the bridegroom according to the media. The couple invited 290 guests to attend their ceremony. Their wedding lasted for four days and total cost was about US $800,000.