Top 10 Chinese Pop Songs in History
It's hard to make a list of the 10 Chinese pop songs of all time and not leave out some songs; actually any ranking list is subjective. This is just my picks of the 10 best Chinese pop songs, most of which are from the 20th century and each deserves the title of a "Classical Song".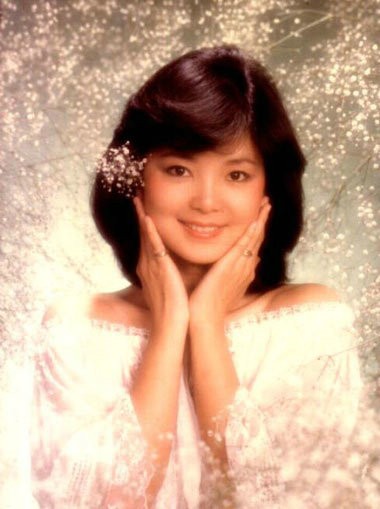 1.  Teresa Teng  邓丽君 – The Moon Represents My Heart 月亮代表我的心 (1972)
The Moon Represents My Heart is the greatest hit of Teresa Teng. She was famous for her sweet voice which would melt every heart. In her life time she has performed numerous classical songs such as "When Will You Return?" (何日君再來) and "The Moon Represents My Heart" (月亮代表我的心).
2. Lo Ta-yu 罗大佑 – Childhood 童年 (1982)
Childhood was written in 1979 and sung Lo Ta-yu, who was dubbed the "Godfather of Chinese pop music" in the 1980s. Childhood is an important song of his 1982 debut album Zhi Hu Zhe Ye. For many people this song always reminds them of their childhood days.
3. Cui Jian 崔健 – Nothing to My Name 一无所有 (1986)
Nothing to My Name (also known as I Have Nothing) is a 1986 rock song by Cui Jian, who is often labeled "The Father of Chinese Rock." This 7 minutes rock song is widely recognized as the most influential rock song in China.
4. Leslie Cheung 张国荣 – Silence is Golden 沉默是金 (1988)
In 1988, Leslie Cheung composed one of his most famous Canton pop songs Silence is Golden, which was later adapted to Mandarin and Taiwanese versions. The song tells that young people should ignore other people's gossips, live freely and splendidly.
5. Teresa Teng  邓丽君 – As Sweet As Honey 甜蜜蜜 (1979)
As Sweet As Honey (or Tian Mi Mi in Chinese) is  Teresa Teng's most famous song. The song is about love and romance and the song itself is as sweet as Teresa herself and her voice. With this song Teng became a household name in China.
6. Mao A Min阿敏-  Hope 渴望 (1990)
Hope (or Ke Wang in Chinese pronunciation) is a famous song sung by female singer Mao Amin. She was one of China's most famous female pop stars by the mid-1990s. It is the theme song of the same title TV series released in 1990.
7. Alan Tam 谭咏麟 – Nan She Nan Fen 难舍难分 (1990)
Loath to Part ( or Nan She Nan Fen in Chinese) is sung by Hong Kong Canton pop singer Alan Tam Wing-lun. This song is basically a Hong Kong style love song, it is a little impressionistic, a little melancholy, but it will never make you feel tired.
8. Anita Mui 梅艳芳 –  Women Flower 女人花 (1997)
Woman Flower is one of Anita Mui's most classic works. The lyrics describe a woman who longs for love and keeps failing and getting hurt in relationships. It is a typical Taiwanese style love song, her deep and sexy voice interpret the song perfectly.
9. Zhang Yusheng 张雨生 –  The Ocean 大海 (1992)
The Ocean (also known as Big Sea) established Zhang as a well-known singer in mainland China in 1990s. I believe that many people began to know Zhang from this song. Listening to this song in the dead of the night will make people emotionally stirred.
10. Jay Chou 周杰伦- Blue and White Porcelain 青花瓷 (2008)
Blue and White Porcelain is a representative song of Jay Chou. The song combines a number of popular and traditional Chinese music styles, making it one of typical Chou style songs.