Top 10 Chinese Influenced Malaysian Street Food
This is guest contribution by KP Kwan
The Chinese first resided in Malacca on the west coast of the Malayan Peninsula in the 15th century. A number of these early residents intermarried and are absorbed into the local Malay's culture, forming a special society known as "Peranakan". Chinese Malaysian food has since developed and become the key component of the culinary heritage of Malaysia.
Chinese Malaysian food is a distinctive group of cuisine in Malaysia
The distinctive highlight of Chinese Malaysian street food is its huge variety. Since the Chinese consume virtually anything under the sun, the chefs will prepare food with just about any ingredients with any possible methods. While Chinese dishes are usually moderate in flavor, the Malaysian Chinese have innovated and created recipes which have a touch of Malay and Indian flavor, thus creating a Chinese cuisine that could be just as hot and spicy as the original recipes.
Here are the top ten picks of the Chinese Malaysian street food:
1. Bah Kut Teh (肉骨茶)
The name basically means "meat bone tea". A genuine Chinese Malaysian food, Bah Kut Teh was originally created in Klang, which is not far from the capital of Malaysia, Kuala Lumpur. In order to prepare this dish, the chef will simmer the pork ribs along with a sophisticated broth of spices and herbs which comprises of cinnamon, star anise, fennel, cloves, dang gui and garlic. This will create a stew which has wholesome and fantastic fragrance. Nevertheless, extra ingredients could be used, such as a variety of mushrooms, offal, and bits of dried tofu or bean curd puffs. Dark and light soy sauce are usually included in the soup at the time of cooking, with various quantities according to the recipes.
The Chinese will travel from afar to look for a shop that is famous for these dishes. It is easily available in major towns, especially in Chinese populated areas. However, the very best Bak Kut Teh still originates from its birthplace – Klang.
2. Hainanese chicken rice (海南鸡饭)
The evergreen number one Chinese Malaysian food, Hainanese chicken rice is cooked and loved by the Chinese all over the world. The dish is claimed to originate from Malaysia, even though it bears the title Hainanese- a province in China. However, some people debate that the dish isn't found in the province of Hainan, China. There are many types of chickens that can be used for this dish, from poached white chicken to roasted chicken. Among all, roasted chicken remains the most widely used.
For roasted chicken, the chicken is carefully marinated with Chinese spices and subsequently roasted in the oven until it is crispy and brown. Another popular version is to poach the entire chicken, right below the boiling point of water until it is cooked. The rice is boiled by using the stock in the pot together with garlic and a number of spices. It is a bit like the 'pilaf' on the western food menu. Finally, cucumber slices are served along with the chicken.
3. Wat Dan Hor (滑蛋河)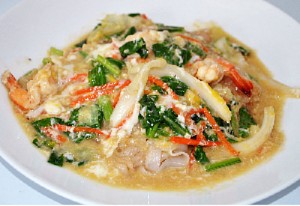 Wat Dan Hor is a typical localized Chinese noodle dish. It is prepared by first pan-frying the flat rice noodle called Keow Teow with soy sauce over intense heat. Keow Teow is also called Hor Fun in some places, hence the name Wat Dan Hor.
To prepare the dish, the cook will first stir fry some vegetables such as Choy Sum, carrots, prawns, fish cakes and prawns. Then, the cook will add a ladle of chicken stock into the wok and braise for a minute. Finally, the cook will add an egg into the wok and give a quick stir in curricular motion. This technique will cause the egg to form into fine strips which are silky smooth. The egg will also thicken the mixture to become something pretty much like western cream soup. The thick mixture is then poured on top of the noodles to serve.
Wat Dan Hor is particularly popular among the Cantonese and, and it is therefore called Cantonese-style fried noodles as well. There is an alternative however- to serve with a mixture of pan fried Keow Teow and bee hoon ( rice vermicelli ).
4. Prawn Mee (虾面)
Penang prawn mee (or Hokkien mee like the Penangites refer to it) is a delectable noodle dish served with a prawn based soup. It is definitely one of my favorite dishes ever.
The soup is made from boiling a massive amount of prawn heads with water, along with chicken bones and pork ribs. When the stock is about ready, chili paste is added to the stock. It can be served with noodles alone, or simply a mix of noodles and rice vermicelli. Other ingredients that can be included are; prawns, water spinach (Kang Kung in the native language), bean sprouts, chicken meat and pork slices.
5. Char kway teow (炒粿條)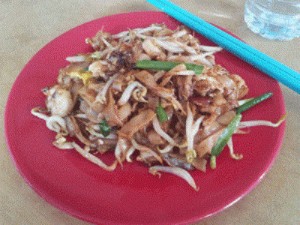 Char koay teow is another well-known Chinese Malaysian food that everybody wishes to try when they visit Malaysia. It can be roughly translated into "fried rice noodle strips", and it is prepared in a steaming hot wok. This dish is claimed to be a national favorite in Malaysia. Preparing this dish is not difficult. This dish has a distinct characteristic – it is fried with pork fat and has little crunchy squares of pork lard. Other ingredients include Chinese sausages, fish cakes and eggs. It is normally served with a piece of banana leaf over a plate. It is obvious that this is not the world's healthiest meal. Nevertheless, it tastes so great that it's alright to make it an exception to enjoy this fabulous dish occasionally.
6. Ice Kacang (杂雪)
Ice kacang literally means ice with beans. An esthetically pleasant combination of colors and shapes of the ingredients, ice kacang is desserts with corn, groundnuts, kidney beans, cendol and the translucent jelly called leong-fun, placed on top of shaved ice. It is sweetened with condensed milk and rose syrup or palm sugar syrup. You can make it richer by adding a scoop of vanilla ice cream on top, many locals prefer to be served this way.
It is fondly called ABC by the locals. The acronym of "Ais Batu Kacang" of the Malay language. Traditionally, the ice is shaved by a hand-cranked ice shaving machine, which is gradually replacing by the electric ice shaver.
The recipe is the same as it always was, but now they have an electric ice shaving machine. Ice kacang is kind of like a banana split, but in place of bananas, there's corn, kidney beans, and mysterious translucent toothsome jellies. And instead of ice cream there's shaved ice, topped with a pink syrup that just tastes pink, not in a synesthetic way, but like you'd imagine — like bubble gum. And there's also, of course, condensed milk all over everything. If you want to gild the kacang, you can add a scoop of ice cream on top of all that.
The ice kacang is evolved from the ice balls formed with finely grated ice, packed into a ball and topped with rose syrup, and placed into a bowl. The ice ball was a common sight in the 1960s to 1970s and is my favorite dessert of my childhood days. It is sold by vendors riding on trishaws visiting along the roads and street corners.
The ice kacang is a modern and more elaborate version of the ice balls. As for ingredients- the more the variety, the better.
7. Koay Teow Th'ng (粿條汤)
Koay Teow Th'ng is the direct translation from the Penang Hokkien dialect which means "flat noodles in soup". It is a popular staple in the Northern states of peninsular.
The noodles are placed in a bowl of clear broth, normally served with chicken meat and fish balls. The broth is usually prepared with pork ribs and is one of the few noodle dishes that are not spicy. Besides fish balls and chicken meat, pork ribs is another common ingredient. The dish is garnished with scallion, some chopped chilies, and fried onions.
It may need some efforts to convince a foreigner that it is a tasty dish, as most of them will prefer some other local delicacies with a more attractive presentation. Furthermore, fish balls are something unfamiliar to the westerner and require a lot of guts to have their first bite.
8. Kolo mee (干捞面)
Kolo mee is probably the most well-known signature dish in Sarawak. Kolo mee is a delightful combination of homemade noodles, served with minced pork and topped with crushed garlic and deep fried shallots. The other ingredients may include succulent barbecued pork and deep fried wonton.
The allure of this dish lies in the simplicity of the flavor. The secret of making amazing kolo mee is the use of lard, which make the authentic kolo mee liked mostly by the Chinese community. The noodles are mixed with lard before serving, and hence the meat flavor is imbued to every strand of the noodles. It guaranteed to satisfy just about anyone's noodle cravings. You can prepare it by using vegetable oil as the halal versions, although it would not be as addictive as the original.
9. Cendol (煎蕊雪)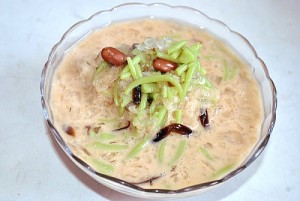 Cendol is a typical Malaysian dessert made with a combination of mung bean flour, rice flour, and tapioca flour. Pandan extract is added to the flour to form worm-like green color squiggles. The squiggles along with red beans, glutinous rice, grass jelly and cream corn are added to a big lump of shaved ice. The mixture of coconut milk and palm sugar is ladled over it and finished by drizzling a dash of condensed milk over it.
This cold dessert soup is most famous in Penang island of Malaysia, where the local food directory Openrice has a special page on introducing the best cendol in Penang.
10. Assam Laksa (呖沙)
Assam laksa is one of the best Malaysian Chinese noodles available. It is listed as one of the World's 50 most delicious foods compiled by CNN Go in 2011. (at position 7).
Assam laksa is basically rice noodles in a specially prepared spicy and sour taste fish broth. The unique taste is due to the use of some uncommon ingredients even to Asians, such as ginger flowers (bunga kantan), Vietnamese mint leaf (daun kesum) and the shrimp paste called "hae ko".
The fish broth is usually prepared by using the local mackerel (kembung fish), along with finely sliced vegetables, including cucumber, onions, red chilies, pineapple and mint leaves.
You can get the best assam laksa at the busy waterfront street in George Town, Penang.
Author's profile:
KP Kwan is a pharmacist turned restaurateur who lives in Kuala Lumpur Malaysia. He has a keen interest in Asian food.  You can follow him at tasteasianfood.com.