Top 10 China Food Cities
Eating is now an important reason to travel. Travelers like to eat those fantastic food while enjoy the scenery. China is an ideal destination for food lovers as well as travel lovers. Many China cities offer a variety of flavors for visitors. Here are the China's ten premier food cities
1. Chengdu 成都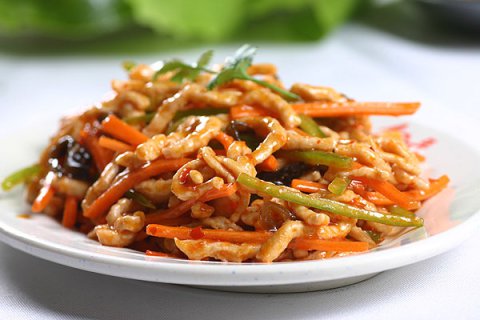 Chengdu, capital of Southwest China's Sichuan Province, is known for its mouthwatering hot and spicy cuisine. No matter whether guests come from afar, or are just the locals, one thing is sure, that everyone loves the delicious food in Chengdu. Jinli Street in Chengdu offers a variety of local snacks all year round. The city won a UNESCO listing as a "City of Gastronomy" in 2010.
2. Beijing 北京
Beijing, as the capital of China, brings together various cuisines from different parts of the country. You may find various food from simple street stand, small family owned restaurant, and big imported chain restaurants. However, since you traveled a long distance to go to the city, you should taste local Beijing dishes first. Among them Peking roast duck is a must-try. With a history of more than 600 years, Peking roast duck is the most famous gourmet cuisine of Beijing. It has also received worldwide recognition for its tempting shining color, crispy skin and tender meat. Besides, Imperial Court Food is also worth a try. it is based on the foods that were served to the emperor and his court.
3. Guangzhou 广州
Guangzhou, capital of Guandong province, is the birthplace of Cantonese cuisine. Guangzhou cuisine is characterized by fresh clean flavors, seafood, barbecued meats and the wonderful tradition of yum cha, which is tea drinking accompanied by dumplings and small dishes. Cantonese people eat absolutely anything, and it is often said that Cantonese people eat anything that has four legs other than a table, anything that flies other than an airplane, and anything that swims other than a submarine. So Guangzhou food always makes both Chinese and foreigners feel shocked.
4.Tianjin 天津
Tianjin dining is well known throughout China. Not only the traditional Tianjin snacks, but the cuisines from other regions of China can also be found. Tianjin has a great variety of local snacks, the most renowned food include: Goubuli bao zi (Goubuli sttuffed buns), Shibajie ma hua (18th Street fried dough twists) and Er duo yan zha gao (ear-hole-like fried rice cakes). Besides, pancakes, tea soup, spiced beef jerky and fired chestnut with sugar are also special for every traveler. Tianjin Food Street is a fairly good place for you to sample these local Tianjin dishes.
5. Shanghai 上海
Shanghai. a global city metropolis, is a city that offers so many culinary options, from roadside stalls to Michelin-star restaurants. Food lovers will find almost all cuisines from China and the world. And shanghai also developed its own cuisine – Ben Bang Cuisine. Different from Canton cuisine, Shanghai dish has a strong flavor and the bright color of soya bean sauce.
6. Chongqing 重庆
Known as a "Mountain City", Chongqing was originally built on the mountain slopes and along the riversides. Chongqing cuisine is spicier and stronger in taste than Sichuan Cuisine.  The representative dishes are Chongqing hotpot, boiled fish, boiled fish with pickled vegetable, old duck soup, hot and sour rice noodles, spicy chicken, Quanshui chicken, etc. The local restaurants and food stalls scatter across Chongqing's every corner.
 7. Hangzhou 杭州
Known as "the heaven on earth,"  Hangzhou has charming scenery and featured local cuisine. Hangzhou cuisine is heavy on steaming, boiling and roasting. Famous Hangzhou dishes, such as Dongpo pork, beggar's chicken, longjing fried shrimp and West Lake vinegar fish, are favored by foodies throughout the country for their light taste.
8. Xian 西安
Xi'an is not only famous for its long history and Terracotta Warriors, but also for its delicious local food. Xi'an cuisine is rich in the northwest flavor, with wheat flour as the main material.. The traditional dishes include Roast Piglet and Chicken in Bottle Gourd, Steamed Bun Soaked in Mutton Soup, Fan-Family Cured Meat Broth. Dumpling banquet and Tang Dynasty banquet in Xi'an are two great inventions.
9. Changsha 长沙
Changsha, capital of Hunan Province, is famous for its "Xiang" Cuisine, one of the Eight Cuisines of China. It is features a fine and delicate appearance together with a hot and spicy flavor. Famous Changsha dishes include Spicy Young Chicken, Zuyan Shark's Fin, Braised Eel, Dove and Sparrow, Changsha Maren Crispy Duck, Stinky tofu (chou dofu), etc.
10. Nanjing 南京
Nanjing, capital of Jiangsu Province, is famous for Jingsu Cuisine, which features for the emphasis placed on original flavor and carefully selected raw ingredients. Famous local dishes include Yanshui Ya (salted and baked duck), Eight Delicacies Soup. A good place to go for Nanjing cuisine and Chinese cuisine is the area around Confucius Temple and the Qinhuai River.