Top 10 Beautiful Terraced Fields in China
Rice terraces are slopes claimed from nature for cultivation in hilly or mountainous areas.  These terraces provide food to locals for generations as long as hundreds or even thousands of years.  Nowadays these terraces become human miracles and are favored by travelers and photographers. Here are my picks for the 10 most beautiful terraces in China.
1. Longji Rice Terraces 龙脊梯田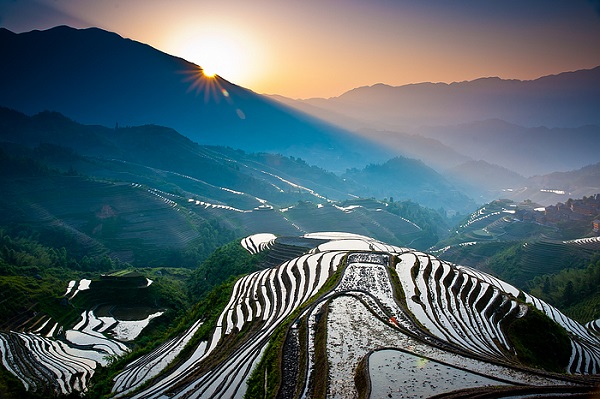 The Longji Terraces are located 108 km from the city of Guilin. These terraces were gradually formed from the Yuan Dynasty and completed in early Qing Dynasty, having a history of nearly 700 years. The rice terraces are built into the hillsides, and look like great chains or ribbons. In some places there are terraces from the bottom to the top of the hillside. This ingenious irrigation method makes the best use of the scarce arable land and water resources in this mountainous area. There are about 66 square kilometers of terraced fields in southeast Longsheng.
2. Yuanyang Rice Terraces 元阳梯田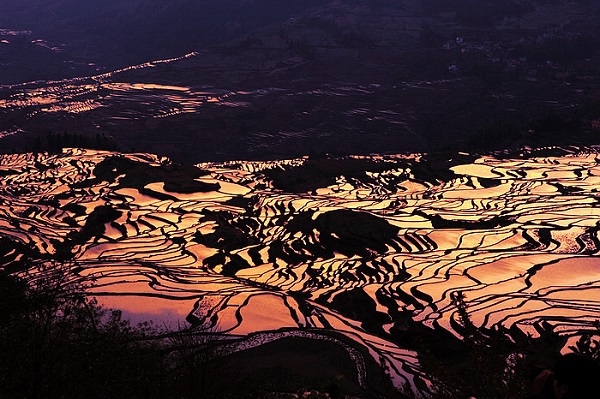 Yuanyang Rice Terraces claim as the world's largest and most spectacular one. These terraces were crafted out by local Hani people with bare hands one thousand years ago and are still in use today. From winter to early spring, the entire field is irrigated with spring water from the forest above to rejuvenate and getting prepared for the next season. The Hani people have repeated this for more than a thousand years.The landscape changes vividly through the year. The flooded paddies from Dec. to April creates reflecting pool effect, which is a photographer's dream. In summer, the paddies are luxuriantly green with growing rice stalks. After the fall harvest, the paddies become naked bare earth.
3. Jiabang Rice Terraces 加榜梯田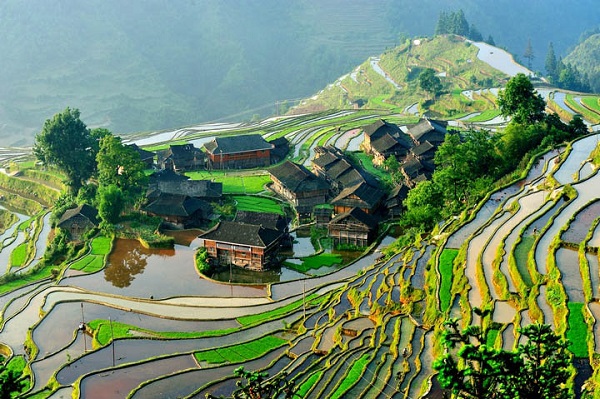 Jiabang Rice Terraces are located in Southeast Guizhou Province. The Jiabang Rice Terraces were cut from the hill terrain in, with hundreds of layers. You can enjoy mirror-like terraces in spring, green terraces in summer, and gold terraces in autumn. It is so beautiful when rice terraces are combined with the peaceful and unique wooden Miao Minority houses. The Jiabang Rice Terraces are about 80 kilometers from Congjiang Town.
4. Jiangling Rice Terraces 江岭梯田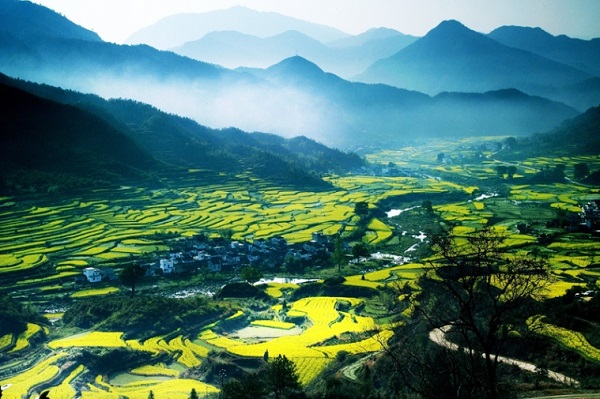 Jiangling Terraces are located on over 1000m high mountain area in Jiangxi Province. These terraces are famous for its terrace-style rape flower in Spring. Starting from Jiangling, roads dog-leg through the mountains. Looks down from Jiangling, you will find layers of terraced fields, winding rivers through the valley and those scattered villages. All these constitute of a very beautiful rural scenery.
5. Youxi Terraces 尤溪梯田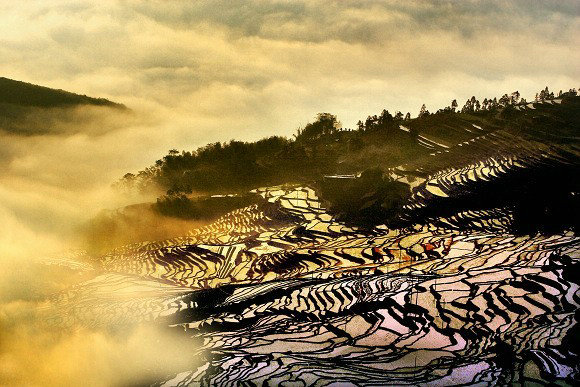 Youxi Terraces involve terraced fields of 8 natural villages in Youxi County, Fujian Province. The terraces stretch about 1,667 acres. The highest point reaches nearly 1,000 metres, and the lowest point is more than 500 metres. The people living there have been toiled in the fields for generations. Standing on the hillside, you can see acres of terraced fields where farmers are toiling, with smoke curling up from kitchen chimneys and gentle breeze soothing you.
6. Shangbao Terrace Fields 上堡梯田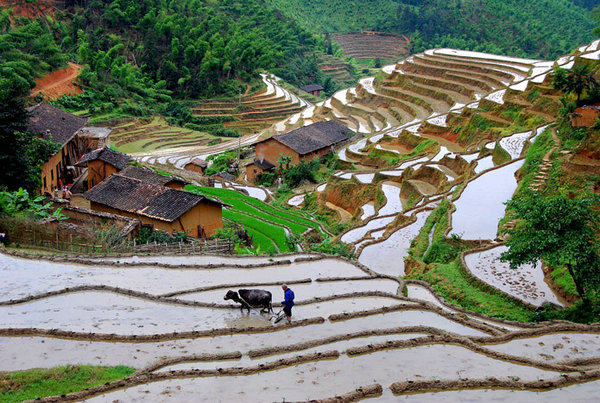 Shangbao Terrace Fields are located at Qiyunshan Mountain Natural Reserve in Chongyi, Jiangxi province.  Hundreds of acres of terrace fields were builnt on the mountain built on hillside, local villages are scattered in mountains.  The best visiting time is late May when the water on the fields looks like curved mirrors.
7. Ziquejie Terrace 紫鹊界梯田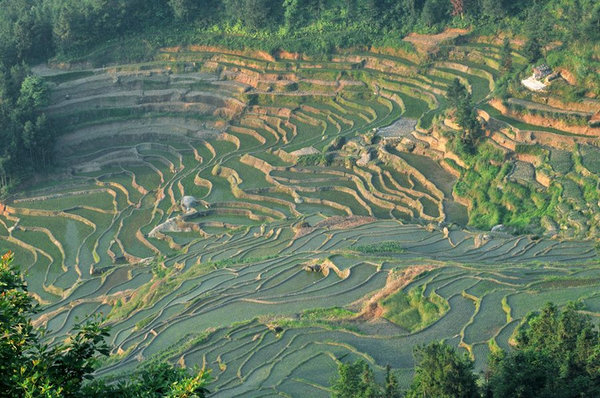 Created during the Qin Dynasty (221 BC – 206 BC), Ziquejie Terrace spreads all over the hills at an altitude of 500 meters to 1,000 meters at Shuiche Town of Xinhua County, Hunan Province. Layers upon layers of terraces are mapped on the hills like green waves rolling among mountains. Visitors will be astonished at this creation by the ancient ancestors of the locals.
8. Gaoyao Terrace Fields 高要梯田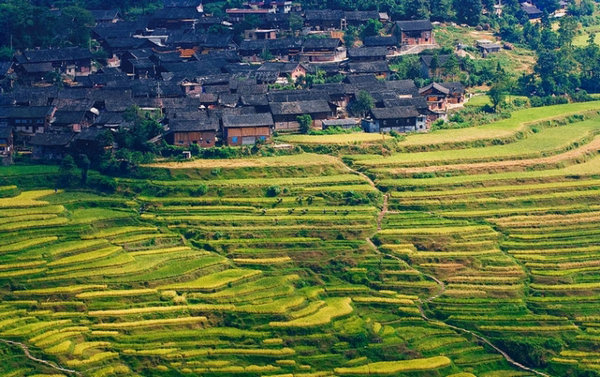 Gaoyao Terrace Fields are located in Gaoyao Miao Village in Danzhai County, southwest China's Guizhou Province. The picturesque terrace scenery attracts many tourists and photographers each year. Late August is an excellent time to visit because the fields are turning golden and locals celebrate the New Rice Eating Festival. Both offer superb opportunities for stunning photography.
9. Gaokan Terrace Fields  高坎梯田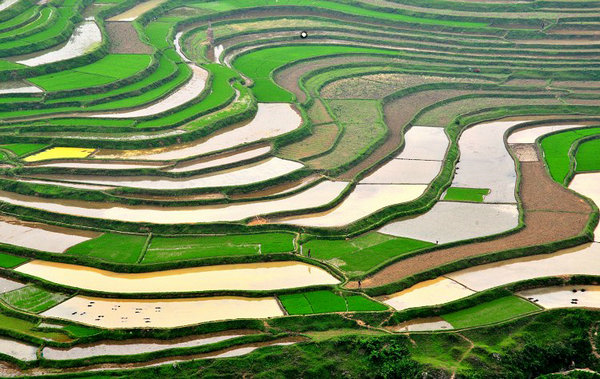 Gaokan Terrace Fields are located on the borders between Gong County and Junlian County, Sichan Province. The total terraced area is nearly ten acres. This scenery here is fantastic and this place is quite unknown due to its remoteness.
10. Yunhe Rice Terraces 云和梯田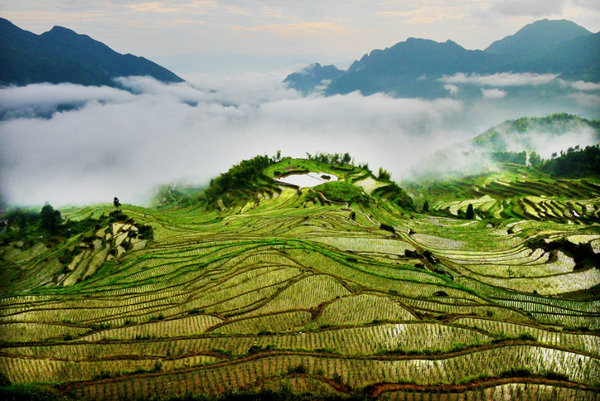 The Yunhe Rice Terraces are located in Yunhe County, Zhejiang Province. Yunhe Terraces have a total area of 51 square kilometers, covering mountains, hills, and valleys. The altitude of the terraces ranges from 200 to 1,400 meters, which gives Yunhe Rice Terraces amazing scenery.