The Price We Pay for Fashion
With the fast development of China's economy. Various environmental problems can be found across the whole country. The environment are so heavily polluted that Chinese people have to seriously consider this problem. Here collected are some pictures showing how bad the pollution is in China.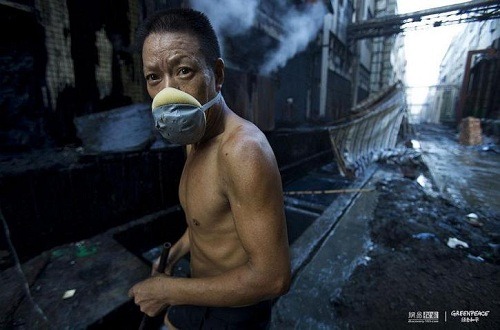 Water pollution is one of China's most serious environmental problems. Factories bring in wealth but they also poison China's water resources. The pollution is now so bad that 70 percent of the China's rivers, lakes and reservoirs are not safe for people to use. China is now providing low cost goods to the world at the cost of deteriorating environment. The serious pollution is changing some areas into unfavorable fields to live.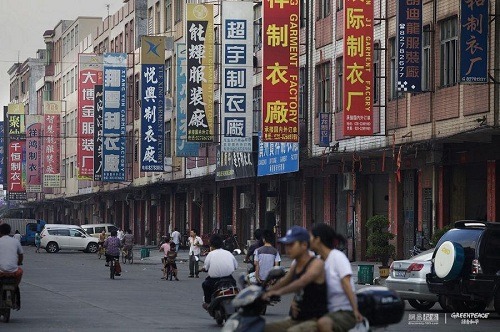 Xintang Town is located in the Pearl River Delta, Guangdong Province China. Like many fast-growing industrial town, the streets there are bustling, various signboards of clothing factories are erected everywhere.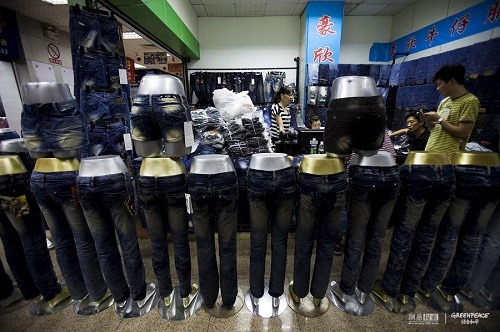 In its international jeans mall is a very large wholesale market.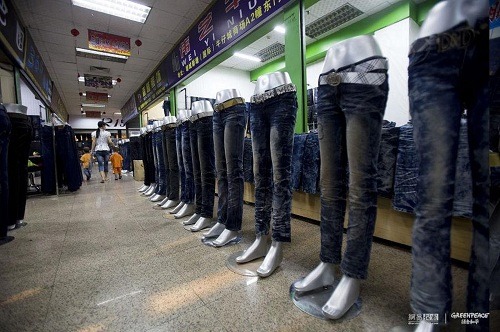 According to the statistics by local government, in 2008 its annual jeans output was more than 260 million Yuan, accounting for  60% of the production of whole country. The products are mainly exported to Russia, the United States and the European Union, accounting for 40% of the country jeans exports.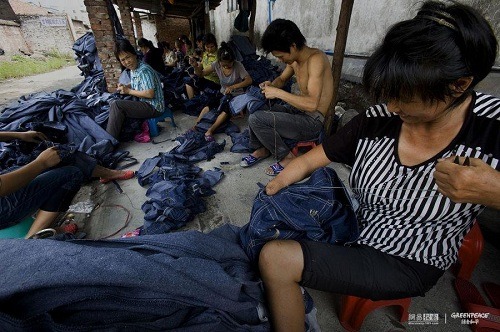 Whether in retail stores or country houses in the town, you can always find manual jeans-processing workers and villagers. From morning to night workers throw piles of clothing or fabric from the second or third floor of the workshops on the ground, and then load onto trucks. The photo shows workers are processing jeans in a shabby shed.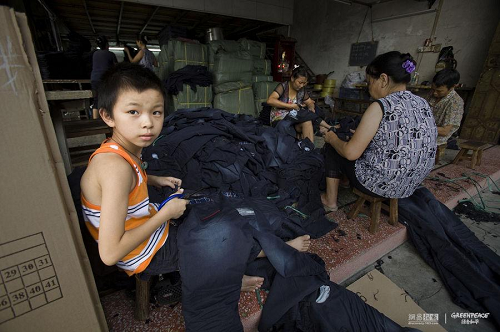 Many local women, the elderly and even children will do some work to get some money to support the family. The picture shows in a jeans factory of Xintang Town a child is working together with parents; every day about each child can cut thread for 200 jeans with each for 15 Fen (about 2 cents).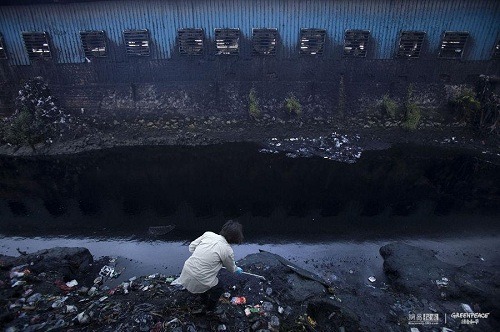 Greenpeace staff is checking the pollution condition in a polluted river near Dadun Village, Xintang Town. The villagers said that when polluted water are drained the river will become very poisonous and give off offensive odor, if someone touches the water without caution, the skin will be itchy and even fester.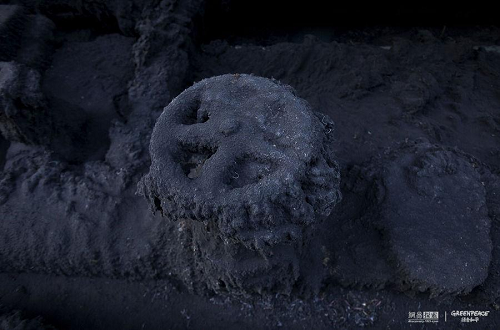 Xintang, the fabric discharged from the factory wrapped the valve.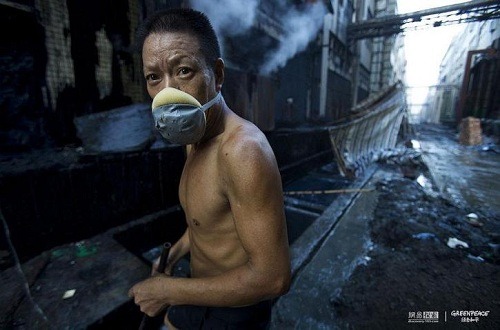 Washing and dyeing not only affect the environment and nearby residents but also affect the lives of workers. Mr. Luo, A migrant worker from Hubei province whose all fingers have been colored black, said he has been accustomed to the feeling of itchy skin. The photo shows workers pick the stone for grinding jeans from the waste water.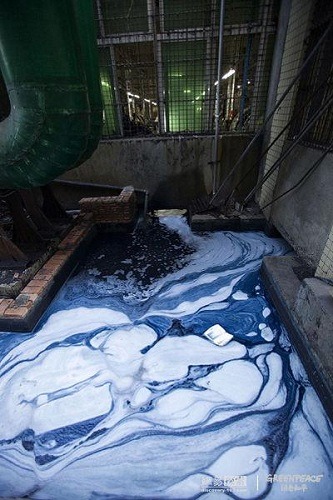 Xintang, The sewage is discharged directly into the East River without any treatment.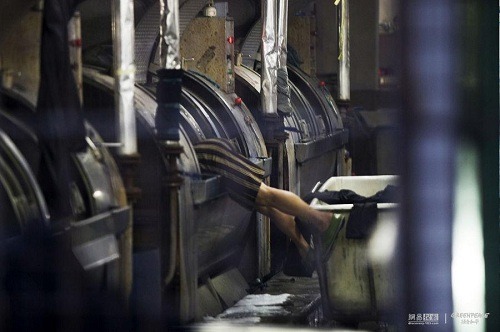 A staff is working in a washing workshop.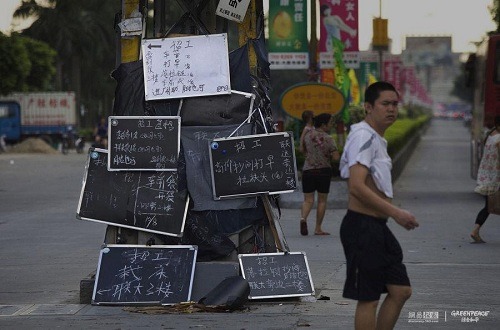 All types of job advertisements are related to jeans-making.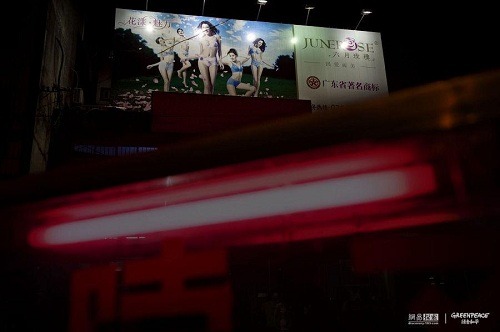 A similar situation also can be seen at Gurao Town, northwest of Shantou City.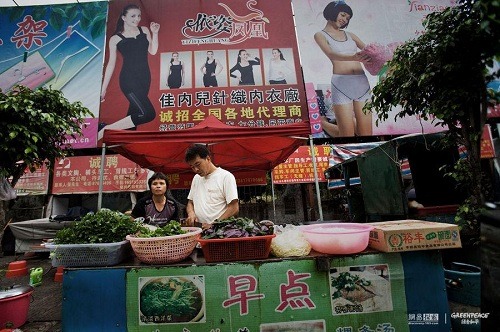 Gurao Town is a rich place. People and vehicles keep coming in streams every rush hour. What distinguish Gurao from other small towns is it unique underwear industry, all kinds of sexy underwear ads stand on the streets attract people's attention, some people called the town "Sexy Capital".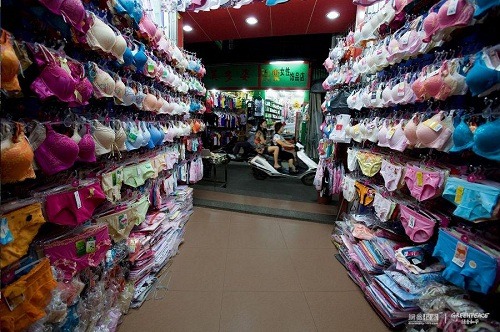 In 2009, Gurao produced about 200 million bras, according to local government statistics, more than 80% businesses of the town are engaged in underwear-related activities. As early as 2004, the Gurao has been named "China Underwear Knitting Town" by China Textile Industry Association and China Knitting Industry Association.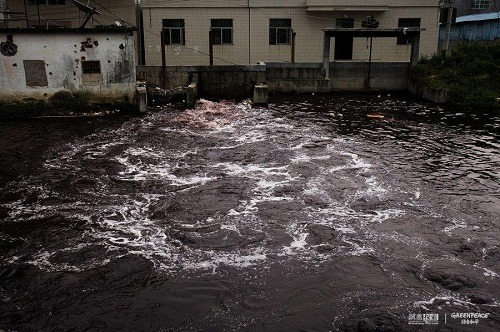 In sharp contrast with "sexy" image of its underwear industry is a black smelly river. Picture shows sewage is being discharged into a stream opposite Gurao Middle School.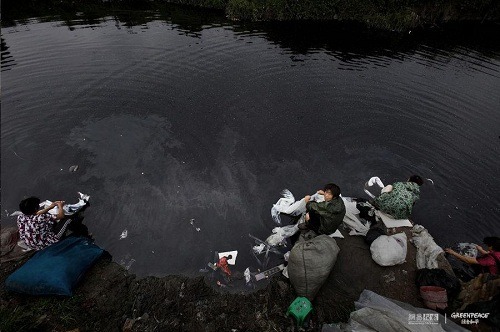 In the black stream of Gurao, workers are washing plastic cloth with river water. The river flows along Gurao Middle School and finally into the Lian River, It was regarded as  "Mother River" of Chaozhou-Shantou area but became seriously polluted in recent years.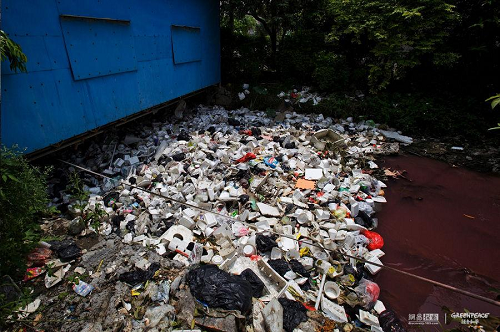 The small river next to Ximei village becomes red for pollution and is full of garbage. A male worker from Guizhou Province said: "The wastewater is discharged from dyeing factories upstream, sometimes it is extremely smelly, the color changes every time and you can find any color here."
Today, the stream has lost the function as the surface water, no drinking, no washing and no fish. Villagers complained that: "They can not open windows, the water stinks and many large mosquitoes fly around."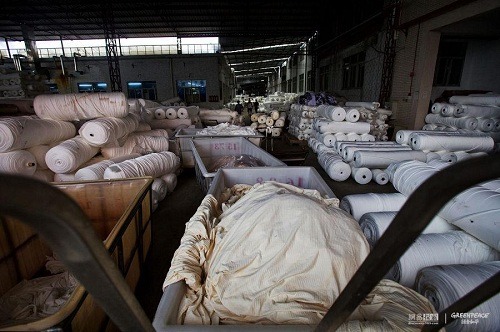 However, serious pollution is caused by the town's pillar industry. The picture shows some white cloth waiting to be colored in a dyeing factory of Gurao Town. Each ton of textile products will pollute 200 tons of water. About 2,500 chemicals are used in different textile dyeing process.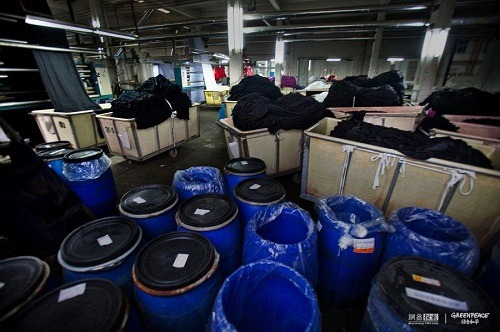 The picture shows a dyeing workshop in a textile factory of Gurao Town. a large number of toxic and hazardous chemicals will be used in the textile industry and these chemicals can not be completely eliminated by normal sewage treatment, and remain in the water or earth for a long time. In addition to a variety of well-known heavy metal the substances it also includes some unknown persistent organic pollutants.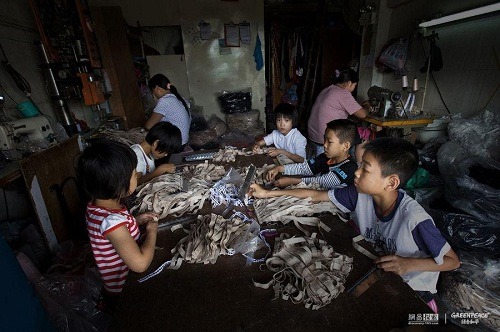 Gurao Town has many family-owned workshops. Children often do some part-time job. The five children are from a primary school, one from Hunan, one from Guizhou and the other three are locals. They can earn 30 Fen (or 5 cents) for installment of one hundred strips, and 20-30 Yuan earning for working whole day.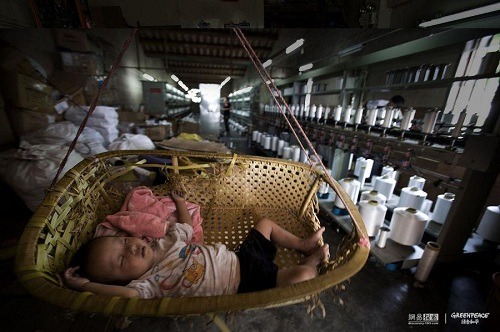 Parents are busy with working; sleeping baby is placed in the corner of the factory.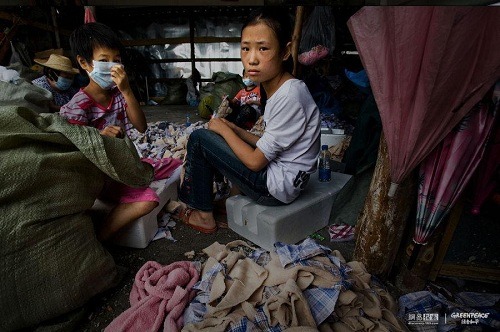 In a family workshop of Gurao Town two children are sorting cloths ends.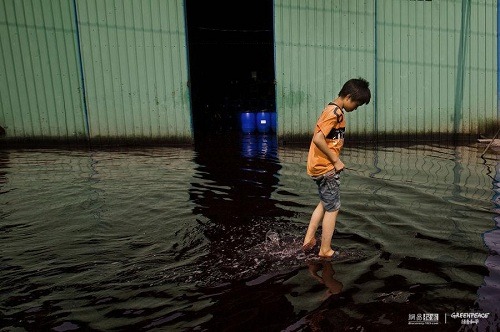 A child is walking in sewage drained from a dyeing factory, but he does not know that sewage will do potential harms to his health.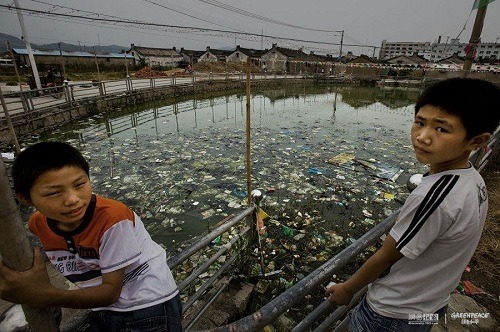 Kids are playing by the pond full of floating garbage. A local villager Liu Wusheng (pseudonym) said: "When I was young you can swim in the stream, and there is fish, but now my son can not swim any more. The water is too dirty and villagers will never touch it."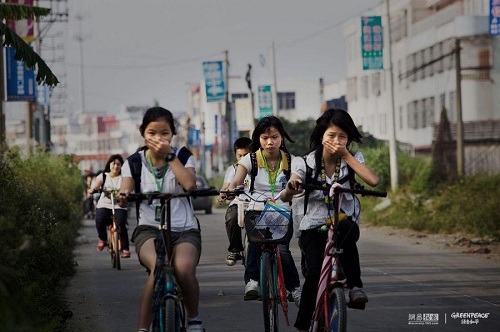 The odor of burning garbage makes students cover their nose and mouth. A vehicle-fixing shop owner Zheng Yijie (not his real name) said: "The gas given off by sewage will corrode TV antenna, Over a year or so the TV will be not clear."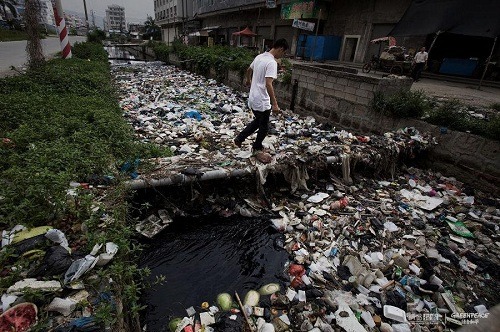 The channel is full of sewage and garbage.  Zheng Xing (a pseudonym), A female worker from Guizho, said: " Of course, my hometown has better environment, but I have no choice but to live near the channel. I could not endure it when I first came here, and later I got used to it."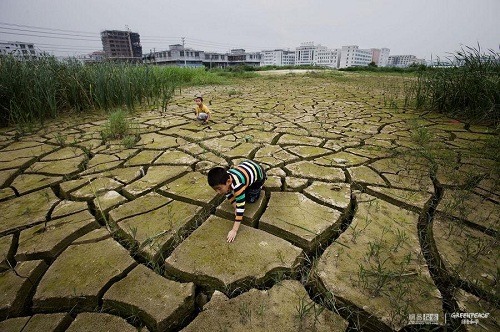 Children are playing in abandoned polluted farmland.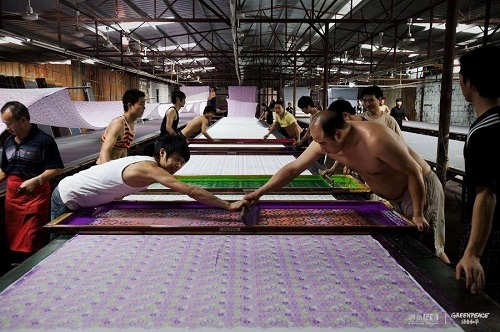 According to the statistics of China Textile Industry Association, China now has 133 "Textiles industry clusters". As two of them, Xintang and Gurao pollution situations are just the tip of the iceberg of entire industry. An an important industry to China and the global economy, the textile industry plays a great role to society and economy, but behind all of these we bear huge hidden costs of pollution.