5 Chinese gadgets worth buying
When the economy is rough, people are often torn as to whether they should purchase more local products or help stimulate international trade. Unfortunately, there's not really a tried-and-true answer, as it's generally a combination of both. So instead of simply ignoring all products made from outside of the country, check out these five Chinese gizmos that are definitely worth buying.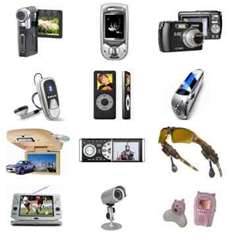 1. Electronic Cigarettes
Before the New Year comes rolling in, kick that horrible habit you've had. China makes a number of different electronic cigarettes, so purchase one or two today to help you get away from the nicotine. You'll still have the experience of smoking for awhile, but you'll slowly be able to completely break away from the habit.
2. Eggies Hard-Boiled Egg Cooker
Another cool Chinese-made gadget is a device that allows you to cook hard boiled eggs without the shell. At first, you might wonder why anyone would want this. Well, how often have you prepared a lovely batch of hard boiled eggs only to find that the stubborn shell will not come off? Instead of enjoying breakfast, you have to throw everything away. Prevent such problems with this neat little tool.
3. iPhone-Controlled Helicopter
So you want to give the kids something really cool for Christmas this year? Forget about the portable DVD player, and choose an iPhone controlled RC helicopter instead. Of course, you'll need to make sure the children actually have an iPhone before adding this cool toy into the lineup. However, once the phone is secured, they can use it to make this helicopter due all types of cool tricks. You'll be the coolest parent, aunt, uncle or godparent this holiday season when the special kid in your life unwraps this Chinese gadget.
4. LED Mood Lights
Parties at home are always fun. You don't have to drive anywhere, and all of your guests can sleep over and wake up to a delightful breakfast in the morning. Surely, food and music will be present, but you can add an extra special touch with an LED mood light with a touchscreen scroll bar. Instead barren walls and dull colors decorating the party scene, these neat lights bring bursts of life to any room. All of your family members and friends will just love this extra addition.
5. Spill-Proof Keyboard
How good does a spill-proof Bluetooth keyboard sound? Probably very enticing, especially if you've accidentally dropped a little bit of water on your keyboard only to have the entire computer malfunctioning the next day. Instead of having to worry about purchasing a new laptop every time you get a little bit clumsy with a beverage, this keyboard is here to help save your day.
You may have heard of these products before or contemplated buying them. So why not just go for it if you're looking to purchase something fun and useful? Just imagine the benefits that such devices can bring into your life. From helping you quit smoking to jazzing up your next party, these gadgets from China are certainly ones worth checking out!
Jessica Kido is an elementary ed teacher and a contributing writer for carinsurance.org