34 Iconic Chinese Province Foods
China has a long cooking history of thousands of years. As a country with vast land, China has developed countless dishes. Each of China's 34 provinces and municipalities has its own special dish and cuisine.
The following are the foods which best represents each province.
1. Beijing: Beijing Roast Duck 北京烤鸭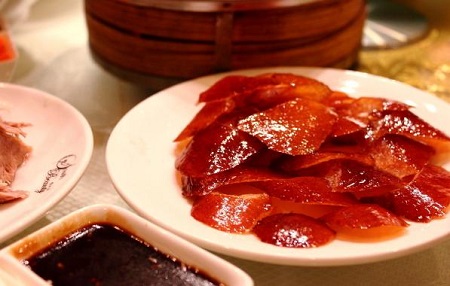 Beijing Roast Duck is praised as the "The Most Delicious Dish under the Heaven." It has golden brown and crispy skin, tender meat and strong flavor. All these features make it renowned at home and abroad.
2. Tianjin:Pan-Baked Pork Fillet 锅塌里脊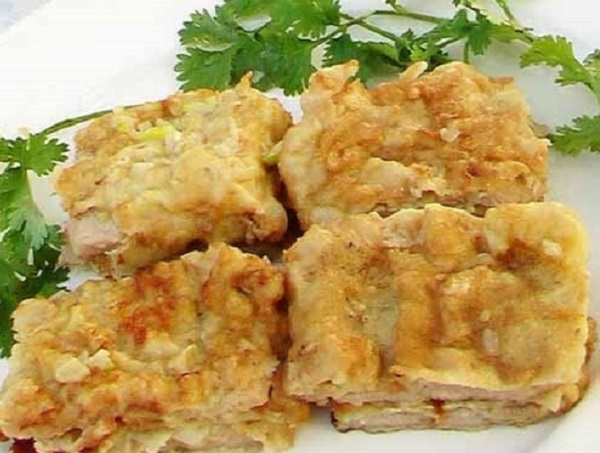 Pan-Baked Pork Fillet is made of pork loin. The dish owns bright yellow color and fresh tender flavor.
3. Hebei:Lurou Huoshao 驴肉火烧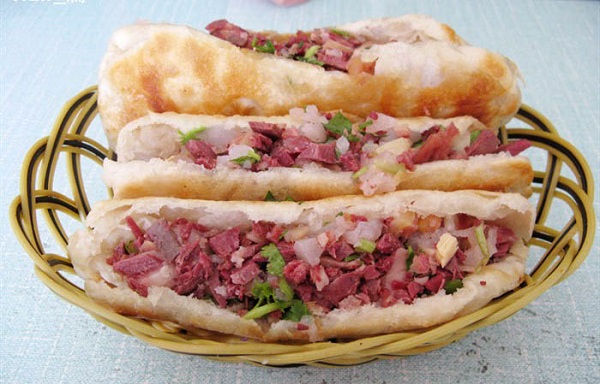 Lurou Huoshao is a snack popular in North China. It originated in Baoding city, Hebei province. Stuff minced donkey meat into baked flour cake and thus Lurou Huoshao is made. The snack is fat but not greasy, tastes crispy with mellow aftertaste.
4. Shanxi: Fried Boiled Pork with Black Fungus 过油肉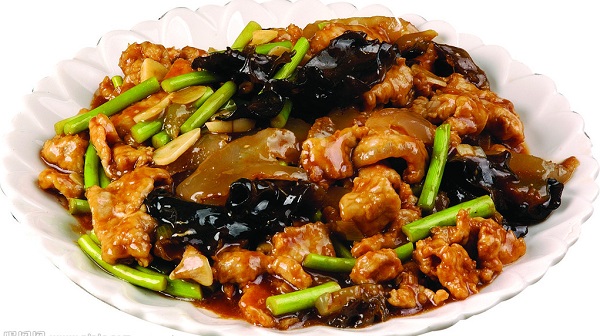 Originally it was a royal dish and later spread to the Taiyuan area and gradually extended to other areas of Shanxi province. It features bright golden color, soft and tender meat, salty and vinegary flavor.
5. Inner Mongolia: Mongolian Boiled Lamb 手扒羊肉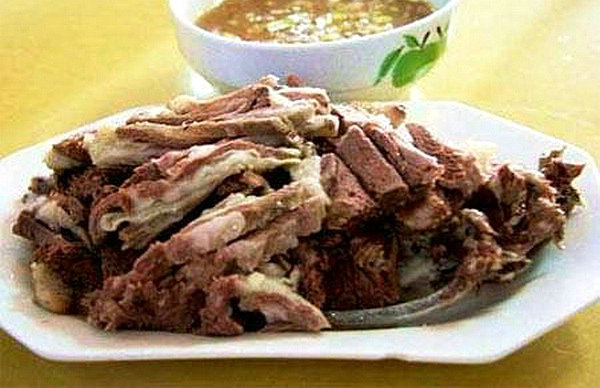 Boiled Lamb is a traditional food for Mongolian herdsmen for the past thousands of years. It is eaten with the hands during dinner.
6. Heilongjiang: Fried Pork in Scoop 锅包肉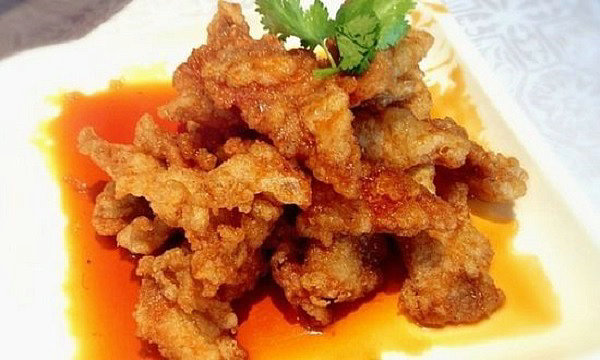 Fried Pork in Scoop belongs to the Northeast China cuisine with pork as the main material. First marinate sliced pork tenderloin, wrap it with starch paste and fry until golden brown in color, then pour sweet and sour sauce on to it. The dish is crisp outside and tender with sweet and sour taste.
7. Jilin: Steamed Whitefish 清蒸白鱼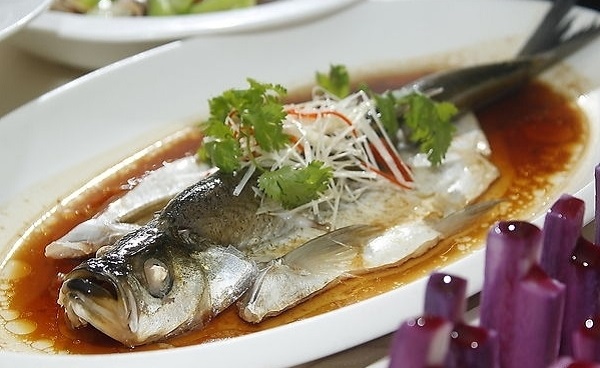 Since ancient times, fishermen on the Songhua River have boiled whitefish to greet friends and relatives. Later, it gradually developed into a famous dish and became into a major dish in local banquet.
8. Liaoning: Braised Pork with Vermicelli 猪肉炖粉条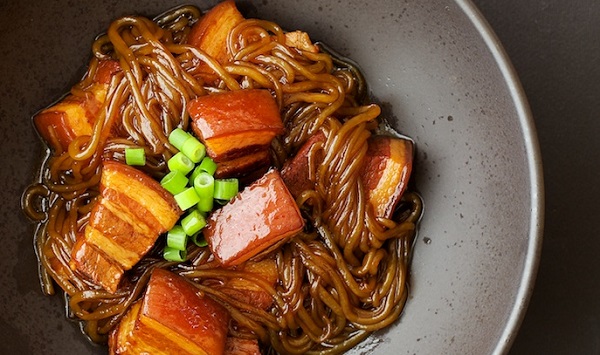 Braised Pork with Vermicelli is a well-known dish of Northeast China cuisine. The Vermicelli absorbs the flavor of meat and the meat is fat but not greasy. It is popular in Northeast China area especially during cold winter.
9. Shanghai: Red Braised Pork红烧肉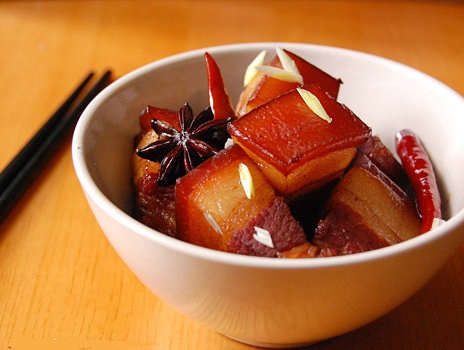 Red Braised Pork a very classic Shanghai dish. The main material is pork belly. After cooking, the meat becomes fat but not greasy and tastes very good.
10. Jiangsu: Stewed Pork Ball in Brown Sauce 红烧狮子头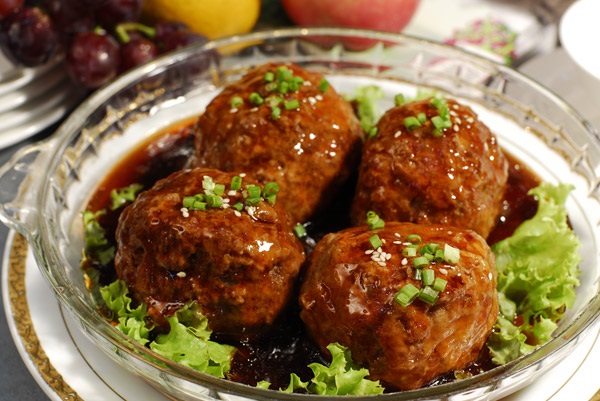 This is a dish usually served during Chinese holidays. The dish is composed of four brown meat balls, representing blessing of life, longevity and happiness. It is often served as the last dish in wedding, birthday and other feasts.
11. Zhejiang: West Lake Fish in Vinegar Sauce 西湖醋鱼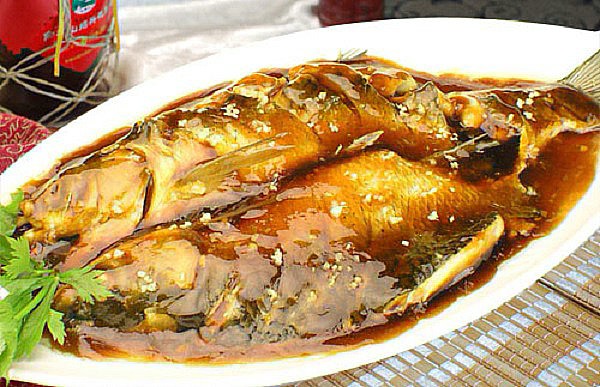 This dish is made of Kun Fish in the West Lake in Hangzhou. Before being cooked, the fish will be kept in fish cage for a couple of days to remove intestinal excrement. This dish is very fresh with sweet and sour flavor.
12. Anhui: Huangshan Stinky Mandarin Fish黄山臭桂鱼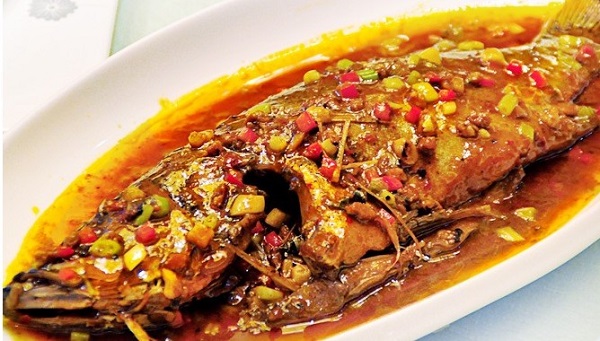 This dish was created when a businessman on his way to home by boat. Due to the long trip, the mandarin fishes he carried gave off a bad smell. His wife was unwilling to discard them and handled with thick soy sauce and oil. To their surprise, it actually tasted very good.
13. Fujian: Buddha Jumps Over the Wall 佛跳墙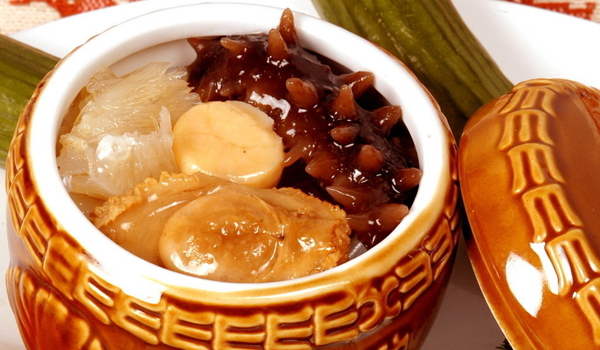 Buddha Jumps over the Wall is the most famous dish in Fuzhou city, Fujian province. The dish uses 18 different kinds of raw materials such as sea cucumber, abalone, shark's fin, fish lips, ham, pork belly, sharp hooves, tendons, mushrooms, bamboo shoots, etc., It has a variety of functions like nourishing Qi, clearing the lungs and intestines, preventing cold syndrome and other effects.
14. Jiangxi: Steamed Pork with Rice Flour 粉蒸肉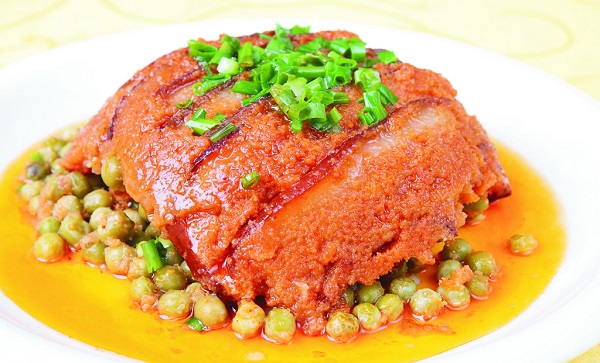 The ingredients are pork belly, rice powder and other seasonings. The rice flour and meat absorbs each other's flavor, forming a very delicious taste.
15. Shandong: Braised Intestines in Brown Sauce 九转大肠
It is a classic Shandong dish. Blanch the intestine over boiling water and fry, and then add various ingredients and stir-fry over low heat until fragrant. Diners can find all five tastes in it – sour, sweet, fragrant, spicy and salty.
16. Henan: Stewed Noodles 烩面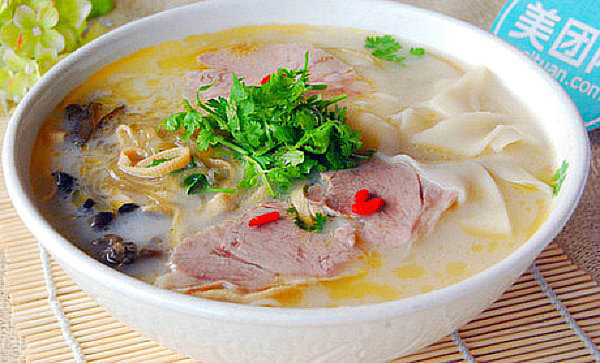 It is a traditional local snack made of noodles, tender lamb, vegetables and other ingredients. This dish is well-known for both delicious flavor and affordable price.
17. Hubei: Mianyang Three Steamed Dishes 沔阳三蒸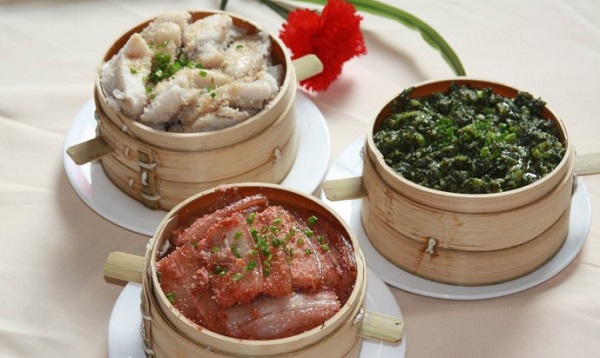 The so-called Three Steamed Dishes means steamed Livestock and poultry, steamed fish, and steamed vegetables (the ingredients are free to select such as amaranth, taro, beans, squash, carrot and lotus root). With both meat and vegetables, the dish boasts balanced nutrition. The dish has fragrant smell, authentic flavor, fresh and not greasy.
18. Hunan: Steamed Fish Head with Diced Hot Red Peppers 剁椒鱼头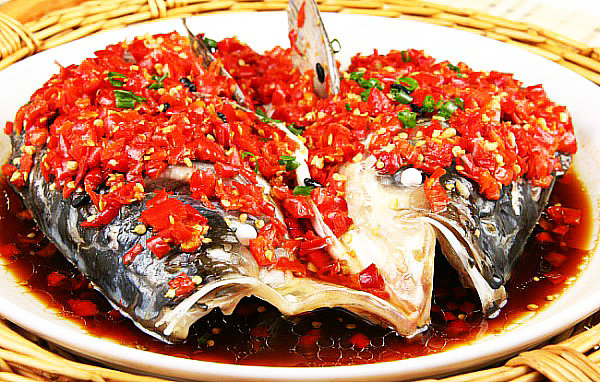 The dish mixes the "deliciousness" of fish head together with the "spicy" flavor of chopped pepper, creating a unique taste. It boasts bright color, tender fish meat and spicy taste.
19. Guangdong: White Cut Chicken 白切鸡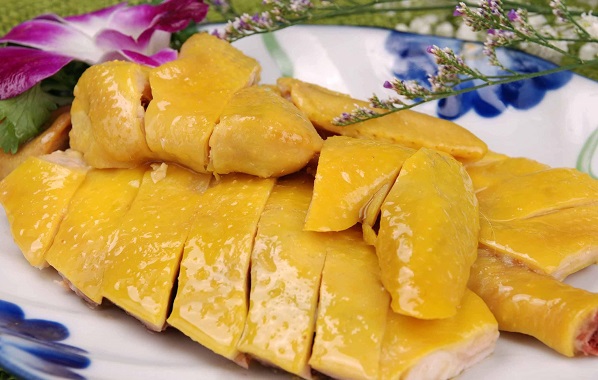 White Cut Chicken is characterized by simple-cooking, free of ingredients and keeping the original flavor. The Qingping Restaurant in Liwan District of Guangzhou city makes the best dish, hence it is also known as "Qingping Chicken."
20, Guangxi: Rice Noodles with Snails 螺蛳粉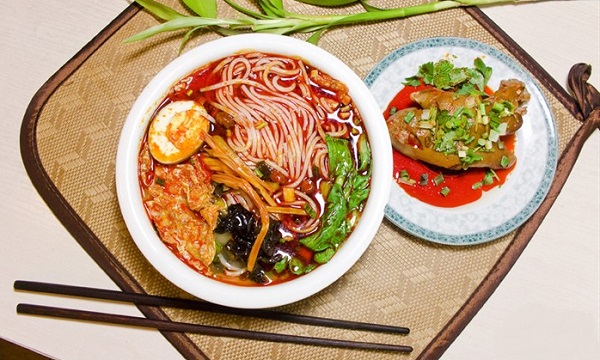 Rice Noodles with Snails is the most popular snack in Liuzhou city, with unique flavors of sour, spicy, fresh, cool and hot.
21. Hainan: Wenchang Chicken 文昌鸡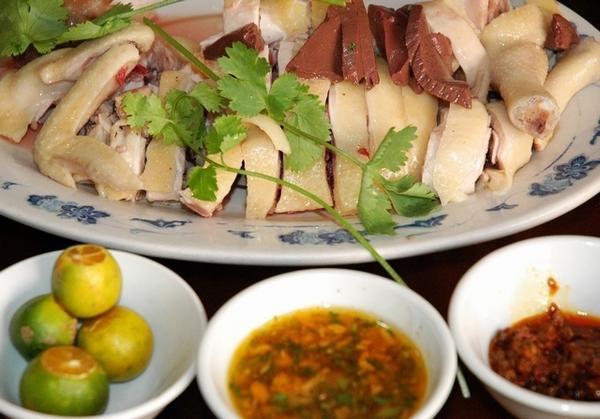 Wenchang Chicken tops the "Four Hainan Dishes." Its features succulent chicken, thin skin and crisp bone, with very strong flavor, fat but not greasy.
22. Sichuan: Mapo Tofu 麻婆豆腐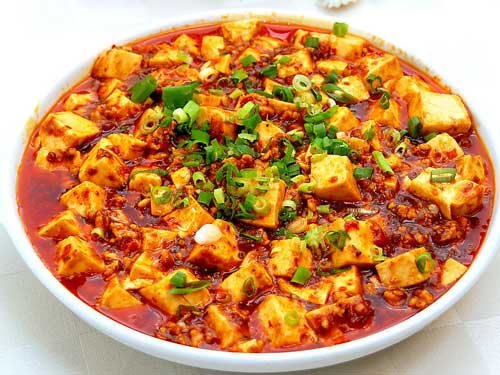 Mapo Tofu is a tradition dish of Sichuan Cuisine, The main raw materials is tofu (bean curd), It features hot, spicy, sweet, crisp and tender.
23. Chongqing: Spicy Chicken 辣子鸡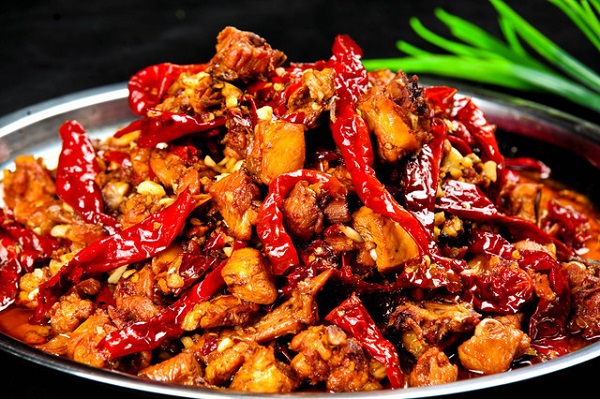 The pepper is mixed with dry chicken pieces sprinkled with the sesame seeds. The dish will surely arouse your appetite. The chicken meat is crisp outside and tender inside with fragrance of sesame and spicy-hot flavor.
24, Guizhou: Fish in Sour Soup 酸汤鱼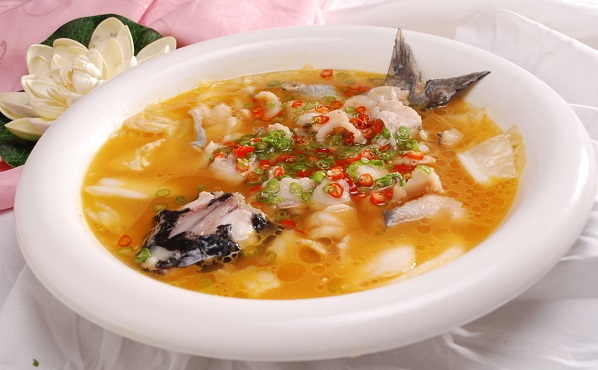 Fish in Sour Soup is a unique food of Chinese Miao Minority. It boasts fresh sour and spicy flavors and can arouse one`s appetite greatly.
25. Yunnan: Crossing Bridge Noodles 过桥米线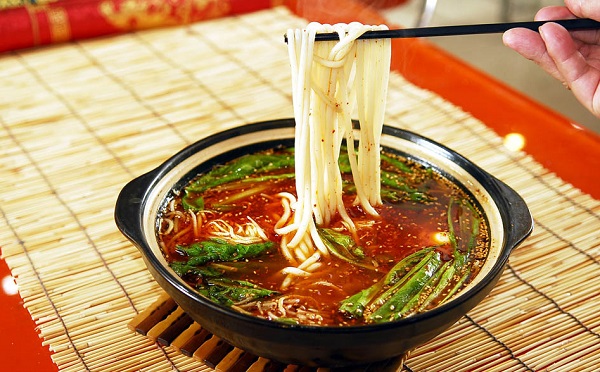 Crossing Bridge Noodles is a must-try if you travel to Yunnan province. The dish is composed of three parts: the soup, rice noodles and various ingredients. The soup is specially made of large bones, old hen, Yunnan Xuanwei ham boiling for long time, creating a strong flavor.
26. Shaanxi: Pita Bread Soaked in Lamb Soup 羊肉泡馍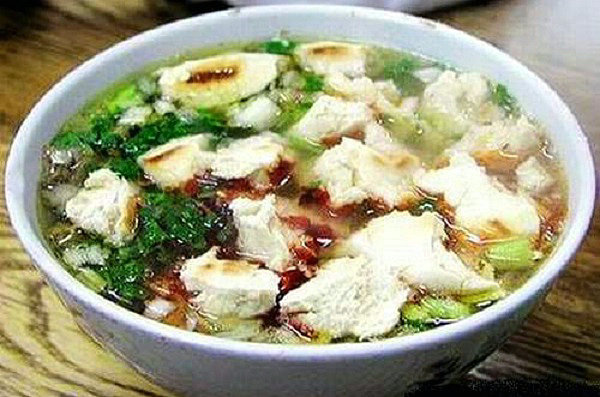 Pita Bread Soaked in Lamb Soup is a representative snack of Xian City. Since the Tang and Song dynasties, a lot of Muslims moved into the city and created this delicious food as we see today. The dish features thick soup and pure taste, with rotten meat and smooth Pita Bread pieces.
27. Tibet: Tibetan Blood Sausage 藏族血肠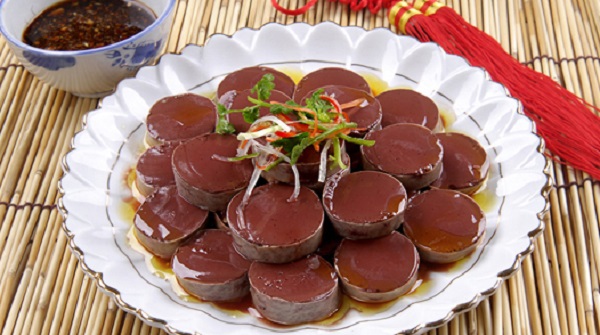 In Tibetan area, when farmers and herdsmen slaughter sheep, they do not eat its blood alone, but pour it into the small intestine and boil in water, this is the famous local specialty -Tibetan Blood Sausage.
28. Xinjiang: Roasted Whole Lam 烤全羊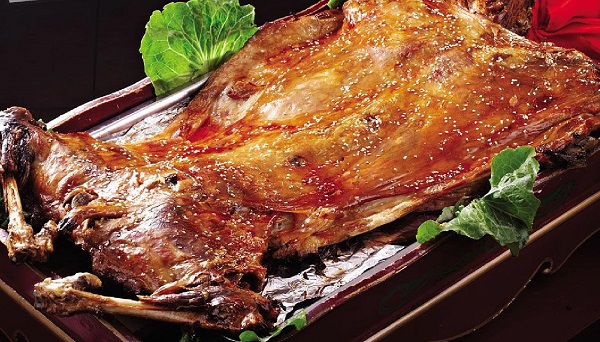 Roasted Whole Lam is a famous Xinjiang dish. The main material is a fat lamb less than a year old. Brush special-made sauce on the whole body of the lam and roast the whole lamp on fire. This dish can be found in the Big Bazaar of Xinjiang.
29. Qinghai: Stir-Fried Dough Slices with Mutton 羊肉炒面片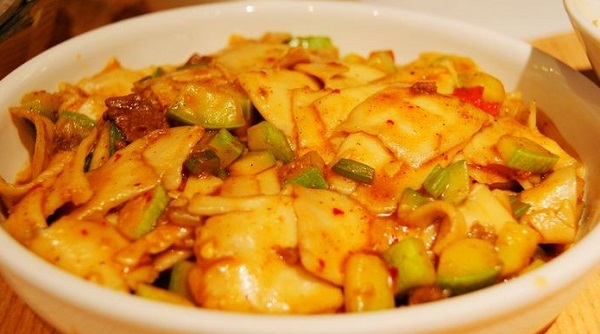 This dish is delicious and nutritious, tastes smooth and is easy to digest.
30. Gansu: Hexi Lamb 河西羊羔肉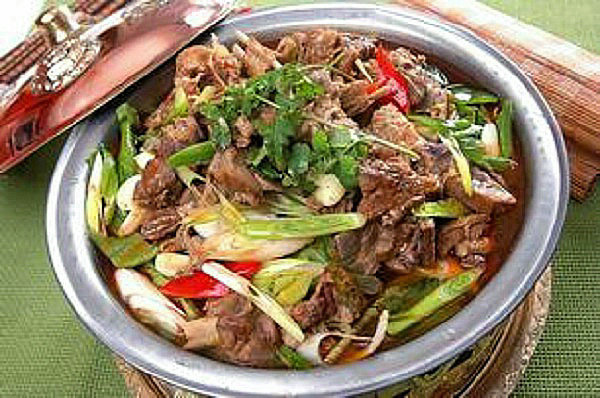 Hexi Lamb is one of Northwest cuisine recipes, with the mutton as the main ingredient cooked in earthen pot. It features tender meat, red and shiny appearance and fragrant flavor.
31. Ningxia: Steamed Lamb 清蒸羊羔肉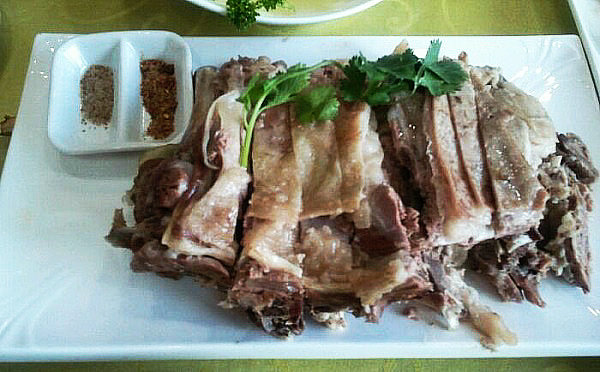 This is a famous snack popular in northwest China's Tongxin and Haiyuan areas; many local restaurants serve this delicious food.
32. Hong Kong: Beef Balls 牛肉丸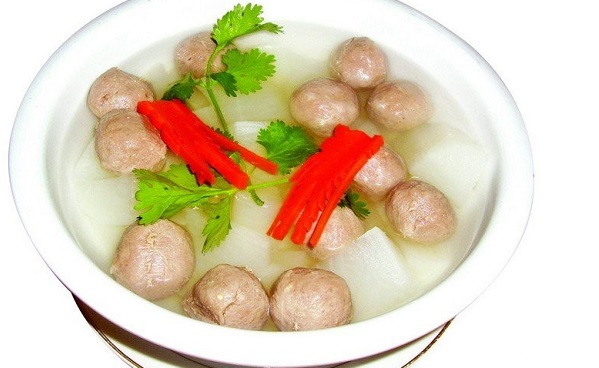 Beef ball is a common snack in southern China. And Hong Kong owns the beef balls featuring chewy and juicy,
33. Macau: Bacalhau 马介休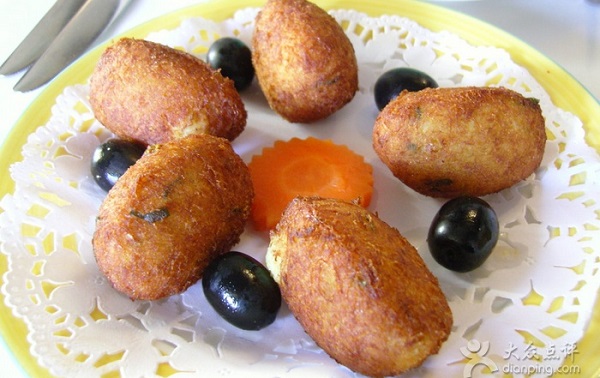 Bacalhau is a popular Portuguese dish in Maau. Its main ingredient is salted cod. This kind of fish can be burned, roasted, braised or boiled. Many local restaurants serve bacalhau dishes and it is a must-try for travelers in Macau.
34. Taiwan: Three Cup Chicken 三杯鸡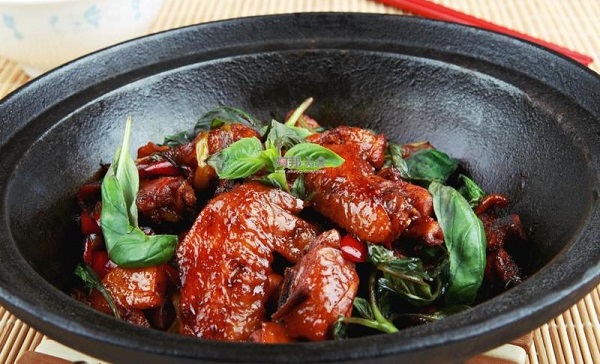 Three Cup Chicken is a popular chicken dish in Taiwan. The name comes from the three cups of ingredients that create the sauce: rice wine, soy sauce, and sesame oil.