20 Pictures of Chinese crazy About Mahjong
What is the most popular form of entertainment in China today? None of them can equal to Mahjong. The game Mahjong was originated in China and is played by four players. It is the Number 1 entertainment activity in Chinese world. Mahjong has an unimaginable mass base, even earthquake and rainstorm can not stop Chinese people playing Mahjong.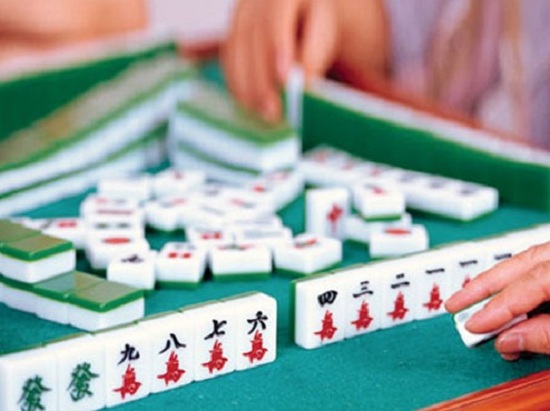 The game Mahjong is one of most popular games in China.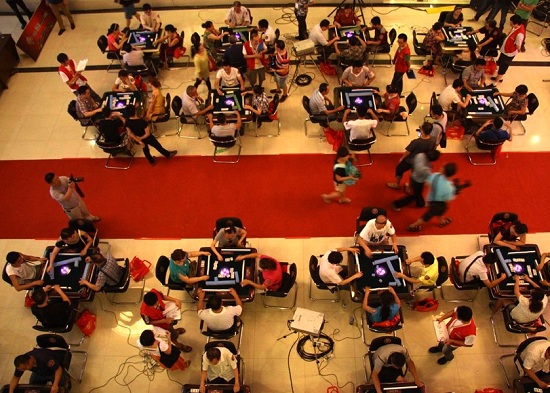 The 2012 Sichuan Mahjong Competition on August 18 saw more than 300,000 competitors, the champion won 200,000 yuan ($31,700). The runner-up won 50,000 yuan.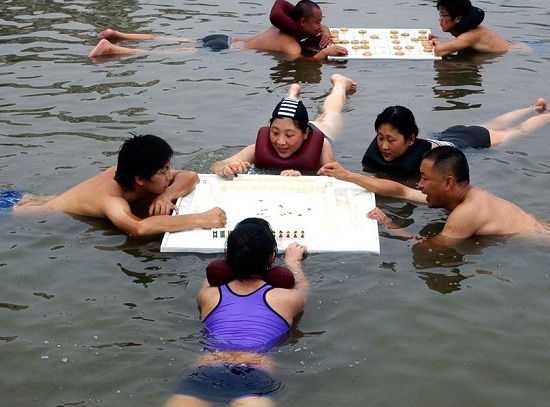 July 26, 2008, Lianyungang, Jiangsu, some tourists are playing mahjong in an artificial "Dead Sea."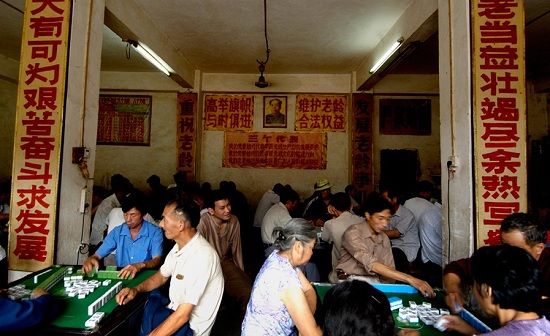 The importance of mahjong in Chinese culture can be understood from one of Mao Zedong's quotes: "China has three tremendous contributions to the world, the first is the Chinese traditional medicine, the second the novel "Dream of the Red Chamber" by Cao Xueqin, the last but not the least Mahjong…"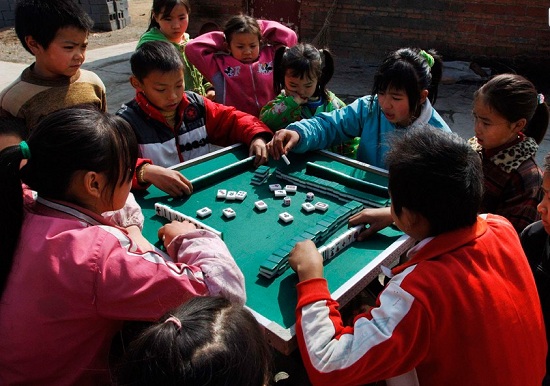 In Huaxi District of Guiyang City, a group of school-age children are playing mahjong together.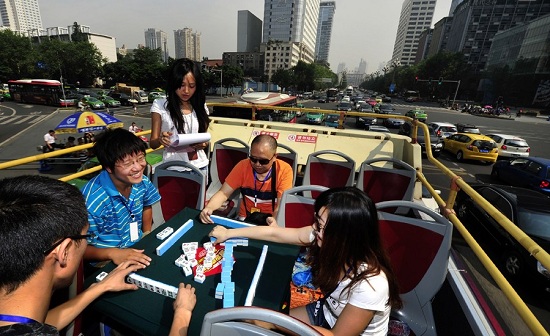 July 9, 2011, Chengdu, a special mahjong game contest is being held on a sightseeing bus.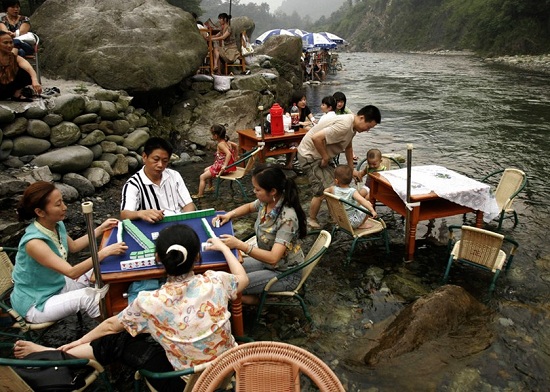 June 24, 2006, in Hongkou Drifting District of Chengdu, Sichuan, cuntless umbrellas and mahjong tables are placed along the river bank.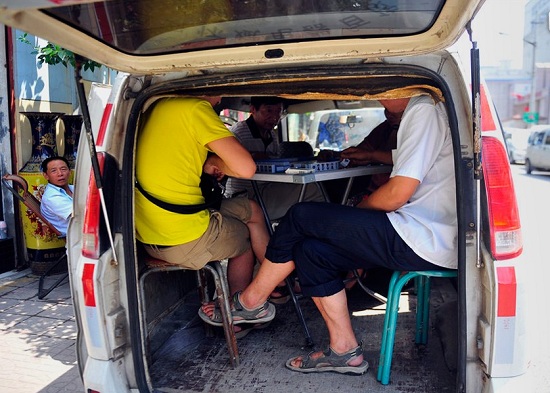 July 3, In a flower market in Xi`an, four people are playing mahjong inside a van to avoid burning sun. Because of lack of business, these self-employed staff seize the opportunity to relax.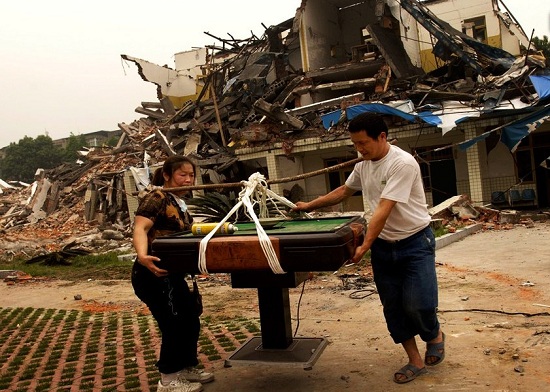 May 18, 2008, Sichuan, after the earthquake, two residents dig out their mahjong machine from the ruins. Mahjong is one of the favorite entertainment forms in Sichuan.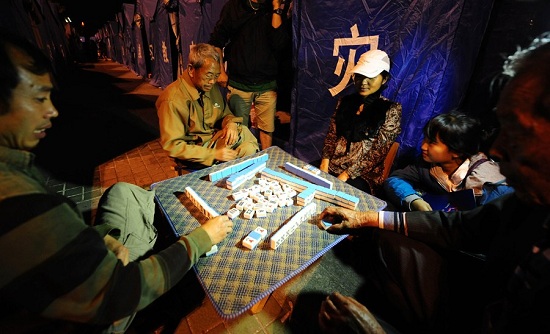 March 14, 2011, Yunnan, Yingjiang earthquake-stricken areas, several earthquake-stricken people are playing mahjong at their resettlement.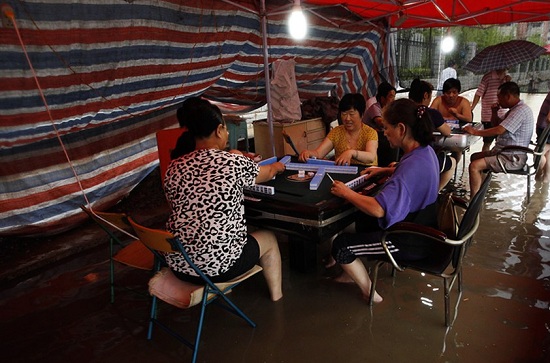 July 4th, Zhengzhou, Henan Province, The street is flooded with heavy rainfall, several mahjong players have paid the table rent fee, in order not to waste money, they continue to play in the rain.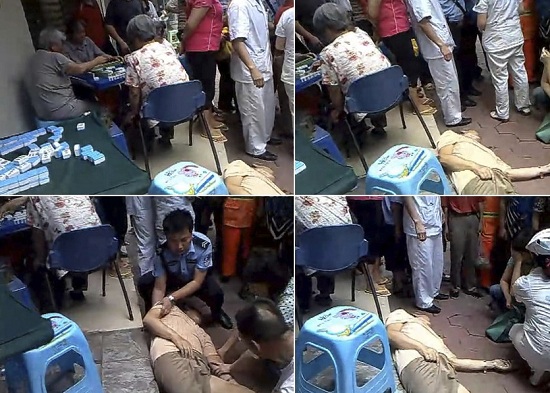 In Chengdu, netizens reported that whole tables of Mahjong addicts continued playing their games, even as an old man (and fellow Mahjong player) fainted. He was later taken care by emergency services and was declared dead and wheeled away by a funeral car.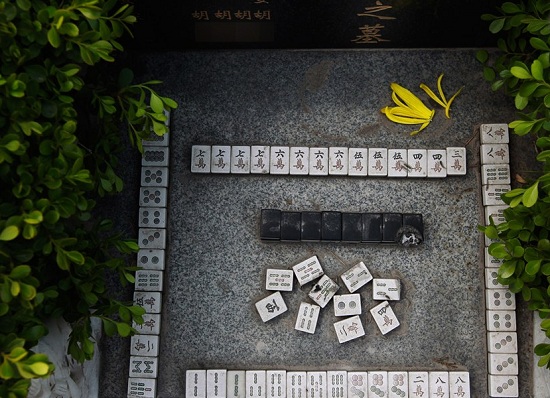 April 3, 2011, Hefei, Mahjong is placed in front of a tombstone. The picture shows that the tomb owner holds a good hand.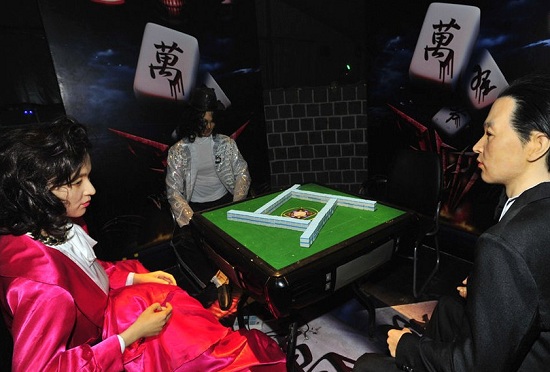 October 31, 2011, Shenyang, on Halloween day, a store displays"A table of Mahjong played by Jackson, Anita Mui and Leslie Cheung" to attract customers.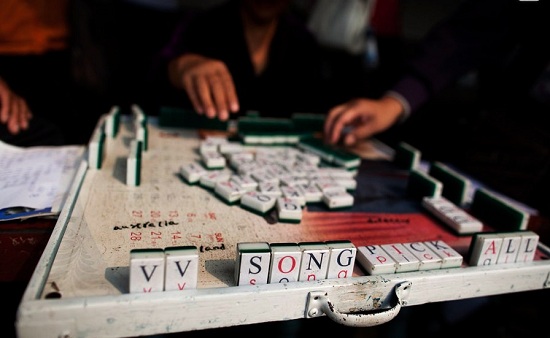 September 25, 2011, in Tiantan Park, Beijing, the elderly get together to play "English mahjong", which was invented by a 57-year-old man Xue Shengli.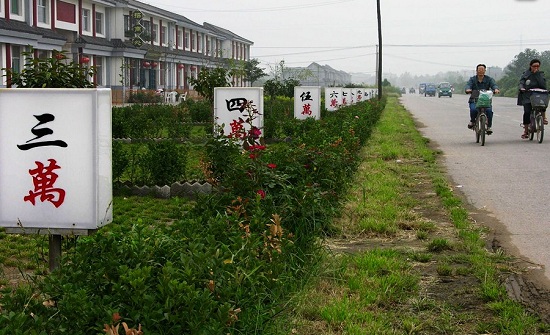 September 9, 2008, in Zhao County, Hebei Province, Mahjong Lightboxes are placed near buildings to display house numbers.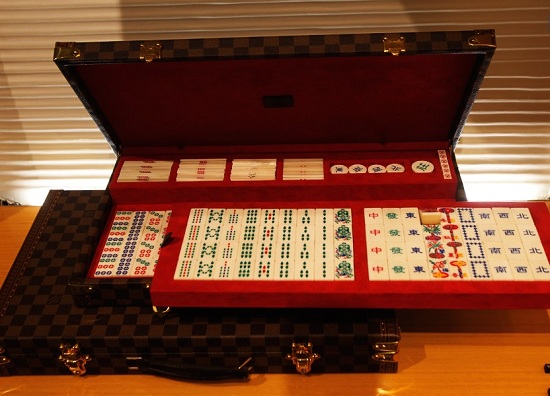 July 18, Shanghai,Louis Vuitton store launches an advanced custom travel mahjong box.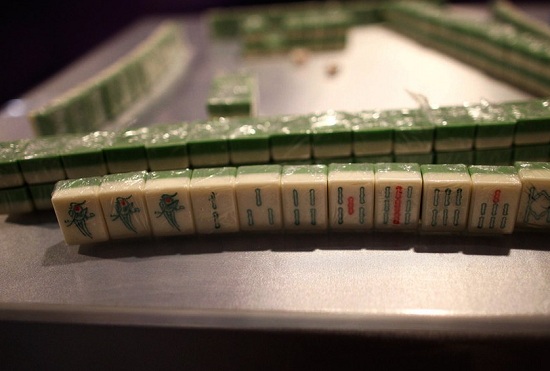 January 22, 2010, Beijing, a table of chocolate mahjong tiles at a chocolate exhibition.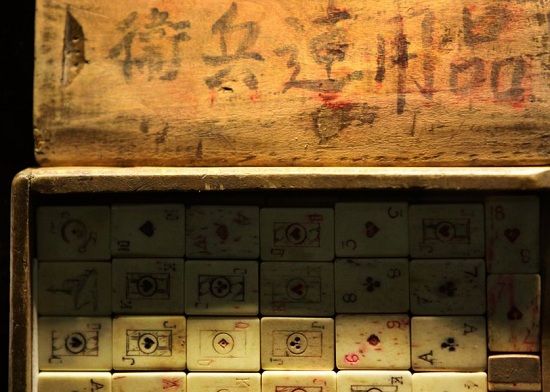 July 2, 2011, Beijing, a classic revolutionary theme exhibit is being held in Panjiayuan antique market.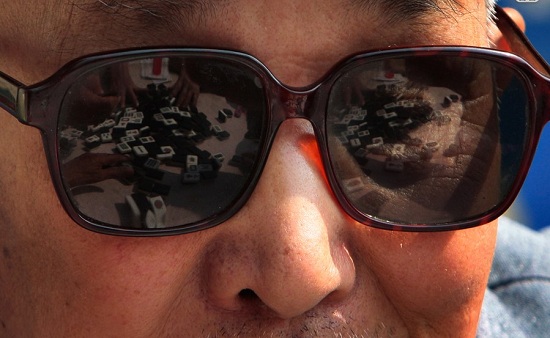 March 7, 2008, Nanjing, people play mahjong at the corner of the street to kill time. Hu Shi, the renowned Chinese historian and philosopher, once lumped mahjong together with opium, foot-binding and eight-legged essay, as the four devils of the Old China. He said mahjong is "an addictive, time-wasting nonsense that lured people away from a healthy, hardworking lifestyle," that "not a single motivated person or nation would find it worthwhile", and that "It will lead the nation to perdition."