Top 10 Chinese books you must read
China is a big country, and it's a really old country, which is why there are thousands of books about China that have been published. But which are the BEST books, so you don't have to sift through them all. Here are what I feel are the best 10 books about China: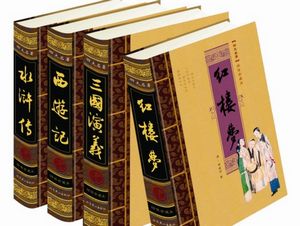 1. The Water Margin: Outlaws of the Marsh (Tuttle Classics)
   Shi Naian (Author), J.H. Jackson (Translator) $19.77
The Water Margin is one of the "Four Great Classical Novels" of Chinese literature. Based upon the story of the historical bandit Song Jiang and his companions, this epic tale of a rebellion against tyranny has been thrilling and inspiring readers for hundreds of years. A stirring tale of a band of men left with no choice but to become outlaws when faced with a tyrannical and unjust government, The Water Margin is the Chinese equivalent of Robin Hood and His Merry Men.
Well known in the West due to a 1970′s Japanese TV series based on the book. It is sometimes named 'Outlaws of the Marsh' which better describes the story that details the trials and tribulations of a group of outlaws during the Song Dynasty.
2. Journey to the West (Chinese Classics, Classic Novel in 4 Volumes)
  Wu Cheng'en (Author), W.J.F. Jenner (Translator) $35.91
Journey to the West is a classic Chinese mythological novel. It was written during the Ming Dynasty based on traditional folk tales. Consisting of 100 chapters, this fantasy relates the adventures of a Tang Dynasty (618-907) priest Sanzang and his three disciples, Monkey, Pig and Friar Sand, as they travel west in search of Buddhist Sutra. The first seven chapters recount the birth of the Monkey King and his rebellion against Heaven. Then in chapters eight to twelve, we learn how Sanzang was born and why he is searching for the scriptures, as well as his preparations for the journey. The rest of the story describes how they vanquish demons and monsters, tramp over the Fiery Mountain, cross the Milky Way, and after overcoming many dangers, finally arrive at their destination – the Thunder Monastery in the Western Heaven – and find the Sutra.
3. The Dream of the Red Chamber (Tuttle Classics)
Cao Xueqin (Author), H. Bencraft Joly (Translator) $21.86
The Dream of the Red Chamber is one of the "Four Great Classical Novels of Chinese Literature." It is renowned for its huge scope, large cast of characters and telling observations on the life and social structures of 18th century China and is considered by many to be the pinnacle of the classical Chinese novel.
4. Three Kingdoms: A Historical Novel (One Volume)
  Guanzhong Luo (Lo Kuan-Chung) (Author), Moss Roberts (Translator)  $26.38
Three Kingdoms tells the story of the fateful last reign of the Han dynasty (206 B.C.-A.D. 220) when the Chinese empire was divided into three warring kingdoms. Writing some twelve hundred years later, the Ming author Luo Guanzhong drew on histories, dramas, and poems portraying the crisis to fashion a sophisticated, compelling narrative that has become the Chinese national epic. This abridged edition captures the novel's intimate and unsparing view of how power is wielded, how diplomacy is conducted, and how wars are planned and fought. As important for Chinese culture as the Homeric epics have been for the West, this Ming dynasty masterpiece continues to be widely influential in China, Korea, Japan, and Vietnam, and remains a great work of world literature.
5.  The Art Of War
Sun Tzu (Author), Lionel Giles (Translator)   $7.85
The Art of War is an ancient Chinese military treatise that is attributed to Sun Tzu (also referred to as "Sunzi" and "Sun Wu"), a high ranking military general and strategist of the Kingdom of Wu who was active in the late-sixth century BC, during the late Spring and Autumn period. Composed of 13 chapters, each of which is devoted to one aspect of warfare, it is said to be the definitive work on military strategies and tactics of its time, and is still read for its military insights.
6. The Travels of Marco Polo, the Venetian (Classic Reprint)
Marco Polo (Author), Henri Cordier (Author, Translator) $8.86
Chronicling the 13th-century world from Venice, Marco Polo's birthplace, to the far reaches of Asia, Marco Polo tells of the foreign peoples he meets as he travels by foot, horse, and boat through places including Persia, Tibet, India, and, finally, China.
7. Wolf Totem: A Novel
Jiang Rong (Author), Howard Goldblatt (Translator)  $10.20
Published in China in 2004, Wolf Totem has broken all sales records, selling millions of copies (along with millions more on the black market).. Part period epic, part fable for modern days, Wolf Totem depicts the dying culture of the Mongols-the ancestors of the Mongol hordes who at one time terrorized the world-and the parallel extinction of the animal they believe to be sacred: the fierce and otherworldly Mongolian wolf. Beautifully translated by Howard Goldblatt, the foremost translator of Chinese fiction, this extraordinary novel is finally available in English.
8.  Wild Swans: Three Daughters of China
Jung Chang (Author)  $11.27
Blending the intimacy of memoir and the panoramic sweep of eyewitness history, Wild Swans has become a bestselling classic in thirty languages, with more than ten million copies sold. The story of three generations in twentieth-century China, it is an engrossing record of Mao's impact on China, an unusual window on the female experience in the modern world, and an inspiring tale of courage and love.
9.  To Live: A Novel
  Yu Hua (Author), Michael Berry (Translator) $10.20
An award-winning, internationally acclaimed Chinese bestseller, originally banned in China but recently named one of the last decade's ten most influential books there, To Live tells the epic story of one man's transformation from the spoiled son of a rich landlord to an honorable and kindhearted peasant.
10. Red Dust: A Path Through China
Ma Jian (Author)  $12.89
In 1983, at the age of thirty, dissident artist Ma Jian finds himself divorced by his wife, separated from his daughter, betrayed by his girlfriend, facing arrest for "Spiritual Pollution," and severely disillusioned with the confines of life in Beijing. So with little more than a change of clothes and two bars of soap, Ma takes off to immerse himself in the remotest parts of China. His journey would last three years and take him through smog-choked cities and mountain villages, from scenes of barbarity to havens of tranquility. Remarkably written and subtly moving, the result is an insight into the teeming contradictions of China that only a man who was both insider and outsider in his own country could have written.