Top 5 Wine Bars In Shanghai
Drinking good wine in Shanghai can sometimes be quite difficult. Having said that, wine bars are getting more and more notorious and numerous in this never-sleeping city. They are flourishing all over Shanghai. Here is my top 5 wine bars in town.
1. Enoterra (Oldest Wine Bar )
Enoterra is the oldest Wine bar in Shanghai… and one of the most affordable places to enjoy drinking finest quality wine in Shanghai downtown. There, many wines come from South America countries such as Argentina and Chile. But not only. Enoterra's cave has other choices that you will enjoy tasting. Moreover, the place has an equipped kitchen serving good quality lunches but also simple brunch affairs every Sunday. In Anfu street, the managing Director Jonathan can advice you to their best selection.
Oliver , Expat in China since 2007, (french) Wine lover, like to go to this place and enjoy the selection of fine food.
Address : 53-57 Anfu Lu, near Wulumuqi Lu
2. Dr Wine (perfect Place for dating)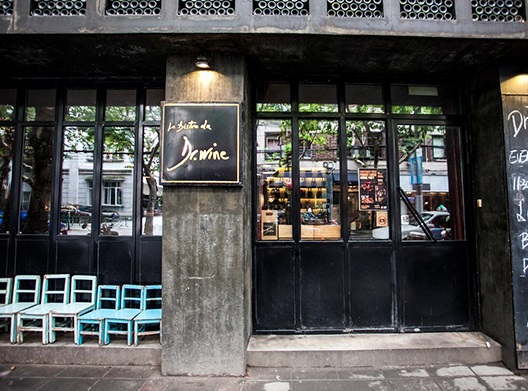 Dr Wine is a two-floor wine bar located on Fumin Road. Its industrial exposed brick walls mixed with a twist of gloomy wood and "old Shanghai" leather set up a very cozy and modern look to the location. The Doc imports his wines referring to sommelier Vincent Landais' choices, who selects only the best of wines.
George expat living in Shanghai since 2007, enjoy this place and explain that it is a perfect place for Date and impress your Chinese Friends.
Address : 177 Fumin Lu, near Julu Lu
3. Cucina (Very nice environment)
Cucina harbors a great ambiance combined to an amazing view over Shanghai. Dinning at the window seats allows a great sight down on the Huangpu River. Cucina offers an amazing wine list with a variety of more than 250 types of wines, and 12 single glasses of wine. Wines come from all over the world. Mixing great wine and authentic Italian cuisine in Grand Hyatt Shanghai at a reasonable price will allow you to enjoy this place at its best.
Luke, expert in Wine, like this place for this really nice environment and like to invite his customers there.
Address : 56F, Grand Hyatt Shanghai, No. 88 Century Avenue, Pudong New Area
4. NAPA Wine Bar & Kitchen (special Selection )
NAPA Wine Bar & Kitchen was founded in 2007. The location brings food and wine experience to another level as Chef Patrick Dang sets finest dishes and a very large wine list, including more than 700 names. NAPA explores the concept of « perfect harmony between food and wine » at its finest degree.
NAPA offers one of China's largest wine selections. Moreover, its wine list is frequently awarded by International but also Chinese media.
The Managing director of the FrenchCellar enjoy some special reference, organic nice wines and recommend this place.
Address : South Bund 22, Zhongshan dong er Lu 22
5. 100 Century Avenue Restaurant (Top Place for Tourists )

100 Century Avenue Restaurant combines breathtaking views over Shanghai city from the 91st floor of one the tallest buildings in the world, with one of the most amazing show kitchens in the city. You cannot go by this location without going through its large list of 36 wines available by glass and more than 500 wines by bottle. The multiple dishes will appeal to every taster, displaying Western steakhouse, Chinese wok as well as Japanese sushi and sashimi.
Olivia like this place and recommend for all people travelling in Shanghai. "You may take in consideration that over 80% of the displayed wines are organic or bio-dynamic ones".
Address : 100 Shi Jia Da Dao Pudong Xin Qu.
Now, you have to check them out. Drinking excellent wine has never been such an easy task !