Top 10 things to see in China
For a country of its massive size and varied geography and culture. A vacation to the oldest country in the world will be a lifetime experience for you. Here is a list of must see places to visit in China:
1. Forbidden City in Beijing
The Forbidden City is probably China's most famous museum, and second only to the Great Wall as a tourist attraction. For nearly 500 years the 10m high walls have housed the Ming and Qing emperors up until 1911. It was opened to the public in 1925 and made a UNESCO World Cultural Heritage Site in 1987.
Remarks: Before you visit the Forbidden City, you must properly understand the culture and history of the Qing Dynasty, or else you must travel with a private tour guide, not the kind of group tour, otherwise you can only know who lived in this house and who in that one. In Forbidden City, each brick, pillar, mural painting and carving has rich cultural deposits inside. In the place full of Chinese culture, If you do not do eough homework, you will feel nothing special but pose for taking pictures.
2. Great Wall in Beijing
The Great Wall of China spans over 4000 miles and remains one of the great wonders of the world. The Great Wall was originally built over 2000 years ago.  In fact, the Great Wall winds its way across China is made up of a number of interconnecting walls spanning China that different dynasties and warlords constructed. Most of the current Great Wall was built during the Ming dynasty (between 1368 and 1644.).
Remarks: Just like a saying goes "He who has never been to the Great Wall is not a true man." The Great Wall is indeed both beautiful and spectacular, especially the Badaling Great Wall. You`d better visit Badaling on a day with clear air, the light is good, the scenery will be good!
3. Terra Cotta Warriors and Horses in Xian
These figures, dating from 3rd century BC, were discovered in 1974 by some local farmers in Lintong District, Xi'an, Shaanxi province. The terracotta army was constructed to guard the tomb of Emperor Qin Shihuang, the founding emperor of the Qin Dynasty, and the emperor who united China. Each figure is with different apperance and clothing and hairstyles have individual characteristics. Each soldier was covered with paint and had the appearance of a real army of living men.
Remarks:  A very fantastic attraction, Bronze Chariots and Horses reflect the wisdom of ancient Chinese people.Those painted pottery figurine are quite amazing
4. Yangshuo in Guangxi
When the Chinese long for views of the nation's most scenic hills and rivers, they book a bamboo-boat cruise in Yangshuo.The riverside town in southern China is most famous for its karst hills and traditional fishing-village lifestyle.
Remarks: Visitors can rent bikes and head to the countryside to find a more calming scene: bamboo boats chugging along the river, fishermen setting out with cormorants, farmers toiling in fields with lush peaks soaring high above.
5. Lijiang in Yunnan

It is a well preserved ancient city filled with ethnic minorities, culture, and art. The Lijiang Old Town was originally founded in the late Song (960-1279) and Early Yuan (1279-1368) Dynasties.
Remarks: Old Lijiang is a wonderfully rustic area full of canals, traditional Chinese architecture, and folk culture that isn't as easy to come by in increasingly modernized China. With over 300 stone bridges spanning the canals, paper lanterns lighting the stone cobbled streets, a nightly bonfire surrounded by Naxi dancers, and the feel of being in China as it once was – Lijiang's closeness to me might make it the first spot on this list to get a visit.
6.  Jiuzhaigou in Sichuan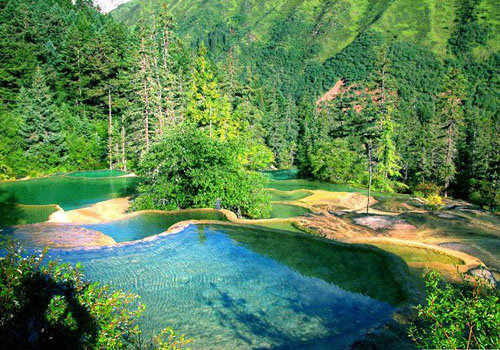 This massive lake is the crown jewel of Jiuzhaigou, a region full of stunning alpine lakes and waterfalls.The lake is filled with incredible water that changes color throughout the day and year. The color comes from the reflection of the surrounding landscape, as well as algae and calcified rocks at the bottom of the shallow lake.
Remarks: Autumn is the best time to visit, when the lake surface appears as a multi-hued painter's palette.
7 Potala Palace in Lhasa
The former winter home of the Dalai Lama and seat of the former Tibetan ruling government, this nine-story attraction stands 3,700 meters above sea level, making it the highest palace on the planet. The Potala Palace's current incarnation is a state museum. More than 1,000 rooms remain, as well as the original layout of the White Palace (living quarters of the Dalai Lama) and the Red Palace (once a spiritual center of Tibetan Buddhism).
Remarks: All visitors to the palace are restricted to a one-hour stay. Potala Palace issues a limited number of tickets every day. To secure a ticket during peak season (May 1-October 31), independent travelers are advised to pick up a ticket coupon outside the palace a day before their visit.
8. The Yangtze River
It is the longest river within a single country. It has the widest variety of outstanding tourist attractions, scenery and culture along its length, all contained within China, and holds several world records.
Remarks: Yangtze River cruising should be on the list for those who seek for romantic escape and travel with their family or friends.
9. Giant Panda in Chengdu
Heading out to Chengdu is a great way to get a taste of Sichuan as well as an in-depth understanding of Giant Pandas at the Breeding Research Base.
Remarks:This is a great place to see and hold pandas. Its cost $200 to hold the baby pandas for about 3 minutes and take pics.
10. Modernity Hong Kong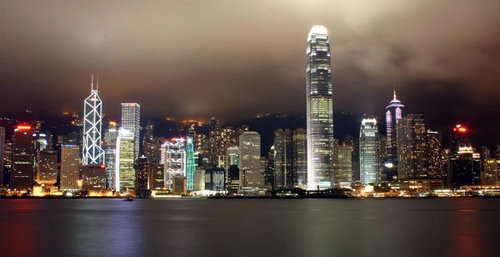 Situated off the southeast coast of China, enclosed by the Pearl River Delta and South China Sea, Hong Kong has beautiful natural surroundings. Meanwhile, as one of the world's leading financial, banking and trading centers, it also has impressive modern views with man-made wonders.
Remarks: See modern China – and Asia – at the cutting edge with a visit to Hong Kong. Walking down the Kowloon side promenade gives the traveler a view of some of the most beautiful modern architecture in China, dominated by the Bank of China Tower designed by I.M. Pei.