Top 5 Best VPN to Use in China
We all know that China is a special country and its powerful "Great Firewall" has blocked many world famous websites such as Google, Gmail, Youtube, FaceBook, Twitter and NewYork Times. it is quite a long list. So it will be a big trouble for people who travel to or work in China.
In order to access these blocked networks, people need to use VPN (Virtual private network) in China. Though using VPN services to bypass Chinese government's censors is not lawful in China. But the government turns a blind eye to it as many China's foreign trade enterprises still need VPN to communicate and do business with the world. So there is no need to worry about the legal matter of using it in China.
When you search for VPN services for China, you will have a long searching result and it is difficult to decide which one to buy for those who have never come to the country. Then how to pick and choose a good VPN service in China? there is no need to worry. I live in Beijing and work in a foreign-oriented company which uses VPN service to do business with foreigners. I have personally tested about a dozen of VPN service and created a VPN site list to show you the best VPN that work well in China. I evaluate their services based on reputation, performance, security, ease of use, support, and other features. Remember that price is important but don't just focus on it, you need to choose the service that meets your own needs.
Which VPN should you use in China? please check our reviews of best vpn to use in China and select your own one.
Top 5 Best VPNS in China
VPN for China
Features
Trial Period
Simultaneous Connections
Servers
Pricing:
Fastest and most reliable VPN
30 days MBG**
5 devices
3200+ servers
Monthly: $12.95/mo Annual: $8.32/mo
Large server network and fast speed
30 days MBG**
5 devices
450+ VPN servers
Monthly: $7.50/mo
Annual: $3.50/mo
Most secure one
3 days Free Trial
5 devices
700+ global servers
Monthly: N/A
Annual: $3.75/mo
Cheap with good speed
7 days MBG**
5 devices
750+ servers
Monthly: $10.95/mo
2 Years: $2.99/mo
Optimized for unblocking video
14 days MBG**
1 computer and 1 mobile device
USA, Canada, Europe and Asia
Monthly: N/A
Annual: $5.75/mo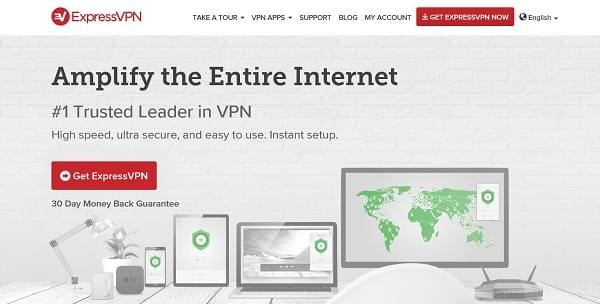 ExpressVPN is the fastest and most stable VPN service in China. At present many major VPN providers' websites have been blocked by china Great Firewall, while ExpressVPN is the only VPN provider whose official site works well in mainland China.
I have have been using it in Beijing, the speed is very good, I can watch streaming YouTube videos smoothly and have very good experience when visiting Facebook and other blocked social networks. What I like the most is that it can automatically log in when turn on your computer and when the VPN gets disconnected (this situation rarely occurs), it will automatically connect again, this feature can save you lots of time and gives you best user experience. Besides this, servers in 94 countries, including servers from Hong Kong, Japan, Taiwan, and the US, are easy to reach for users in China.
The major advantage of ExpressVPN is that it promises a 30-day Money Back guarantee, so you can use it for 30 days and get full refund if you do not want to spend a buck. Besides, ExpressVPN offers unlimited bandwidth, which means you can use it all day on your devices. ExpressVPN works well in my Android phone. and it is also support platforms such as Windows and iOS phones. As for the price, ExpressVPN is a little expensive compared with other VPN services. But when you get it, you will find the money is well worth it. For a little more money you can get a very good fluid user experience either for entertainment or taking care of your business in China.
PROS    
3000+ servers worldwide with 5-6 fast speed servers boosted for China
Unlimited bandwidth
Great OpenVPN encryption
Kill Switch function to protect your privacy when connection is lost
Works with Mac, Windows, Android, iOS, Linux, routers, Chrome, Firefox
P2P is allowed
Up to 5 simultaneous devices
Servers located in more than 94 countries
30 days 100% money back guarantee
24/7 customer support by chat or email
CONS
Not the cheapest VPN for China
Notes: 
Keep updating and use the latest software and app version.
Use server locations recommended by ExpressVPN app (Servers from Los Angeles, Hong Kong, Japan, Singapore etc.). You may try other servers if the connection is not good.
The connection in China is often interfered by the censorship of the Chinese government. Please be patient when it gets connecting, it may need more than 10 second  to get connected.
Price: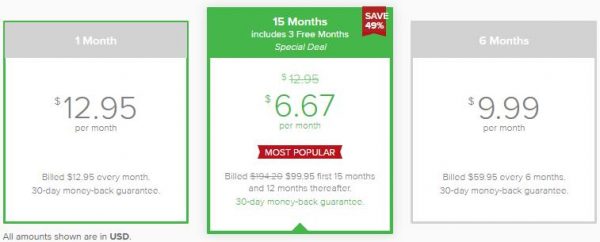 1 Month Plan $ 12.95/Month
6 Month Plan $ 9.99/Month
12 Month Plan $ 6.67/Month Save 49% (or equals to USD8.32/month + 3 month FREE)
All in all, ExpressVPN is the best and fastest VPN if you are travelling or living in China. Though it's a bit expensive compared with other VPN providers, it really provides an excellent VPN service with well-designed apps for mobile devices. Plus its 30-day money-back guarantee, there is no excuse for not giving it a try and see for yourself how you like it.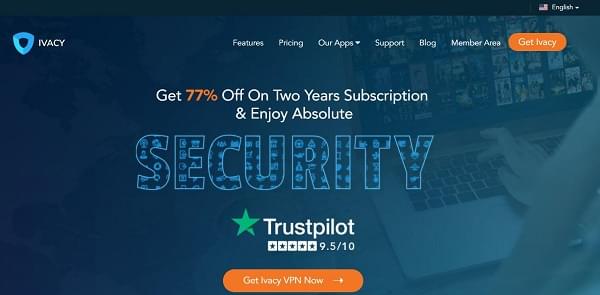 IvacyVPN is is a global VPN provider based in Singapore. It is one of the most trusted VPN services that work well in Mainland China. It has 450+ servers around the world and you can find serves near you no matter where you travel or live.
IvacyVPN has good connection speed. Its dedicated VPN client app can be used on computer, Mac and mobile devices including Windows, iOS and Android.
IvacyVPN pay more attention to Chinese users and provide good tech support for users in China. Its price is very affordable while still maintaining its high quality.
PROS
Fast servers
Easy to install and use
Low price
5 Simultaneous connections
Servers in 450+ locations
30 Days Money Back Guarantee
Splitting tunnel
Unlimited traffic and servers switch
Note:
If  the VPN do not connect, go to the "Settings", and select "Connection", choose "UDP".
go to the "Settings", and choose "Multiport",  and select "Manual" mode, enter any number between 5500 and 30000, try more numbers if it doesn't work.
Then you can go to click the button to get connected. Choose VPN locations from United States, United Kingdom, Singapore, Japan, Italy, Jordan etc.
Price:


1 Month Plan $ 9.95/Month
1 Year Plan $ 3.50/Month Save 65%
5Years Plan $ 1.6/Month Save 88%
Its price is $9.95/month and for 1 month package and for 12 months the price is $3.50/month, which is a very competitive price in the VPN market, and for 5 years plan it is much cheaper at $1.16/month. It also promises a 30-day money back guarantee, so there is no reason not giving it a try.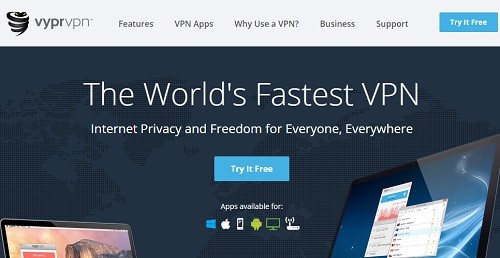 Different with other VPN providers who use share servers, VyprVPN maintain its entire and exclusive infrastructure, which makes it more secure and guarantees a faster speed. One of the its main features is its "Chameleon" stealth technology (only for premium package), which is designed to help defeat the Great Firewall.
The basic plan is $9.95 per month, you can get a big discount for one year package. VyprVPN has VPN servers in around 70 countries. In order to get fast speed and stable connections, you can choose servers in Asia such as Hong Kong, Taiwan and Japan. VyprVPN also offers unlimited bandwidth. Its only drawback is not supporting torrenting.
PROS:
• Fast VPN access in mainland China
• Easy to use app on computer and mobile devices Android, iOS, Windows
• Unlimited server switching
• Protect privacy
• 30-day money back guarantee
• 700+ servers around the world
• 24x7x365 live customer support
CONS:
• P2P is not allowed
• Keeps Log-files
Price:
1 Month Plan $ 12.95/Month
1 Year Plan $ 3.75/Month Save 71%
2 Years Plan $ 2.50/Month Save 77%
If care more about privacy and security you should consider VyprVPN. It offers a 3 day free trial account and you can decide if you are going to pay after testing it. Give it a try and at least you will have a 3-day free VPN to use!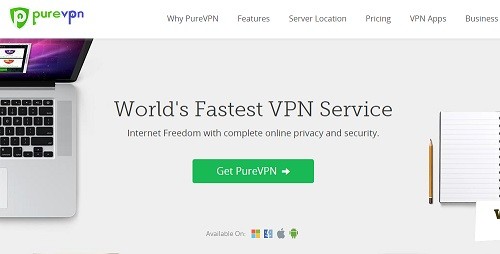 PureVPN is one of the best VPN services in China. As I know PureVPN has the most servers around the world. I have tested its service in Beijing. Based on my experience its Taiwan server and Spain server have the fastest speed, and Turkey sever also works fine. But in order to get the best connection you need to try different servers and find the best one during your using time. The PureVPN also offers unlimited bandwidth and server switches.
PureVPN allows two different people using the same account at the same time, which means you buy one and get two. It supports all popular operating systems including Windows, IOS and Android. PureVPN offers 7 days money-back guarantee refund policy. It also promises not to monitor users' activities and keep any logs, so you can use it safely without any concerns in China. The only disadvantage is that its official website is blocked in China and you need to download its software before coming to China. That's why I put it on the number 2 position.
Below is a screenshot while I am watching YouTube video in Beijing with it. I am using the Malaysia server and you can see that the connection speed can reach up to 5 mbps. That's a very fast speed and I can watch the video with great buffering speed.
As for customer support, PureVPN provides live chat, email support for all users. For users in China they even start offering phone support from Feb, 2016.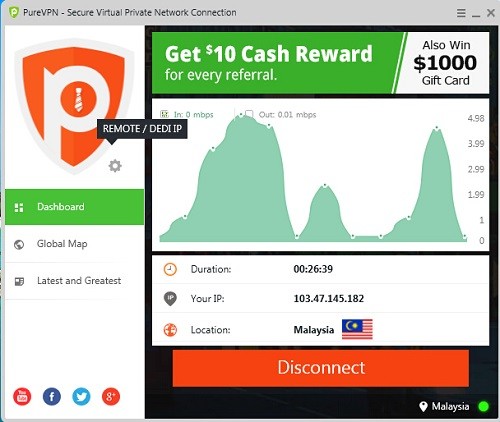 PROS
Unlimited bandwidth
Fast speed in China
2000+ secure servers in 140+ countries
Works with Windows, Android, iPhone, Mac, Chrome, Firefox
Unlimited servers switches
Splitting tunnel
10-Multi logins so you can use one account on 10 devices at the same time.
P2P file-sharing is allowed
31-day money back guarantee
24/7 customer support by chat or email
CONS
No free trial
Keeps log files
Price:


1 Month Plan $ 10.95/Month
6 Month Plan $ 8.33/Month Save 4%
12 Month Plan $ 2.66/Month Save 76%
Overall, PureVPN is an excellent VPN to unblock the entire web in China. At present PureVPN offers price $2.66/month for 1 year package. Check it by clicking the bellow button.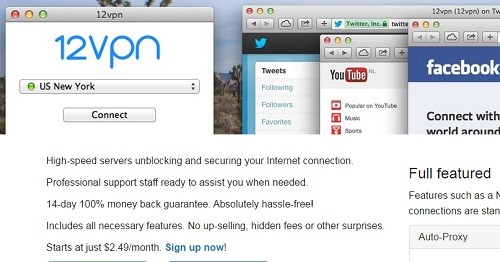 12VPN is based in Hong Kong, so they know Great Firewall well and have very professional tech to unblock it. I have tested three months and it proves to be fast and reliable. 12VPN works well in China and many expats use it to access blocked sites. It provides all standard features with cheap service. The 12 months basic package is only $4.08 per month with unlimited bandwidth and Up to 8Mbps connection speed.
Their customer service is the best among all VPN providers. You will always get positive and kind response when contacting them. It has 20 server locations and you can switch freely to find the best speed server.
In all, this is one of the best VPN services you can trust in China. Give it a try and you will understand it is really worth the money.

Facts About Using VPN in China
1. What is the Great Firewall (防火长城)
The Great Firewall a sophisticated internet surveillance system, part of the Golden Shield Project (金盾工程)  developed by Chinese government. This is used to regulate the Internet in Mainland China and block inappropriate or dangerous for citizens to see. Any internet connection within Mainland China is under close surveillance of this system.
2. Using VPN in China
At present, many international sites and famous social media platforms such as Facebook, Google, Twitter, Youtube are banned in China. VPN is a very effective way to bypass the GFW and help you enjoy the free Internet. However, the Chinese government know this and has taken measures to block VPN providers' websites and interfere their functions in China, that's why some VPNs work well in your country but failed in Mainland China.
However, China is a big market for VPN company. Some VPN company has developed and special technology to bypass the GFW and work properly in the country. For example, the ExpressVPN can evade being blocked for both its official website and its VPN software.
However, many VPN companies' official sites are blocked. Still strongly recommend you to install VPN software before traveling to China.
Conclusion
We hope that the above reviews of the best vpn to use in China can give you enough information to help you find the best VPN in China. If you have any user experience for the top five providers listed above or any other VPN services in China, feel free to leave your questions or your comments below.