Top 20 Most Beautiful Chinese Girls
Chinese girls are considered one of the most beautiful and cutest girls inthe world. Below is a collection of beautiful Chinese celebrities. They are not only respected for beautiful looks but also for their talents.
Related: Top 10 Websites to Date Chinese Girls
20. Liu Shishi (刘诗诗) – Liu Shishi (or Cecilia Liu in English) was born in 1987 in Beijing. She is a beautiful Chinese actress and ballerina.
19. Yuan Li (袁莉) – Yuan Li was born on July 12, 1973 in Jiangyin Jiangsu Province. She is a beautiful Chinese actress.
18. Chen Shu (陈数) – Hailed as the "Queen of the Qipao," Chinese Actress Chen Shu is a woman with elegant body that perfectly fits the "Qipao" ( Chinese style frock).
17. Yang Mi  (杨幂) – Yang Mi, born on Sept 12, 1986, is a Chinese actress and singer. She is rose to fame for her roles Chinese dramas The Return of the Condor Heroes and Chinese Paladin 3.
16. Li Bingbing (李冰冰) – Born on February 27, 1973, Li Bingbing is one of China's top actresses. She is one of the most beautiful movie stars in China and always attracts people with her glamour and talent.
15. Zhang Ziyi (章子怡) –  Zhang, born on February 9, 1979 in Beijing, is an international Chinese film actress and model.
14. Shu Qi (舒淇) – Shu Qi, born on April 16, 1976, is a Taiwanese actress. After establishing herself as a model and soft porn actress, she successfully transferred from a Category III film actress to a mainstream movies actress.
13. Zhao Wei (赵薇) – Zhao Wei or Vicki Zha, born 12 March 1976, is a Chinese actress and pop singer.  She is also a talented woman, her directorial debut "So Young" is one of the highest-grossing films ever in China.
12. Cecilia Cheung (张柏芝)  – Cecilia Cheung, born on 24 May 1980, is a beautiful Hong Kong actress and cantonpop singer. She was involved in Edison Chen's scandal in 2008 and many of her explicit photos were found online.
11. Gigi Lai (黎姿) – Gigi Lai Zi, born on October 1st, 1971, is a Hong Kong actress and Cantopop singer. She is popularly nicknamed by the Hong Kong media as the "Goddess of Beauty".
10. Tang Wei (汤唯)- Tang Wei, born on October 7, 1979, is a Chinese actress. She rose to prominence for her bold appearance in movie Lust, Caution.
9. Cherie Chung (钟楚红) – Cherie Chung, born on February 16, 1960, is a former Hong Kong film actress. She was one of the top actresses in Hong Kong Film during the 1980s.
8. Fan Bingbing (范冰冰) – Fan Bingbing, born on 16 September 1981, is a Chinese actress, singer and producer. Fan Bingbing is a designer's dream girl: She's exotic, sophisticated and looks like an adult barbie girl.
7. Liu Yifei (刘亦菲) – Liu Yifei or Crystal Liu,born on August 25, 1987, is a Chinese actress. She was given the nickname Fairy goddess for her gorgeous appearance.
6. Zhou Xun (周迅) – Zhou Xun, born on October 18, 1974, is a Chinese actress and singer. She still looks very beautiful even at his 40s.
5. Lin Chi-ling 林志玲 – Lin Chi-ling, born 29 November 1974, in Taipei,  is the number one model in China. Famed for her gentle demeanor and physical beauty, Lin has been called "The First Lady of Taiwan" by Taiwan media.
4. Gao Yuanyuan (高圆圆) – Gao, born in Beijing on October 5, is a Chinese actress. She is tall and perfectly proportioned and is many Chinese man's dream lover.
 3. Maggie Cheung (张曼玉) – Maggie Cheung Man yuk, born 20 September 1964,  is a Hong Kong actress. Maggie Cheung is famous for her elegant and beautiful role in many films.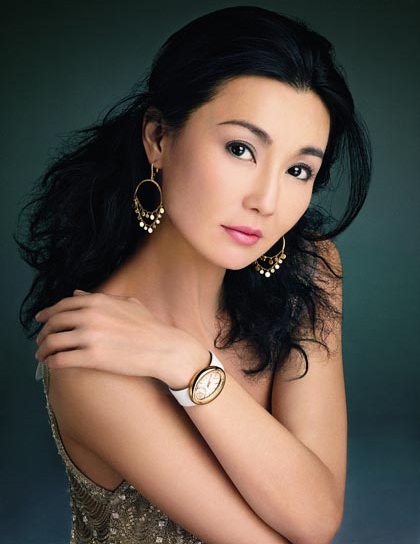 2. Brigitte Lin (林青霞) – Brigitte Lin, born on 3 November 1954, is a Taiwanese actress. She was regarded as an icon of Chinese film industry.
1. Sun Li 孙俪 – Betty Sun Li, born on September 26, 1982 in Shanghai,is a Chinese actress, singer and dancer. She became well-known in Asia for her wonderful performance in costume drama The Legend of Zhenhuan.
Related: Top 10 Ways to Pick Up Chinese Girls