Top 10 Traveler's Tales from China
With a landmass of 9.6 million km², China is the world's 3rd largest country, and its oldest civilization. Inhospitable topography and a complex culture have historically made China one of the most daunting places on Earth to travel. An intricate rail system, new roads and modernized infrastructure are changing this, but to date only a handful of western authors have traveled through – and written about – this vast country in its entirety.
1. Riding the Iron Rooster
by Paul Theroux
Riding trains all across China for a year, legendary author Paul Theroux's sympathetic musings and colorful descriptions of the Chinese whom he observes along the way is classic travel writing at its best.
2. The River at the Center of the World by Simon Winchester
Journalist Simon Winchester surveys, by boat, China's meandering 4,000-mile Yangtze River and its surrounding countryside, scholarly annotations punctuated by his trademark witty remarks on the Chinese populous.
3. Behind the Wall
by Colin Thubron
One of China's pioneering western travel writers, Colin Thubron's examination of 1980s-China, from village to city and everywhere in between, is a must-read for those who appreciate a historic glimpse into New China on the cusp of modernization.
4. Country Driving
by Peter Hessler
Expat Peter Hessler, who lived in China for over a decade, gets out of his river town and takes to the modern roads by car to give us keen insight into contemporary Chinese society.
5. CHINA: Portrait of a People
by Tom Carter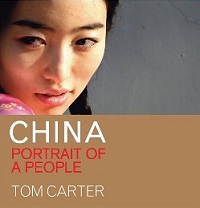 Travel photographer Tom Carter backpacked a ground-breaking 35,000-miles across 33 provinces, his snapshots of the multitudes of people and places he encountered providing a rare visual glimpse into ordinary, daily Chinese life.
6. China Road
by Rob Gifford
National Public Radio reporter Rob Gifford hops in his car for a 3,000-mile drive from Shanghai to Xinjiang, interviewing random people spotted during the journey and conveying their stories to the reader.
7. The Ancient Tea Horse Road by Jeff Fuchs
Mountaineer Jeff Fuchs explored the 5,000-mile Tea Horse Road in the Himalayas for over 7 months, retracing the ancient trading route of muleteers and documenting Tibet's traditional way of life.
8. The Middle Kingdom Ride
by Ryan and Colin Pyle
Two brothers and their motorcycles on an 11,000-mile road trip, taking them from one end of China to the other in 65 days.
9. The Longest Way
by Christoph Rehage
Based on the popular YouTube video about his 4,000-mile walk across China, Christoph Rehage converts his photos and stories into this book.
10. The Great Walk of China
by Graham Earnshaw
Shanghai-based businessman Graham Earnshaw has been walking at intervals across the length of China for nearly a decade. This fun travelogue weaves insightful commentary and humorous interactions with curious locals met along the way.