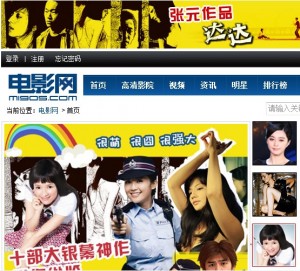 M1905.com was founded by China Movie Channel in Dec, 31 2004. At present the average daily visitors come up to 650 thousand, average daily page views reach more than 3.5 million times, with more than 1.6 million registered members, it has become the most well-known Chinese online movie site.
M1905 consists of several columns including HD Theater, Videos, Movie Info, Ranking List, Movie Stars, Pictures, Activities, Blog and Forum. It boasts 1,400 genuine HD movies, and each day with 3 extra movies added.  It even releases the latest Chinese movies.
The site only releases Chinese version, so you'd better learn some Chinese. Of course a smart way is to leave it to Google Translate. Besides a movie player plug-in will pop up when you open the site,  just set it up and then enjoy the movie.
Some useful links of the site:
1.HD Theater – Plays HD Chinese movie   http://www.m1905.com/vod/
2.Movie Info – Includes movie news, pictures, review  http://www.m1905.com/film/
3.Movie Stars–The latest news about Chinese movie stars  http://www.m1905.com/star/
The movie site is named M1905 for the Chinese shot  first film- Conquering Jun Mountain- in 1905.
Please note that an ad lasts 7 seconds before each movie. Anyway things come at a price.
See Also: Top 10 banned Chinese movies